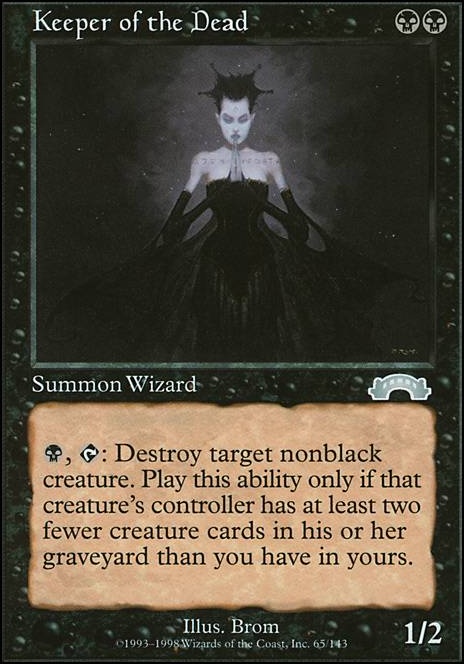 Legality
| | |
| --- | --- |
| Format | Legality |
| Tiny Leaders | Legal |
| Noble | Legal |
| Leviathan | Legal |
| Magic Duels | Legal |
| Canadian Highlander | Legal |
| Vintage | Legal |
| Penny Dreadful | Legal |
| Custom | Legal |
| Vanguard | Legal |
| Legacy | Legal |
| Archenemy | Legal |
| Planechase | Legal |
| 1v1 Commander | Legal |
| Duel Commander | Legal |
| Oathbreaker | Legal |
| Unformat | Legal |
| Casual | Legal |
| Commander / EDH | Legal |
Keeper of the Dead
Creature — Human Wizard
(Black), Tap: Destroy target nonblack creature controlled by an opponent with at least two fewer creature cards in his or her graveyard than you.
Keeper of the Dead Discussion
2 years ago
I would suggest more ramp. Ideally ramp on creatures that sacrifice themselves, yeah? Diligent Farmhand, Dawntreader Elk. Or some fatties who can help ramp/fix early like Krosan Tusker, Shefet Monitor which can cycle to draw you a card, plus either get a land to hand or to the battlefield, all while giving you a bigger body in the grave ready for Meren to use the effect again from hand or straight to the battlefield. Nothing can compare to Sakura Tribe-Elder and Wood Elves, but these guys help you stay creature heavy, feed into synergies, and helps you get to your ~49 mana/ramp sources. I would say you could cut 1-2 basics if you add in diligent and dawntreader at least. I have you at 49.
I don't know how much you like Primal Growth. It's pretty efficient if you are sacrificing a creature a lot of the time and that's feeding into your synergy, and there's even a card like Viridian Emissary who needs to be sacrificed to be useful, but I personally don't run either of those cards just because I'm in Karador (and tutor up Meren) with only 6 basic lands total. Instead I run more self-mill and include the new Ramunap Excavator, with cards like Splendid Reclamation, and Far Wanderings which is always 3 mana for 3 basics. Sure there is more risk in self-mill (make your opponents graveyard hate better) but I find that's less common than not having a sac outlet (Viridian Emissary) and/or needing my only blocker to avoid being beat up on early (Primal Growth). That being said, I think those two can definitely work better for you than me, but I would really like to say how well Splendid Reclamation has done for me, often netting 5+ lands even if cast early (turn 4-6). I feed that engine by using more cards like Ash Barrens, Myriad Landscape, the fetchlands (proxies lel- I hate expensive lands), and unfortunately some G/W lands that you can't run, but also stuff like Gather the Pack, Commune with the Gods, Crop Sigil (This can net you back a land on it's own), Drown in Filth which is removal as well.
These effects can also be found on creatures Mindwrack Demon is a beater and delirium is easy to achieve. Splinterfright, Sewer Nemesis are big X/X beaters who enable themselves to get bigger, Grim Flayer filters your draws and stocks your yard. Of course the dredge spells, four of which I find good enough to run Golgari Grave-Troll, Golgari Thug, Stinkweed Imp, and Life from the Loam. For a bonus when you run this much grave interaction you can use this nifty old creature Keeper of the Dead, oh you'll also want ways to get cards back from your graveyard besides Eternal Witness (my main target often being Splendid Reclamation) I would recommend adding Den Protector, Hag Hedge-Mage, and Greenwarden of Murasa. I find these to be generally better than Magus of the Will unless you've already got 10+ mana.
From your Maybelist I would definitely recommend Fleshbag and Merciless Executioner. Maybe Ashnod's Altar although I find Altar of Dementia to be even better without any infinite mana combos. Grave Pact is of course a house.
Some other random cards I think are include worthy, mostly cards that remove opponents stuff: Caustic Caterpillar, Avatar of Woe, Deathrite Shaman, Reclamation Sage (how could you cut this? lol), Shadowborn Demon. Possibly Oversold Cemetery, Undertaker for more recursion. Hell's Caretaker, Doomed Necromancer, Sheoldred, Whispering One, Animate Dead, Necromancy, Phyrexian Delver for recursion to the battlefield. Fauna Shaman, Traverse the Ulvenwald, Rune-Scarred Demon, Evolutionary Leap, Survival of the Fittest, Jarad's Orders for tutors.
No data for this card yet.