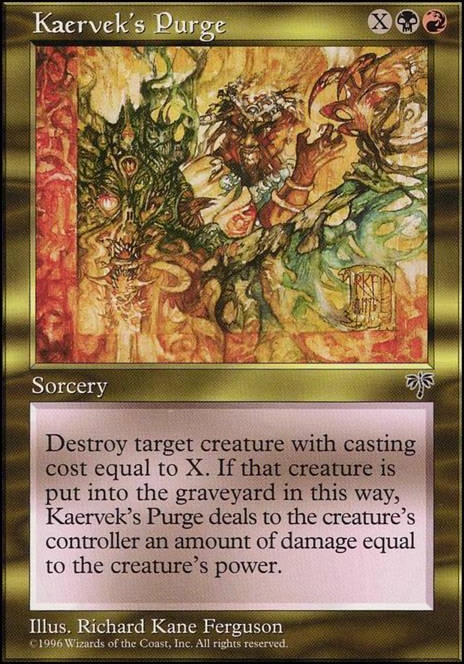 Kaervek's Purge
Sorcery
Destroy target creature with converted mana cost X. If that creature is put into a graveyard this way, Kaervek's Purge deals damage equal to the creature's power to the creature's controller.
Browse Alters
View at Gatherer
Legality
| | |
| --- | --- |
| Format | Legality |
| Tiny Leaders | Legal |
| Noble | Legal |
| Leviathan | Legal |
| Magic Duels | Legal |
| Canadian Highlander | Legal |
| Vintage | Legal |
| Vanguard | Legal |
| Legacy | Legal |
| Archenemy | Legal |
| Planechase | Legal |
| 1v1 Commander | Legal |
| Duel Commander | Legal |
| Oathbreaker | Legal |
| Unformat | Legal |
| Casual | Legal |
| Commander / EDH | Legal |
Kaervek's Purge Discussion
1 year ago
There is a lot here. It is not that I think your deck is bad, just some options. Rakdos is my favorite guild and I have been considering a Rakdos deck for a while now.
Mikaeus, the Unhallowed + Triskelion combo is pretty good in this deck. Both cards help a lot on their own, Triskelion is colorless so you can potentially cast him for free on top of being able to trigger damage to cast Rakdos. Mikaeus can help recur you Eldrazi. If you do 6 damage in a turn ( 1 swing with you commander ) you can cast the combo for 3 black.
If you don't want to combo. You still may want to pick up more targeted clear. Bedevil and Unlicensed Disintegration . Kaervek's Purge is potentially another good one if a player is buffing their creatures.
Illicit Auction can generate a ton of value, either stealing good creature or getting an opponent to spend a lot of life.
You may also want to throw in a Burnished Hart . You can potentially use it as a turn 2/3 creature to get a swing in turn 3/4 to allow Rakdos cast. It also has the added benefit of potentially being cast for free.
Neheb, the Eternal also has some good synergy considering you have several X cost spells.
I forget the names but there are several lands that do damage upon entering.
Mogis doesn't especially synergize with the deck as his damage is during other players turns and you have so much colorless it will be difficult to get him to 7. ( Commander + Mogis does get 6 though )
Ramp: Maybe replace some of your lands with ramp. Tutors/Draw: I would try to squeeze in 2/3 more tutors and 2/3 more draw cards. Behold the Beyond can cause scoops if used on a turn where you have done ~10 damage. And 10 damage isn't too much in this deck.
A lot of this also depends on your play group.