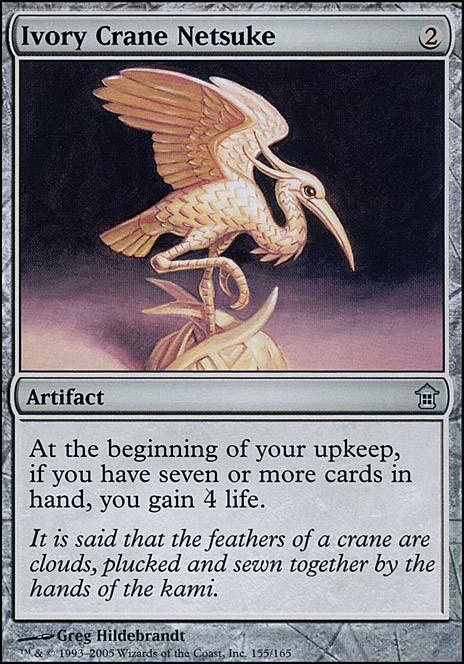 Ivory Crane Netsuke
Artifact
At the beginning of your upkeep, if you have seven or more cards in hand, you gain 4 life.
Browse Alters
View at Gatherer
Legality
| | |
| --- | --- |
| Format | Legality |
| Leviathan | Legal |
| Unformat | Legal |
| Limited | Legal |
| 2019-10-04 | Legal |
| Commander / EDH | Legal |
| Duel Commander | Legal |
| 1v1 Commander | Legal |
| Oathbreaker | Legal |
| Casual | Legal |
| Vintage | Legal |
| Block Constructed | Legal |
| Tiny Leaders | Legal |
| Highlander | Legal |
| Canadian Highlander | Legal |
| Modern | Legal |
| Legacy | Legal |
Latest Decks as Commander
Ivory Crane Netsuke Discussion
1 year ago
My favorites are Lifegift and Druidic Satchel . Looking at your deck I'm unsure what would be the best option but the odds are in your favor to ramp or gain life with Druidic Satchel
4 years ago
@Stephenburgin106 There actually is a very nice card that combos well with this deck, it is called Ivory Crane Netsuke I may add it to the sideboard but to be honest I don't intend to win a 1v1 match up vs burn in the first game. This deck just doesn't do that... That's why we have a sideboard :/ besides this is more of a fringe deck that does not do very well in a hyper competitive enviornment so you should not expect this to be on par with the top 5 decks. As for additional lands I can't see why I should run more in that I often draw so many cards that I never run into land troubles outside of just a bad starting hand. For counters I run 4 Remand and 4 Silence which usually allows me to lock them down for a few turns untill as I build up ramp and draw into more prevention nonsense. Finally it is important to note that this is a control deck just not that kind of control deck (due to my choice of win condition I end up devoting a lot of card space to the engine resulting in a smaller Thant usual support package for the deck. To any extent I that you for the comments and I'll see about finding a home for the bird.