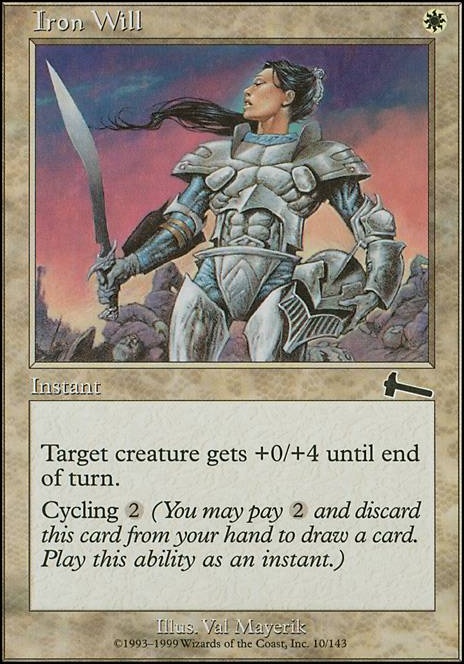 Legality
| | |
| --- | --- |
| Format | Legality |
| Pre-release | Legal |
| Noble | Legal |
| Leviathan | Legal |
| Magic Duels | Legal |
| Canadian Highlander | Legal |
| Vintage | Legal |
| Penny Dreadful | Legal |
| Casual | Legal |
| Pauper EDH | Legal |
| Vanguard | Legal |
| Legacy | Legal |
| Archenemy | Legal |
| Planechase | Legal |
| Duel Commander | Legal |
| Unformat | Legal |
| Pauper | Legal |
| Commander / EDH | Legal |
Iron Will
Instant
Target creature gets +0/+4 until end of turn.
Cycling (2) ((2), Discard this card: Draw a card.)
Iron Will Discussion
7 months ago
I've built a very similar deck. Here are some suggestions based on my build.
Dusk / Dawn is (almost) a completely one-sided wrath. I only have 2-3 creatures it can hit in my build. At worst you lose one or two creatures while you wipe all or most of their board. It seems like a definite include and it provides late game card advantage by recurring most of your squad.
Elspeth, Sun's Champion also provides a (mostly) one-sided wrath effect. The great thing is you can play it and "wrath" in one turn and she lives. Also since you killed several of their creatures. It's likely she'll be able to setup to wrath again in a few turns.
I really like Humble in this deck. It's a single-use Vhati il-Dal that I treat as removal and let's you do fun battle tricks even when you're not attacking or defending. Good times.
Thrill of the Hunt is a good replacement for Iron Will. It doesn't pump as much, but you can use it twice on two different creatures if desired.
Team pumping seems better overall than the targeted variant. Bar the Door, Fortify, and Solidarity all feel that Overrun-esque role. Also Overrun, albeit a sorcery, can punch through those last points of damage ignoring their board state. I don't have it in my build, but it wouldn't hurt.
Enchantments
1 year ago
I would take out these 10: Reach of Branches, Rootgrapple, Bazaar Krovod, Everbark Shaman (kinda iffy on this one), Pheres-Band Centaurs, Yoked Ox, Thorntooth Witch, Solidarity, Bar the Door, Ensouled Scimitar,
Then I would also swap out Affa Guard Hound for Abzan Beastmaster, Pontiff of Blight for Ulvenwald Observer, and Iron Will for Song of the Dryads.
I would also try to work in Putrefy and Mortify if possible.