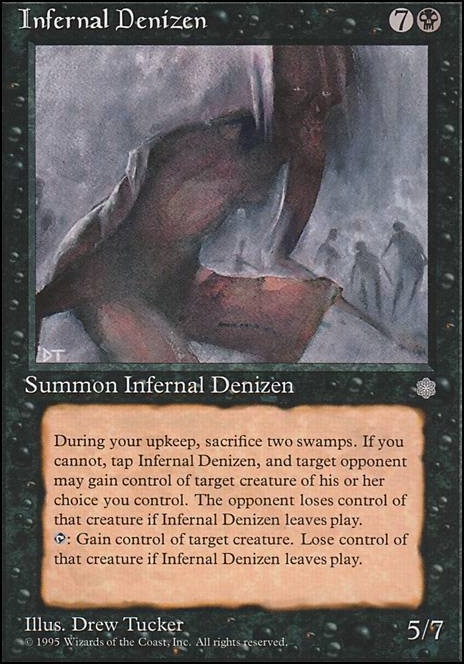 Legality
| | |
| --- | --- |
| Format | Legality |
| Pre-release | Legal |
| Noble | Legal |
| Leviathan | Legal |
| Tiny Leaders | Legal |
| Magic Duels | Legal |
| Vintage | Legal |
| Casual | Legal |
| Vanguard | Legal |
| Legacy | Legal |
| Archenemy | Legal |
| Planechase | Legal |
| 1v1 Commander | Legal |
| Duel Commander | Legal |
| Unformat | Legal |
| Pauper | Legal |
| Commander / EDH | Legal |
Infernal Denizen
Creature — Demon
At the beginning of your upkeep, sacrifice two Swamps. If you can't, tap Infernal Denizen, and an opponent may gain control of a creature you control of his or her choice. That opponent retains control of that creature as long as Infernal Denizen remains in play.
Tap: Gain control of target creature as long as Infernal Denizen remains in play.
Infernal Denizen Discussion
1 year ago
Control Magic, Empress Galina, Merieke Ri Berit, Bribery, Mindslaver, Aladdin, Aura Graft, Beguiler of Wills, Blatant Thievery, CoMManDeR, Cytoplast Manipulator, Dominate, Dragonlord Silumgar, Emrakul, the Promised End, Evangelize, Exert Influence, Govern the Guildless, Helm of Possession, Keiga, the Tide Star, Bringer of the Red Dawn, Crown of Empires + Scepter of Empires + Throne of Empires , Gilt-Leaf Archdruid, Herald of Leshrac, Infernal Denizen, Karrthus, Tyrant of Jund + Shields of Velis Vel , Kukemssa Pirates, Memnarch, Might Makes Right, Nicol Bolas, Planeswalker, Old Man of the Sea, Olivia Voldaren, Orcish Squatters, Peer Pressure, Preacher, Rubinia Soulsinger, Siren of the Fanged Coast, Sower of Temptation, Thalakos Deceiver, Willbreaker, Willow Satyr. Pick and choose what you like then add tutors to put your combo pieces and answers together. Also, add Ghostly Prison + Sphere of Safety for extra protection.