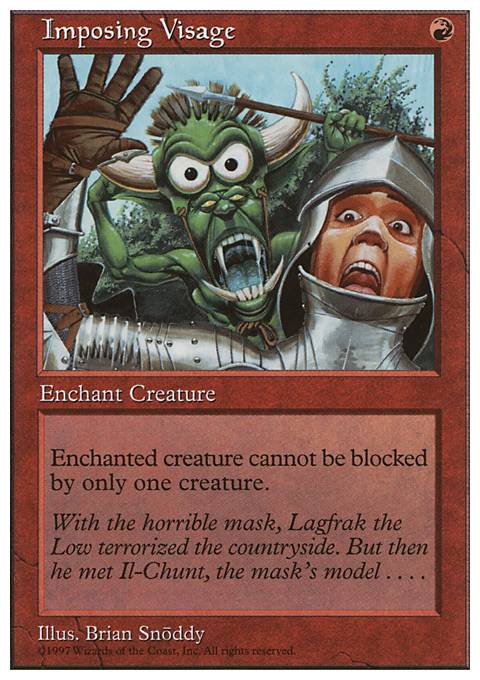 Imposing Visage
Enchantment — Aura
Enchant creature
Enchanted creature can't be blocked except by two or more creatures.
Browse Alters
View at Gatherer
Legality
| | |
| --- | --- |
| Format | Legality |
| Leviathan | Legal |
| Legacy | Legal |
| Pauper EDH | Legal |
| Casual | Legal |
| Commander / EDH | Legal |
| Vintage | Legal |
| Limited | Legal |
| Duel Commander | Legal |
| Canadian Highlander | Legal |
| Oathbreaker | Legal |
| Pauper | Legal |
| 1v1 Commander | Legal |
| Unformat | Legal |
| 2019-10-04 | Legal |
| Tiny Leaders | Legal |
| Highlander | Legal |
Latest Decks as Commander
Imposing Visage Discussion
2 months ago
This is a fun idea! You might appreciate these: Urza, Academy Headmaster, Flow of Ideas (shadowmoor art), Gaze of Pain, Memory Plunder, Advice from the Fae, Mayael the Anima, Destructive Urge, Eternal Warrior, Imposing Visage (both arts are great), Insolence, Ironclaw Curse, Mark of Fury, Orcish Oriflamme (7th edition), Kiss of Death, Memory Drain, Peer into the Abyss
2 years ago
Hey there,
Excellent work on the Uril deck! I run one myself and it's a ton of fun. I gotta say, I love the Bear Umbra + Aggravated Assault; need both to keep the juggle going, but good god that's gotta be fun to pull off.
Anyway, here's a few cards you may want to consider!
Evasion/Trample
These are low cmc cards to help get past creatures to trample right through them.
Utility
These I like because they help remove a blocker. Potentially can be chucked considering the amount of evasion and trample, but once and a while someone has something that is worth tapping or preventing from blocking.
Removal
NV_1980 had some good suggestions, as did others. I've got some more :)
Ramp
Not sure how you're doing on mana, but it never hurts to get more! Keep in mind utility enchantments help boost Helm of the Gods and others.
Enchantment Protection
Hope some of the suggestions help. Again, cool deck. Hope you have fun smashing people's faces in!