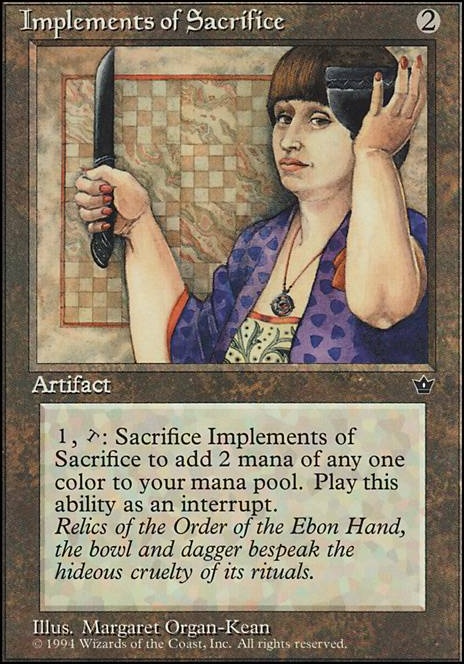 Legality
| | |
| --- | --- |
| Format | Legality |
| Tiny Leaders | Legal |
| Noble | Legal |
| Leviathan | Legal |
| Magic Duels | Legal |
| Canadian Highlander | Legal |
| Vintage | Legal |
| Custom | Legal |
| Vanguard | Legal |
| Legacy | Legal |
| Archenemy | Legal |
| Planechase | Legal |
| 1v1 Commander | Legal |
| Duel Commander | Legal |
| Oathbreaker | Legal |
| Unformat | Legal |
| Casual | Legal |
| Commander / EDH | Legal |
Implements of Sacrifice
Artifact
(1), Tap, Sacrifice Implements of Sacrifice: Add two mana of any one color to your mana pool.
Implements of Sacrifice Discussion
2 years ago
Greetings and salutations. I'm here to ask your opinions on whether or not the following cards should be inserted into my Landless and Creatureless Narset deck.
Currently I am trying to make the deck more stable/reliable as the deck is currently "all theory" and only works if you shape your hand to a large degree. Of course, nothing I add or remove will ever make the deck 100% stable or reliable until Wizards prints more 0-CMC mana rocks. Until then, I am here with a list of a few 1-3 CMC drops that may benefit the deck until Wizards helps a bro out.
For now, the deck is sitting at 32 mana rocks, 4 instant/sorcery burst mana, and an Omniscience under the 'Mana' category. I want to bring that 32/36 (excluding Omniscience) up to a solid 40. I feel like 40% of the deck being mana producers would help stabilize it until new cards are printed.
---

Commander / EDH Eiti3
SCORE: 192 | 86 COMMENTS | 22218 VIEWS | IN 51 FOLDERS
---
Group 1 doesn't help well with ramp really, however it gives the deck a bit of draw. I would like to similarize these to my 3-drops where the few amount of 3-drop mana rocks they either produce 2 mana on a single turn or draw a card. I like the idea of being able to draw cards when the Narset engine isn't enough. However, I don't know if that is enough to warrent running them and cutting other valuable cards.
Group 2 are the Diamonds, or how I refer to them as "ETB Tapped". I sincerely dislike rocks like this because I can't use their abilities right away, which may be needed to drop another rock or two before the turn ends, but it instead sits there... I also dislike them for when Narset plops them down and I can't use them immediately for cards like Mirari or simply any cards in my hand. Tell me if I'm ignorant and wrong, but I will need examples for my Tunnel Vision brain.
So... OPINIONS! I would appreciate anything blatant and honest, but I would absolutely love examples. My brain is a bit stubborn and is unable to see other perspectives unless shown. Additionally, if you have any other 0-2 CMC rocks, spells, etc (not lands or creatures -boo, bad) that help the deck be more stable and reliable in Turns 1-4, I would be willing to do pretty much anything. My only gripe is nothing 3CMC or above. (Unless they cost less for some reason like Affinity.)
Thanks, Eiti3
No data for this card yet.