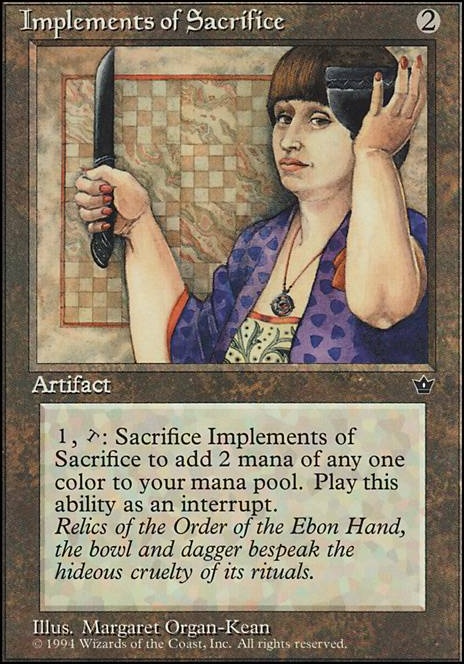 Implements of Sacrifice
Artifact
(1), Tap, Sacrifice Implements of Sacrifice: Add two mana of any one color to your mana pool.
Browse Alters
View at Gatherer
Legality
| | |
| --- | --- |
| Format | Legality |
| Tiny Leaders | Legal |
| Noble | Legal |
| Magic Duels | Legal |
| Canadian Highlander | Legal |
| Vintage | Legal |
| Highlander | Legal |
| 2019-10-04 | Legal |
| Leviathan | Legal |
| Legacy | Legal |
| 1v1 Commander | Legal |
| Duel Commander | Legal |
| Oathbreaker | Legal |
| Unformat | Legal |
| Casual | Legal |
| Commander / EDH | Legal |
Implements of Sacrifice Discussion
3 months ago
I played a half dozen more games with Emry last night testing some iterations. Ultimately I just didn't like the performance of Freed from the Real either. Both of the aura's are a lot more narrow than the Spy, but this is a mono colored deck and we won't have access to Jeskai Ascendancy that is the absolute best combo piece, gotta work with what's available. Pemmin's is staying in though, the protection and utility it offers made for better performance and one piece that works with Lion's Eye Diamond or KCI/Eye of Ramos/Commander's Sphere/Implements of Sacrifice and cost reducers to go infinite is worthwhile as it dramatically increases the consistency of going off the turn or two after casting Emry due to dramatically increased chances of Emry mill hitting relevant pieces to recur.
Mesmeric Orb was actually something I gave a try in my initial incarnations and it's performance was atrocious. Too vulnerable a line to any form of graveyard hate, too clunky, to narrow. The deck still needs some form of ability to make use of repeated Emry activations and draw out though, and in fact the drawing out part is significantly more important than the creation of infinite mana part. Infinite draw always leads to infinite mana, while infinite mana with no command zone outlet is largely useless the majority of the time.
Riddlesmith and Vedalken Archmage did not cut it in the handful of games I played with them in, too slow, inconsistent, clunky, easy to remove. Nor does Rhystic Study in my group, just not competitive enough in terms of the value it tends to generate (drawing typically 2 cards and mostly taxing players' excess mana that isn't needed, in which case cards like Thirst for Knowledge offer better value despite not being competitive enough itself). So somehow Emry needs a way to consistently draw, both for value and to combo out, and moving to Chromatic Sphere/Conjurer's Bauble//Mind Stone type cards with 5 or 6 artifact cost reducers seemed logical. Turns out this has been dramatically more consistent while still fast, though a bit wasteful in terms of card slot efficiency.
Krark-Clan Ironworks should likely be a staple for an Emry deck. It's ability to turn any artifact into an infinite mana generator seriously widens the decks scope and allows more focus to be given to the draw aspect. The additional consistency it's inclusion allows cannot really be understated. I actually have yet to try Phyrexian Altar or Ashnod's Altar though I considered them initially. Ultimately those 2 sacrifice outlets are just too narrow in scope and the combo lines to go infinite are way too convoluted and clunky. It seems to make more sense to use a sacrifice outlet that's going to enable 40% of the deck to become combo pieces. Won't be the combo the deck really wants to look for, but KCI will often be the one it finds with very little effort.
I gave both Magewright's Stone and TYE a look last night in the slot previously held by Freed from the Real and found them interesting. With an active Emry, KCI, and cost reduction pieces to play for 0 mana they generate infinite mana quite nicely. I don't know if the "haste" clause is more valuable than needing one less cost reduction piece to enable the line, but I do like the utility of a hasty Emry in the event my first Emry cast got killed off. It might be worthwhile to run both, but I kind of doubt it. I'm sticking with TYE at the moment.
Scrap Trawler is on my radar as my next idea to test out. Seems like an interesting piece to have around with KCI (I'd initially thought of it as a piece for the Altar pair). Would open up some interesting lines, for example: Tap Mana Vault for , sac it for , sac a tapped Magewright's Stone for , bring Mana Vault back to hand, tap Commander's Sphere for , sac Commander's Sphere to draw a card, bring Magewright's Stone back to hand. With the loop can be repeated with Emry recurring Commander's Sphere infinitely to draw infinite cards and generate infinite blue mana. With a single cost reduction piece in play a dozen other lines open up. With 2 in play basically every card in the deck would generate infinite mana and card draw with only a single untap of Emry required. These lines seemed too convoluted to me at first, but after playing around with the deck some and seeing how often it comes by combos incidentally off a single Emry activation given the dearth of fodder I'm starting to think Scrap Trawler might have a place in the deck (in which case I'd definitely run Magewright's Stone in addition to TYE).
Man, Emry is hella fun to theory craft. Just talking about the possibilities gets my juices going.
As a point of inquiry, how are you liking High Tide and is a line with Candelabra of Tawnos+Minamo, School at Water's Edge worth inclusion in your mind? Is Minamo, School at Water's Edge worth inclusion as just a value piece and if so, what kind of artifact density do you feel is needed to justify it as a value developmental piece?
3 years ago
Greetings and salutations. I'm here to ask your opinions on whether or not the following cards should be inserted into my Landless and Creatureless Narset deck.
Currently I am trying to make the deck more stable/reliable as the deck is currently "all theory" and only works if you shape your hand to a large degree. Of course, nothing I add or remove will ever make the deck 100% stable or reliable until Wizards prints more 0-CMC mana rocks. Until then, I am here with a list of a few 1-3 CMC drops that may benefit the deck until Wizards helps a bro out.
For now, the deck is sitting at 32 mana rocks, 4 instant/sorcery burst mana, and an Omniscience under the 'Mana' category. I want to bring that 32/36 (excluding Omniscience) up to a solid 40. I feel like 40% of the deck being mana producers would help stabilize it until new cards are printed.
---

Commander / EDH Eiti3
SCORE: 192 | 86 COMMENTS | 22218 VIEWS | IN 51 FOLDERS
---
Group 1 doesn't help well with ramp really, however it gives the deck a bit of draw. I would like to similarize these to my 3-drops where the few amount of 3-drop mana rocks they either produce 2 mana on a single turn or draw a card. I like the idea of being able to draw cards when the Narset engine isn't enough. However, I don't know if that is enough to warrent running them and cutting other valuable cards.
Group 2 are the Diamonds, or how I refer to them as "ETB Tapped". I sincerely dislike rocks like this because I can't use their abilities right away, which may be needed to drop another rock or two before the turn ends, but it instead sits there... I also dislike them for when Narset plops them down and I can't use them immediately for cards like Mirari or simply any cards in my hand. Tell me if I'm ignorant and wrong, but I will need examples for my Tunnel Vision brain.
So... OPINIONS! I would appreciate anything blatant and honest, but I would absolutely love examples. My brain is a bit stubborn and is unable to see other perspectives unless shown. Additionally, if you have any other 0-2 CMC rocks, spells, etc (not lands or creatures -boo, bad) that help the deck be more stable and reliable in Turns 1-4, I would be willing to do pretty much anything. My only gripe is nothing 3CMC or above. (Unless they cost less for some reason like Affinity.)
Thanks, Eiti3