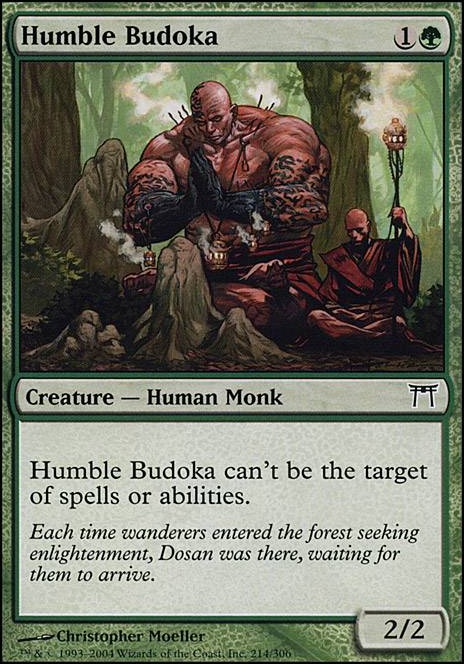 Humble Budoka
Creature — Human Monk
Shroud (This permanent can't be the target of spells or abilities.)
Browse Alters
View at Gatherer
Legality
| | |
| --- | --- |
| Format | Legality |
| Vintage | Legal |
| Duel Commander | Legal |
| Tiny Leaders | Legal |
| Highlander | Legal |
| Legacy | Legal |
| Penny Dreadful | Legal |
| Oathbreaker | Legal |
| Casual | Legal |
| Leviathan | Legal |
| Magic Duels | Legal |
| Noble | Legal |
| 1v1 Commander | Legal |
| Commander / EDH | Legal |
| Pauper EDH | Legal |
| Canadian Highlander | Legal |
| 2019-10-04 | Legal |
| Block Constructed | Legal |
| Modern | Legal |
| Pauper | Legal |
| Unformat | Legal |
Humble Budoka occurrence in decks from the last year
Modern:
All decks: None%
GW (Selesnya): None%
RGW (Naya): None%
Commander / EDH:
All decks: None%
Green: None%
UBRG: None%
Humble Budoka Discussion
2 years ago
Lightning Bolt is definitely strictly better than Shock or Lightning Strike, but Lightning Strike isn't strictly better than Shock. It does 1 more damage but costs more.
It's also worth noting that some abilities don't make something strictly better or worse, just kind of different. Shroud, infect, and phasing come to mind. Each abilities have pros and cons, so whether or not something is strictly better/worse will depend on the deck they're used in or the meta.
For example, Grizzly Bears isn't strictly worse than Humble Budoka in a deck that can target its own creatures. In a deck that's 56 Forests and 4 2/2 creatures, Humble Budoka is likely going to be better.
Card subtypes and colors are another thing to keep in mind. While we joke in here about arcane, sometimes that matters. Expedition Envoy could be considered strictly better than Savannah Lions simply because it's a human ally.
This is all kind of moot, however. MtG Salvation's Wiki has a list of each card in each set that's strictly better, a reprint, or a functional reprint (the link I posted is for Avacyn Restored).
I wouldn't try to go through and list each card individually because you're bound to miss some. I think you'd have an easier time with this if you went through the wiki for each set and recorded each instance. What the wiki doesn't have is a way to sort or search for cards that are strictly better. Compiling a list where people can use ctrl + f would be most appreciated.