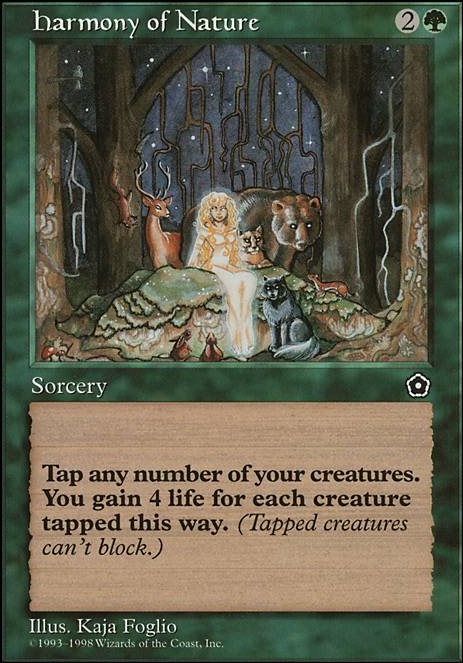 Harmony of Nature
Sorcery
Tap any number of untapped creatures you control. You gain 4 life for each creature tapped this way.
Browse Alters
View at Gatherer
Legality
| | |
| --- | --- |
| Format | Legality |
| Highlander | Legal |
| 2019-10-04 | Legal |
| Vintage | Legal |
| Casual | Legal |
| Leviathan | Legal |
| Legacy | Legal |
| 1v1 Commander | Legal |
| Tiny Leaders | Legal |
| Duel Commander | Legal |
| Limited | Legal |
| Oathbreaker | Legal |
| Canadian Highlander | Legal |
| Commander / EDH | Legal |
| Unformat | Legal |
Latest Decks as Commander
Harmony of Nature Discussion
6 months ago
Harmony of Nature Portal version has a squirrel found this randomly, lucky me! I'd love to see this page keep going, and I'll tag Scryfall.
2 years ago
Some suggestions from a fellow Selvala 2.0 player, I strongly suggest Throne of the God-Pharaoh, as others have mentioned, especially because you have the potential to generate some tokens. If you can get a way to tap them all down beyond combat its even more explosive, generating a load of tokens with Hydra Broodmaster or Hooded Hydra then dropping Harmony of Nature with a Throne onboard, you'd gain a ton of life and wipe everyone out at once. Effects that say "each player" are incredibly powerful. If you can afford it, Staff of Domination allows for infinite mana in a similar way to Umbral Mantle. For removal, you're limited in green but as mentioned above, Beast Within is great, Song of the Dryads is another out in a pinch.
A note: Selvala can work well with the x things like hydras, but beyond that just look for creatures that are undercosted for their power and stuff that can sink extra mana into to increase size later, like Chameleon Colossus which you have. Primalcrux and Realm Seekers come out larger than their 6 cmc costs. Duskwatch Recruiter is a good mana-sink that can act as a type of draw to dig through your deck for key creatures. Rhonas the Indomitable is a stud in this deck, 3cmc for 5 power on indestructible deathtouch body, with a built in pump and mana sink is amazing.
Some others to think about:
Hurricane/Squall Line-again, each player, as long as you have more life than the others, you can finish a table with enough mana in one shot
Viridian Joiner can be a second Selvala with Umbral Mantle, goes infinite very easily
Check mine out if you want more ideas, its been a blast to develop and play. Go Green