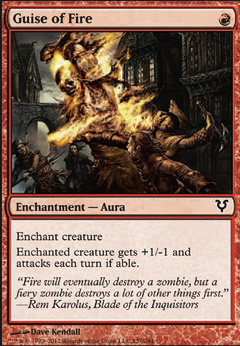 Guise of Fire
Enchantment — Aura
Enchant creature Enchanted creature gets +1/-1 and attacks each turn if able.
Browse Alters
View at Gatherer
Legality
| | |
| --- | --- |
| Format | Legality |
| Limited | Legal |
| Pauper | Legal |
| Block Constructed | Legal |
| Highlander | Legal |
| 1v1 Commander | Legal |
| Modern | Legal |
| Duel Commander | Legal |
| 2019-10-04 | Legal |
| Legacy | Legal |
| Leviathan | Legal |
| Vintage | Legal |
| Unformat | Legal |
| Tiny Leaders | Legal |
| Oathbreaker | Legal |
| Canadian Highlander | Legal |
| Casual | Legal |
| Pauper EDH | Legal |
| Commander / EDH | Legal |
Latest Decks as Commander
Guise of Fire Discussion
1 year ago
I would fix your mana base first. Average EDH decks have 45 mana sources, and Tiana definitely needs it, so consider more lands or rocks like Gilded Lotus/Boros Cluestone/Commander's Sphere/Fire Diamond/Marble Diamond etc etc. Fiery Mantle/Dragon Breath could replace Mark of Fury/Goblin War Paint? Guise of Fire/Bonds of Faith/Prophetic Ravings could replace Bloodshed Fever/Hammerhand/Cartouche of Zeal? Graceblade Artisan is a great duplicate of Champion of the Flame, it could replace Favored Hoplite/Call To Serve. If you want more combat map control you could run Goblin Spymaster/Overwhelming Splendor. Immolation/Inferno Fist are good duplicates of Ordeal of Purphoros.
Other than these replacements, I think you made a fine deck. I would include more finishers like Shiv's Embrace/Splinter Twin/Elemental Mastery/Burning Anger/Battle Mastery, or include a combo with Battered Golem/Paradox Engine/Endbringer/Traxos, Scourge of Kroog. I think some weaker finishers in this deck right now are Giant Spectacle/Lightning Reflexes/Madcap Skills/Lightning Talons. And I think Gift of Immortality is alright, but it doesn't protect your auras in extension if a creature-only board wipe happens, so another indestructible spells would be better.
I like the neat combo of Pariah and Tiana, and your enchantment based draw engines + Auratog/Faith Healer is another neat combo. Curse of Opulence is a great include, it's a one drop that adds influences damage away from you and toward your 120 combined life goal. Umbra Mystic/Anax and Cymede/Heavenly Blademaster are also great includes!
2 years ago
Here is my attempt to figure out my "7 by 9" classification of my deck (Referenced article about "7 by 9"). The deck doesn't really fit into the model well since many of the cards overlap by just being enchantments that there's a lot of categories/single cards that only care if other enchantments get played.
The deck itself cost a lot to get rolling and I like where the ramp sits right now even if it's a bit high on cards, but being a 5 color deck has its requriements. I'd like to increase the number of cost reduction cards. And slightly increase the number of draw, and combo cards. If I had to I would probably remove some of the buff/removal/graveyard cards. The issue I have though is that I want to keep the same number of creatures as early agression is this decks downfall. If I could I would also update the mana base and then be able to cut some of the ramp cards.
Number of enchantments: 36 (a * represents that this card cares about enchantments) (15 are auras)
Mana (14)
Ramp(10):
Mana fixing(2):
Cost reduction(2):
Tutor(9) *
Enchantment tutor(6):
Graveyard(3):
Draw(6):*
Removal(7):
Protection(5):
Combo(8):
Buff(4):
Other(8):
3 years ago
Blood Frenzy is a weaker form of your red glyph that could give you some back up for damage.
Guise of Fire might be better than Into the Fray, because it can kill 1 toughness chumps that would otherwise not attack and also things to attack.(Bloodshed Fever is another enchantment that does the same thing.
Cinder Wall is a 3/3 for one that you can fling because you're gonna sac it anyway.
Infectious Bloodlust lets you get more of itself, but it's pricey