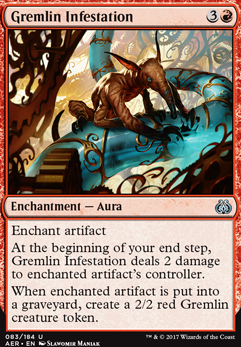 Legality
| | |
| --- | --- |
| Format | Legality |
| Modern | Legal |
| Legacy | Legal |
| Vintage | Legal |
| Commander / EDH | Legal |
| Duel Commander | Legal |
| Standard | Legal |
Tokens
Gremlin Infestation
Enchantment — Aura
Enchant artifact
At the beginning of your end step, Gremlin Infestation deals 2 damage to enchanted artifact's controller.
When enchanted artifact is put into a graveyard, create a 2/2 red Gremlin creature token.
Gremlin Infestation Discussion
1 week ago
Finally catching up on comments ...
oblivion234 and ArmyJM07,
Yep. I've been thinking about making a Temur build ever since this post.

oblivion234,
Red also has Artifact hate. No more Smash to Smithereens of course, but IMO Destructive Tampering and Release the Gremlins are quite good, and Gremlin Infestation, Structural Distortion, and Ruinous Gremlin have their uses.

ArmyJM07,
Sounds like a fun deck!

randomrarehunter,
Sorry but neither Aqueous Form nor Artful Dodge are legal in Standard. Plus they have the same problems Slip Through Space does, from this post.

sas3197,
Thanks for the kudos. In actual testing (with 4x Crackdown Construct, 3x Key to the City, and 2x Trail of Evidence), I've seen Inventors' Fair in about 70% of my games, and it's triggered in about 30% of those. That's a far cry from "never" :-D
Less than 26 Lands might work, but I started there (based on this list) and have been happy with it so far.
As an aside, at some point I'm going to test a Clue-heavy build, using Mechanized Production (#Protect_Combo_Pieces #Alt_Wincon) and Tamiyo's Journal (#Find_Combo_Pieces). If I do that, I would likely increase the Investigate effects too (e.g., with Erdwal Illuminator and Confirm Suspicions)

Bigbare01,
Yeah, that could be fun. I figure half the Internet is already trying to break Saheeli and Guardian though, so I'm gonna stick to Crackdown Construct for now. For ideas on what other people are doing, I recommend checking out the Recent Decks section of the Crackdown Construct page.

Thanks everyone!