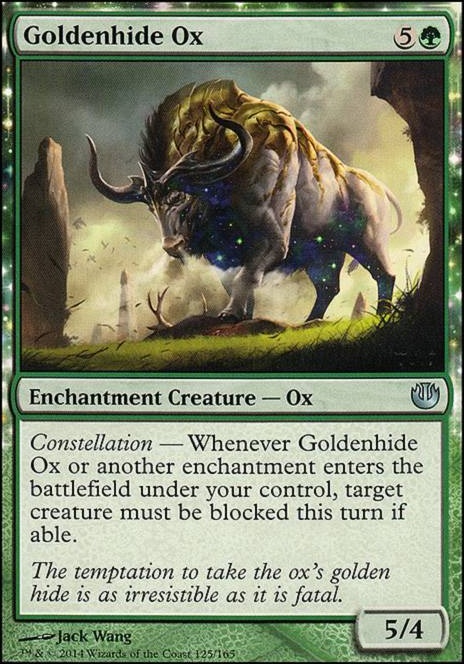 Goldenhide Ox
Enchantment Creature — Ox
Constellation — Whenever Goldenhide Ox or another enchantment enters the battlefield under your control, target creature must be blocked this turn if able.
Browse Alters
View at Gatherer
Legality
| | |
| --- | --- |
| Format | Legality |
| Legacy | Legal |
| Duel Commander | Legal |
| Casual | Legal |
| Block Constructed | Legal |
| Highlander | Legal |
| Pioneer | Legal |
| Canadian Highlander | Legal |
| Modern | Legal |
| 2019-10-04 | Legal |
| 1v1 Commander | Legal |
| Commander / EDH | Legal |
| Unformat | Legal |
| Vintage | Legal |
| Quest Magic | Legal |
| Limited | Legal |
| Oathbreaker | Legal |
| Tiny Leaders | Legal |
| Leviathan | Legal |
| Quest Magic RPG | Legal |
Latest Decks as Commander
Goldenhide Ox Discussion
3 years ago
Congratulations on building your first commander deck! While I know it isn't a very exciting suggestion, I would recommend adding in a lot more ramp. Even though it might not seem like it, 3.55 is a relatively high average cmc and since you are in green, you should take advantage of all the amazing ramp that it has! In particular, I would recommend adding Farseek, Kodama's Reach, Skyshroud Claim, Deathcap Cultivator, Font of Fertility and a Sol Ring to get started. This will help your deck be faster and more consistent! Another area where your deck seems to be lacking is in the area of card draw. While you aren't in blue, black and green have a lot of card advantage that synergize with your enchantment theme! I would start by including Phyrexian Arena, Enchantress's Presence, Necropotence, Abzan Charm and go from there! There are also a few cards in your deck that should be taken out, simply because they are either bad or just underwhelming. While these cards might be fine in standard or modern, they are just not up to par for commander. This includes cards like Mark of the Vampire, Sunbound, Verdant Haven, Thoughtseize and Goldenhide Ox. I would also add in some more board wipes and removal since you are in black and white. This might include cards like Wrath of God, Merciless Eviction, Utter End, Path to Exile, Hero's Downfall and Martial Coup. Lastly, I would add in a few more cards that reward you for having enchantments and creatures with high toughness. Stuff like Daxos the Returned, Ikra Shidiqi, the Usurper, Kor Spiritdancer and Sapling of Colfenor all seem like they would be a perfect fit for your deck! Good luck!