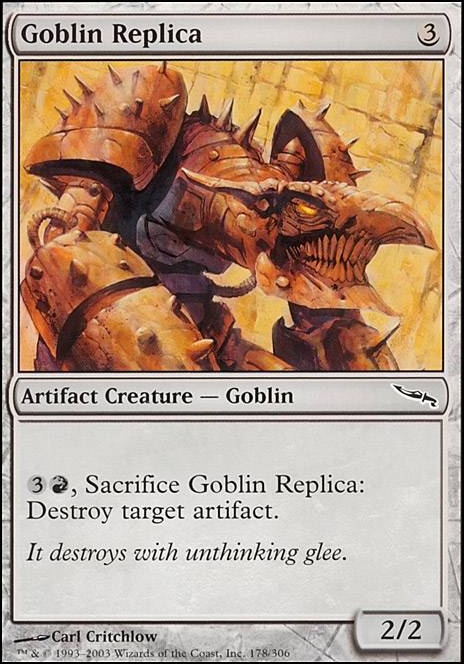 Goblin Replica
Artifact Creature — Goblin
(3)(Red), Sacrifice Goblin Replica: Destroy target artifact.
Browse Alters
View at Gatherer
Legality
| | |
| --- | --- |
| Format | Legality |
| Tiny Leaders | Legal |
| Noble | Legal |
| Leviathan | Legal |
| Magic Duels | Legal |
| Canadian Highlander | Legal |
| Vintage | Legal |
| Modern | Legal |
| Penny Dreadful | Legal |
| Casual | Legal |
| Pauper EDH | Legal |
| Vanguard | Legal |
| Legacy | Legal |
| Archenemy | Legal |
| Planechase | Legal |
| 1v1 Commander | Legal |
| Duel Commander | Legal |
| Oathbreaker | Legal |
| Unformat | Legal |
| Pauper | Legal |
| Commander / EDH | Legal |
Goblin Replica Discussion
8 months ago
My immediate thought with utilizing the Bros efficiently was to emphasize artifact creatures (ex. Goblin Replica ) and enchantment creatures (ex. Courser of Kruphix ) so you could always have options on what to sacrifice to answer a problem. You have the creature portion covered completely but I honestly cannot see you wanting to sacrifice any of your enchantments without also hurting yourself.
Most options to make expendable enchantment tokens are not great, like Pharika, God of Affliction , but some like Renowned Weaver could be viable because, again, it gives you options on what you want to sacrifice.
Bros' cost is also kind of expensive so ways to reduce it or generate more mana (you are in ) will allow multiple activations if need be. Heartstone and Thran Turbine come to mind to reduce their cost and Burnished Hart , Wild-Field Scarecrow , Solemn Simulacrum , Skittering Surveyor and Pilgrim's Eye are great early game to fix your mana while late-game you can sacrifice them to either ability.
You mentioned reanimation in the description so some more options are Animate Dead , Dance of the Dead , Phyrexian Delver , Oath of Ghouls , Palace Siege , Entreat the Dead , Feldon of the Third Path , Victimize , and Whisper, Blood Liturgist .
I would also consider other sacrifice options so in case you do not need to activate Bros you can still generate value via sacrificing your tokens or creatures. Altar's Reap and Costly Plunder for card advantage, Sidisi, Undead Vizier to tutor, Priest of Forgotten Gods for multi-value, etc.
You have the protective-footwear covered but I would consider adding Spider Umbra and Kaya's Ghostform so you can protect or sacrifice them if need be. Other personal favorites of mine are Undying Evil and Supernatural Stamina .
Looks nefariously "fun!"
2 years ago
Goblin Replica for flavour/humour?
At any rate, I like the deck. You're doing Gob's work, man.