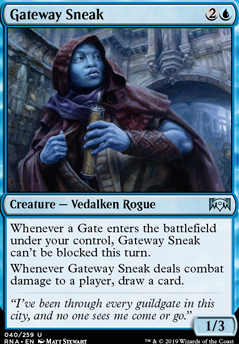 Gateway Sneak
Creature — Vedalken Rogue
Whenever a Gate enters the battlefield under your control, Gateway Sneak can't be blocked this turn.
Whenever Gateway Sneak deals combat damage to a player, draw a card.
Browse Alters
Legality
| | |
| --- | --- |
| Format | Legality |
| Pre-release | Legal |
| Tiny Leaders | Legal |
| Vintage | Legal |
| Penny Dreadful | Legal |
| Pioneer | Legal |
| Commander / EDH | Legal |
| 1v1 Commander | Legal |
| Magic Duels | Legal |
| Brawl | Legal |
| Block Constructed | Legal |
| Standard | Legal |
| Historic | Legal |
| Arena | Legal |
| Canadian Highlander | Legal |
| Leviathan | Legal |
| Duel Commander | Legal |
| Unformat | Legal |
| Modern | Legal |
| Highlander | Legal |
| Legacy | Legal |
| Casual | Legal |
| Oathbreaker | Legal |
Gateway Sneak Discussion
6 months ago
Haha, thanks for tagging me here. I think land base shouldn't stop you and I believe you can find your way into a solid mana base here.
Danielisaias is certainly right is the idea that guild gates may be a good approach but there are certainly many ways to get the mana base right. IF you want to go the guildgate path, here is the cards you want for that build.
Guildgate Build
Lands Now I am not entirely sure, but I believe that around 10 gates is the best way to build this. Since our ramp and mana fixing is primarily green, we will include 1-2 copies of all gates that include green. Then add 0-1 of the other gates as relevant. IF you were to run all of the following ramp, you will most definitely not need more than one copies of most gates. In addition Gateway Plaza is a great gate that effectively taps an additional land when it enters. You can probably run 4x Evolving Wilds and put in mostly forests and 1-2 of each of the other basics if you want.
Land Fixing
Open the Gates - A land of your choice that you can play the next turn. Like a wildcard land
District Guide - Will build a board presence and get you a extra land of choice
Circuitous Route - Terrific ramp straight onto the battlefield and includes gates
Support creatures and spells
Gatebreaker Ram - Powerful when 2+ gates are in play
Gateway Sneak - Ok card draw, guaranteed when gates are played
Gates Ablaze - Great for board stalling. Should never kill Gatebreaker Ram
Guild Summit - Great way to refill hand late game and good set up in the early game
If THAT wasn't enough, here's more!
If you don't want to build a gate deck, you are already almost there. All the "land fixing" cards from the gate build are still relevant here but not as good without the synergy.
Mana Geode - This is a simple card, effective for ramp into any color and scry can fix your draw.
Beanstalk Giant - Not only is he mana fixing/ramp but he is also a giant threat!
Deathsprout - Harder to build in, but is a awesome combination of removal and ramp!
Whisper Agent - in this deck would simply be a pseudo-removal while draw fixing
Faeburrow Elder - I haven't played with him before so I don't know how good he is. Seeing as he can only ramp you mana you already have access to he is hard to judge. However, know that cards like Whisper Agent or Sphinx of the Guildpact will give Faeburrow Elder substantial bonuses.
… I think I went overkill with suggestions. Sorry ;)
1 year ago
I have always been enthralled by the idea of a gate deck, and this one pretty much sums up how I would do it for casual. I understand that you have probably seen most of these, if not all of these cards, but you might want to check out Crackling Perimeter , which pairs with Wilderness Reclamation beautifully, Hold the Gates which is one of my favorite cards simply for the vigilance it provides. I might run one or two of Gateway Sneak for card draw, or if you play with a group that runs burn, Saruli Gatekeepers .