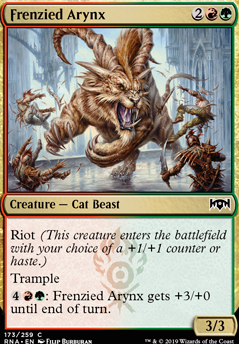 Legality
| | |
| --- | --- |
| Format | Legality |
| Tiny Leaders | Legal |
| 1v1 Commander | Legal |
| Magic Duels | Legal |
| Canadian Highlander | Legal |
| Vintage | Legal |
| Modern | Legal |
| Casual | Legal |
| Pauper EDH | Legal |
| Leviathan | Legal |
| Legacy | Legal |
| Duel Commander | Legal |
| Unformat | Legal |
| Pauper | Legal |
| Commander / EDH | Legal |
Frenzied Arynx
Creature — Cat Beast
Riot (This creature enters the battlefield with your choice of a +1/+1 counter or haste.)
Trample
: Frenzied Arynx gets +3/+0 until end of turn.
Frenzied Arynx Discussion
3 weeks ago
If I may vent about rarities and power level for a second (no new information , just losing another small bit of faith in WotC)...
Compare Frenzied Arynx to Gruul Spellbreaker. Both 3/3s with riot and trample.
The Arynx has ": Frenzied Arynx gets +3/+0 until end of turn." It costs and is common.
The Spellbreaker has "As long as it's your turn, you and Gruul Spellbreaker have hexproof." It costs and is rare.
Am I incorrect in thinking that part-time hexproof is worth a discount compared to overpriced lump-sum firebreathing? I seem to recall that rarity should be a determinant of complexity and draft utility, not of power. Neither additional ability is especially complex, so I don't believe that's a huge factor. Player hexproof can be a significant factor in drafts, so I'll accept that as affecting the rarity, but not the mana costs, especially since it's neither a red nor a green trait. If the mana costs were switched (Arynx at CMC 3 and Spellbreaker at CMC 4), the Arynx would be much more viable in Sealed, the home of commons, and the Spellbreaker wouldn't be so obviously superior. I don't think it's Constructed playabilty would be deeply affected, but I could be wrong.
Basically, why print these two cards together? Just switch the mana costs, and you have a viable common and a solid rare.
1 month ago
Frenzied Arynx's ability costs 6 because:
1/ It has some form of evasion (trample) that really benefits from extra power.
2/ It is a decent rate for the abilty.
3/ The initial creature has a lower cost than both dragons mentioned. Putting actual Firebreathing on that efficient of a midrange creature (4/4 for 4) is very dangerous in limited. It is in that sweet spot where it is already baseline powerful at its cost. Making the ability cost less, for example "GR:This gets +1/+0 until EOT." Would have made the creature incredibly more powerful.
1 month ago
Frenzied Arynx is likely that way due to it being a common. It's still technically the same, you break it down it still equals two mana for each +1/+0. If it were a rare it would likely be a activation. Both examples you give are rares in comparison.