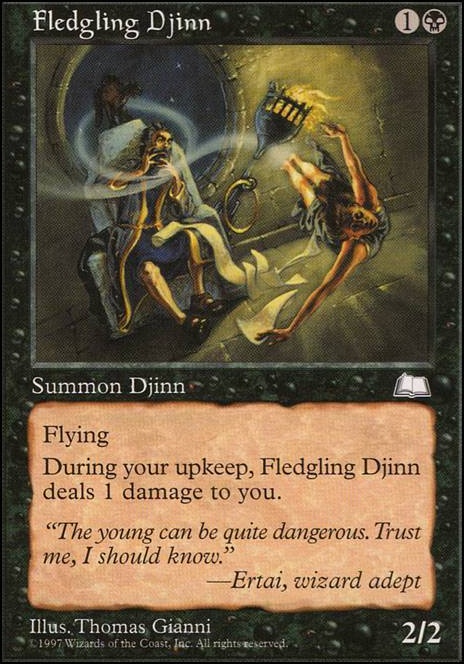 Legality
| | |
| --- | --- |
| Format | Legality |
| Tiny Leaders | Legal |
| Noble | Legal |
| Leviathan | Legal |
| Custom | Legal |
| Magic Duels | Legal |
| Canadian Highlander | Legal |
| Vintage | Legal |
| Penny Dreadful | Legal |
| Casual | Legal |
| Pauper EDH | Legal |
| MTGO | Legal |
| Vanguard | Legal |
| Legacy | Legal |
| Archenemy | Legal |
| Planechase | Legal |
| 1v1 Commander | Legal |
| Duel Commander | Legal |
| Oathbreaker | Legal |
| Unformat | Legal |
| Pauper | Legal |
| Commander / EDH | Legal |
Fledgling Djinn
Creature — Djinn
Flying
At the beginning of your upkeep, Fledgling Djinn deals 1 damage to you.
Fledgling Djinn Discussion
1 year ago
Karten, die ich aus deiner aktuellen Liste raus nehmen wrde:
Fledgling Djinn warum ist der in dem Deck? Der macht berhaupt keinen Sinn und ist einfach nur schlecht. (Du willst mit deinen Karten ja kontrolliert dien Leben ausgeben knnen und dich nicht unkontrolliert langsam ausbluten lassen.)
Glory-Bound Initiate der ist auch einfach nur schlecht. Alle zwei Runden mit einer 4/4 Lebensverknpfugn angreifen zu knnen ist nicht gut. Da gibt es tausend mal besseres. Auf jeden Fall raus.
Odric, Lunarch Marshal der ist ok, aber du hast nicht so wirklich viele Kreaturen, die so richtig profitieren wrden. (Geil wre natrlich schon, wenn Serra Avatar oder Minion of the Wastes auf einmal lifelink und fliegend htten, aber das wird so selten klappen und fr die paar dicken kreaturen, gibt es auch sicher besser Alternativen ihnen lifelink und/oder evasion zu geben. (z.B. Loxodon Warhammer)
Paladin of Atonement der ist schwach, wird nur langsam weniger schwach und gibt dann vielleicht (zurck auf die Hand oder Exil...) einmalig ein bisschen Leben. Nicht gut genug.
Personal Incarnation da du nicht kontrollieren kannst, wann du die Hlfte deines Lebens verlierst, ist der extrem scheie. Auf jeden Fall raus.
Purity Der tut einfach berhaupt nichts. 1. Es verhindert nur Schaden, der dir von einer Fhigkeit oder einem Zauberspruch zugefgt werden (z.B. von Lava Axe oder Vulshok Sorcerer), was halt eh keiner von uns spielt. 2. Es verhindert nur Schaden und nicht Lebenspunkteverlust. Da ist ein Unterschied. Schaden fhrt zu Lebenspunkteverlust, es gibt aber auch Karten, die direkt Leben verlieren lassen und gegen solche Karten (also so ziemlich alles was du spielst) schtzt Purity halt nicht. Entsprechend ist die nutzlos und kann raus.
Convalescent Care ist total nutzlos. Sie hat einfach die Fhigkeit niemals etwas zu tun. Geil. Und wenn du mal unter 5 Leben bist, ziehst du einmalig eine einzige Karte und kriegst einen nicht erwhnenswerten Haufen Leben. Weg damit.
Dark Tutelage an sich lustig, aber du hast viel bessere Karten fr Carddraw und auerdem ist unkontrollierter Lebenspunkteverlust auch nicht gewnscht. (mal zieht sie dir 0 und mal 10 Leben und du kannst es nicht beeinflussen. das ist zu random.) Auerdem sehen deine Gegner was du ziehst. Die wrde ich auch auf jeden Fall rausnehmen.
Phyrexian Unlife totaler Bldsinn. gibt dir quasi einfach nur 10 Leben, die auch mit einem einfachen Removal genommen werden knnen. Du wolltest die vermutlich haben, damit du dann unendlich viel Leben bezahlen kannst, aber das klappt leider nicht. Ich habe noch mal die Regelung nachgeschlagen: If youre at 0 or less life, you cant pay any amount of life except 0. Also auf jeden Fall weg mit dem Mll.
Godless Shrine hey du rich bitch, die ist vieeel zu teuer! Unbedingt auf Geld achten. Besonders bei einem nur zweifarbigen Deck sollte das mit der Landbase ja kein Problem darstellen.
Ulcerate das ist einfach viel viel viel zu schwach. Kartenplatzverschwendung. Auf jeden Fall raus.
Exquisite Blood die ist vieeeeeeeeeeeeeeeeeeeeeel zu teuer!!!
Noch weitere Kartenvorschlge, die mir gestern einfach noch nicht eingefallen waren:
Mortify, Crawlspace, Ghostly Prison, Vedalken Orrery, Utter End, Unmake und Brutal Hordechief (der wre zumindest nett, wenn du tatschlich Boros Reckoner, Spitemare und Stuffy Doll behalten solltest, obwohl die nicht direkt etwas mit dem Deck zu tun haben).
Interessante Synergien:
Exquisite Archangel mit Minion of the Wastes oder Pain's Reward oder Hatred, oder Necrologia, oder Plague of Vermin oder Phyrexian Processor damit du eine beliebig groe Anzahl an Leben fr diese Karten bezahlen kannst.
Exquisite Archangel mit Tainted Sigil zusammen mit irgendeiner Karte mit der du beliebig viel Leben bezahlen kannst, wie z.B. Wall of Blood, damit du mit mindestens 40 Leben mehr als zuvor endest (und den Effekt der dritten Karte quasi kostenlos ziemlich oft nutzen konntest).
Tainted Remedy und Beacon of Immortality oder Magus of the Mirror oder Axis of Mortality oder Reverse the Sands oder Soul Conduit oder Arbiter of Knollridge, damit du einen oder mehrere Gegner auf der Stelle killst oder ihnen zumindest sehr sehr sehr viel Leben abziehst.
Du merkst schon, dass du mehrer spalose, asoziale Kombos hast und ich wrde daher folgendes vorschlagen:
Spiel nicht Tainted Remedy, da die fast ausschlielich nur fr Instakills benutzt wird. Also sie hat entweder keinen Effekt oder killt einen Gegner sofort, was absolut lame ist.

Wenn du Exquisite Archangel und eine der "bezahle beliebig viel Leben"-Karten hast, darfst du nur doppelt so viel wie dein Startleben oder dein derzeitiges Leben bezahlen, je nachdem was hher ist. Ansonsten knntest du damit unendlich/unendlich Kreaturen oder unendlich 1/1 Kreaturen erzeugen oder andere spalose Effekte machen.
1 year ago
(I would add a proper community card but that feature seems to be malfunctioning right now.)
Farly straightforward, this card would mostly be Zedruu the Greathearted (although a different character, not simply her gone evil or something) with a casting cost of and an activation cost of . In EDH, this could lead to some fun usage of cards like the following:
(I realize you can basically already do this with any Grixis commander + e.g. Bazaar Trader, but that's a bit less straightforward.)
I'm unsure what would be suitable for its upkeep ability. Just copying Zedruu's straight off isn't too inappropriate, as drawing is certainly associated with black and life gain isn't too far out either, but that's kinda boring. Replacing the life gain with something negative towards opponents like milling, discard or plain life loss proportional to the amount of gifted permanent could be one option that's more in line with the color change (thought the negative effects would probably targeted in order to preserve some political potential). Putting a +1/+1 counter per gift on Zedruu the Grixishearted to take advantage of commander damage could also work (especially when combined with auras like Herald of Torment), in which case you could also change power/toughness from the original's 2/4 to 4/2 to signal greater aggression.
For the sake of flavor its subtype would be Horse Djinn, with the artwork depicting a djinn with a mare's head, wearing a mouth-covering veil.
Feedback would be welcome, especially on ways to make Grixis!Zedruu more distinct from the original while still fulfilling the basic function of giving out torturous black cards, in addition to the blue and red ones they both share.
(A version containing green could also be made for the sake of giving that color a chance to show off its painful cards, in which case the creature in question should probably have monkey paws.)
No data for this card yet.