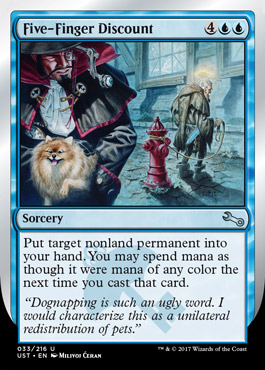 Legality
| | |
| --- | --- |
| Format | Legality |
| Custom | Legal |
| Leviathan | Legal |
| Unformat | Legal |
| Casual | Legal |
| Magic Duels | Legal |
Five-Finger Discount
Sorcery
Put target nonland permanent into your hand. You may spend mana as though it were mana of any color the next time you cast that card.
Five-Finger Discount Discussion
8 months ago
Okay, so I finally had some time to come by and take a closer look! First, I suspect you know this, but Crow Storm, Five-Finger Discount, and are silver-bordered and thus not legal in commander. Many playgroups will allow them, though, which is fine if yours lets you. With that being said, Bronze Tablet is beyond banned: it permanently exchanges ownership of a card, an effect that is never ever allowed under any circumstances in modern Magic. I know it's in the sideboard, but it's not even worth having there.
Second, this deck looks a lot better than the first time I stopped by here! It has a tighter focus and more focus on a specific goal: steal if you can, mill if you can't. You're still on a budget, so I'll do my best to keep that in mind. I don't know if you're opposed to infinite combos, but Bloodchief Ascension is great here: just a great card anyway with mill, but doubly awesome when it goes infinite to kill opponents with Mindcrank. Mnemonic Betrayal might be exactly up your alley, as might Lazav, Dimir Mastermind and/or Lazav, the Multifarious. You also could use some more decent draw effects, like Rain of Notions, Read the Bones, etc.
Beyond that, Mastermind's Acquisition doesn't function in EDH unless your playgroup is playing with unusual rules (the second mode just doesn't do anything). My first cuts would be Energy Chamber, Feroz's Ban, Glasses of Urza, Magistrate's Scepter, Spellbook, Mastermind's Acquisition, and Peek. I hope that helps!
No data for this card yet.