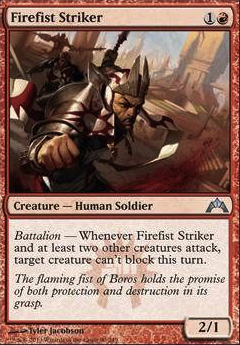 Firefist Striker
Creature — Human Soldier
Battalion Whenever Firefist Striker and at least two other creature attack, target creature can't block this turn.
Firefist Striker Discussion
1 week ago
Took a mulligan to 3 cards at FNM playing R/G/u Tron. I kept getting no-land hands. After shuffling vigorously, I draw my three cards which were were Ancient Stirrings, Chromatic Star, and Urza's Tower.
Turn one: play Urza's Tower and Chromatic Star.
Turn two: Draw Urza's Mine, activate Chromatic Star, draw Urza's Power Plant, play Ancient Stirrings, reveal Karn Liberated.
Turn three: Play Karn Liberated, exile Kiln Fiend (I'm at something like 4 life).
Turn four: Draw and play Wurmcoil Engine -> proceed to victory.
The top decks were absolutely nuts.
I've mulliganed to four playing Tron before and won, but that was the first time I'd won going that low.
The other ridiculous win I had was playing Jund Blitz back in RtR-Theros Standard versus Mono-Black Devotion in top 4 of a $100 cash prize tournament. I had gone down to 4 cards after seeing several no-land or all-land hands.
If I remember right, the four cards were Overgrown Tomb, Rakdos Cackler, Firefist Striker, and Dreg Mangler. I draw the needed lands two turns in a row and curved out perfectly. So it looked like:
Turn one: Overgrown Tomb -> Rakdos Cackler
Turn two: Draw land, attack with Rakdos Cackler, play Firefist Striker.
Turn three: Draw land, play Dreg Mangler, trigger battalion so Pack Rat can't block, drop my opponent to 11. On his turn, he plays scry land and passes.
Turn four: Draw Ghor-Clan Rampager, swing with everyone, trigger battalion again, bloodrush for 11 damage even.
The scry land coming into play tapped is what killed him. He showed me his hand (not to mention Pack Rat's ability), which was Herald of Torment, Hero's Downfall, Desecration Demon, and Nightveil Specter.
3 months ago
Soldier & Angel theme with big spells could rule. Here's some ideas:
Sunhome, Fortress of the Legion (this has won me many games with Zurgo)
Herald of War (probably want to add a few more angels, but this can make humans pretty much free)
Obviously a lot more space to explore here, but it's a start.
6 months ago
I've got some suggestions for creatures, commander buff, token generation, and combat tricks:
Creatures;Battlegrace Angel = Boros Guildmage,Firefist Striker = Charmbreaker Devils,Fortress Cyclops = Heliod, God of the Sun,Lightning Mauler = Legion Loyalist,Silverblade Paladin = Odric, Master Tactician,Spark Trooper = Purphoros, God of the Forge,Truefire Paladin = Tajic, Blade of the Legion,Wojek Halberdiers = Young Pyromancer,Kongming, "Sleeping Dragon" = Balefire Liege,Student of Warfare = Akroan Hoplite
Commander Buff;Vulshok Morningstar = Skullclamp,Kitesail = Boros Signet,Whispersilk Cloak = Swiftfoot Boots,Inquisitor's Flail = Sol Ring,Fireshrieker = Boros Keyrune
Token Generation;Captain's Call = Martial Coup,Elspeth Tirel = Elspeth, Sun's Champion
Combat Tricks;Cursed Rack = Coat of Arms, Death Ward = Launch the Fleet, Mark of Mutiny = Secure the Wastes,Spare from Evil = Rise of the Hobgoblins,
6 months ago
Instants I would cut -
Riot Control and Holy Day. Since most matchups you will likely be the aggro deck, you will want to put more pressure on them and just kill their creatures with things like bolt/path.
Creatures I would cut -
I also might take out Firefist Striker and Frontline Medic and move them to the SB for creature-based matchups, but I think that one is up to you.
Take Out -
Add -
| | |
| --- | --- |
| Power / Toughness | 2/1 |
| Color(s) | Red |
| Cost | 1R |
| Converted cost | 2 |
Legality
| | |
| --- | --- |
| Format | Legality |
| Legacy | Legal |
| Vintage | Legal |
| Commander / EDH | Legal |
| Modern | Legal |
| Duel Commander | Legal |