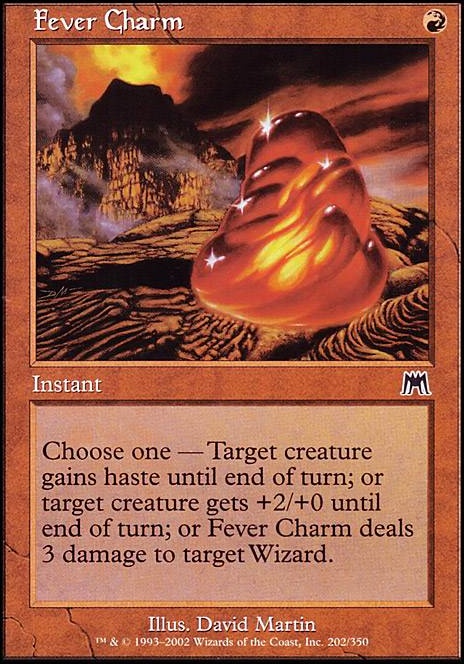 Legality
| | |
| --- | --- |
| Format | Legality |
| Pre-release | Legal |
| Noble | Legal |
| Leviathan | Legal |
| Tiny Leaders | Legal |
| Magic Duels | Legal |
| Vintage | Legal |
| Penny Dreadful | Legal |
| Casual | Legal |
| Vanguard | Legal |
| Legacy | Legal |
| Archenemy | Legal |
| Planechase | Legal |
| 1v1 Commander | Legal |
| Duel Commander | Legal |
| Unformat | Legal |
| Pauper | Legal |
| Commander / EDH | Legal |
Fever Charm
Instant
Choose one - Target creature gains haste until end of turn; or target creature gets +2/+0 until end of turn; or Fever Charm deals 3 damage to target Wizard creature.
Fever Charm Discussion
2 years ago
dylantep I'm going to reply in reverse order.
Yeah! its a pretty sweet combo, but a bit of a drag that the copy cant attack with the original. I did find some options but I'm hesitant to put in cards just for that situation, so I looked for options that had multiple applications. Check these out: Break Through the Line, Burst of Speed, Chaos Charm, Crimson Wisps, Dack's Duplicate (I'd lose the scry but be able to copy both sides of the board and swing immediately), Emblem of the Warmind, Expedite, Fever Charm, Hammerhand, Messenger's Speed, Uncanny Speed.
2 years ago
I was originally running the other slivers, but then it was the problem of you need most of them for them to be good. I kept Galerider only because it gave itself flying (and Mothdust Changeling, which I think is strictly worse and I'm not running a lot of tribal/tapping matters stuff, so that'll probably be cut first). So for the blue creature spot it looks like either Trickster Mage, Nephalia Smuggler, Reef Shaman (it's Tideshaper Mystic but during either player's turn), or Vortex Elemental (I've been considering this).
As much as a like how Fever Charm

looks, yeah there are better options. Thanks for the help and input by the way.
Thoughts on any of these: