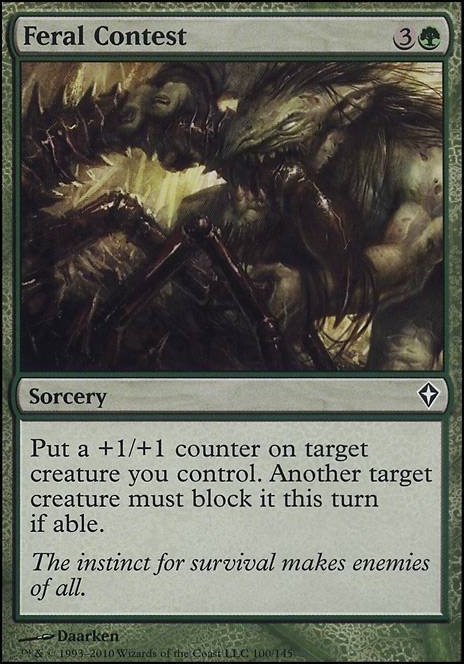 Feral Contest
Sorcery
Put a +1/+1 counter on target creature you control. Another target creature blocks it this turn if able.
Browse Alters
View at Gatherer
Legality
| | |
| --- | --- |
| Format | Legality |
| Tiny Leaders | Legal |
| Noble | Legal |
| Magic Duels | Legal |
| Canadian Highlander | Legal |
| Vintage | Legal |
| Modern | Legal |
| Highlander | Legal |
| Penny Dreadful | Legal |
| Block Constructed | Legal |
| Pauper | Legal |
| Pauper EDH | Legal |
| Leviathan | Legal |
| Legacy | Legal |
| 2019-10-04 | Legal |
| 1v1 Commander | Legal |
| Duel Commander | Legal |
| Oathbreaker | Legal |
| Unformat | Legal |
| Casual | Legal |
| Commander / EDH | Legal |
Feral Contest Discussion
2 months ago
Great start! You have pretty much all the good kicker cards. I think you could focus a bit more on the secondary theme of Hallar, which is +1/+1 counters. Hallar doesn't care where the counters come from, which means you don't actually need that many Kicker cards to make him deal tons of damage.
Hunger of the Howlpack is a great addition to the deck, being one of the most efficient counter-givers in Pauper.
Elven Rite, New Horizons and Soul's Might are all very efficient ways to get lots of counters on your Commander.
Mutant's Prey and Hunt the Weak are great removal spells for your deck that is chock-full of +1/+1 counters. Feral Contest also isn't bad.
Ivy Lane Denizen is a must have in this deck. You make plenty of tokens, which can either make Hallar massive or simply make your 1/1s into 2/2s, which is an incredible boost.
Longshot Squad gives most of your team reach. Aquastrand Spider also does it for a cost, but can also distribute counters. Spike Colony is a pretty beefy creature that can also give its counters to others. This can make combat very difficult for the opponent on top of all the synergy it gives naturally.
Horned Kavu is extremely useful in this deck, since it can re-buy so many of your ETB triggers for lots of value.
It's so hard to get card advantage in these colours. I would definitely play Entourage of Trest to try to keep up with Blue and Black decks. I also don't leave home without Rolling Thunder and Elven Cache in these colours as cards to catch you up in card advantage. You could also be running up to six cycling lands, namely Tranquil Thicket and Forgotten Cave. In terms of synergy, you could also go for Tishana's Wayfinder and Brazen Buccaneers.
I would also think about adding all the mediocre +1/+1 counter distributers, like Bond Beetle, Kujar Seedsculptor, Ironshell Beetle, Scrounging Bandar, Satyr Grovedancer.