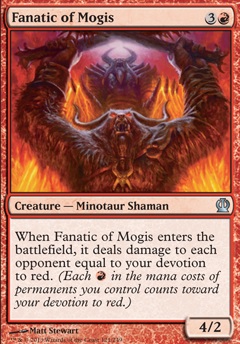 Fanatic of Mogis
Creature — Minotaur Shaman
When Fanatic of Mogis enters the attlefield, it deals damage to each opponent equal to your devotion to red. (Each in the mana costs of permanents you control counts towards your devotion to red.)
Browse Alters
View at Gatherer
Trade
Legality
| | |
| --- | --- |
| Format | Legality |
| Arena | Legal |
| Unformat | Legal |
| Limited | Legal |
| Leviathan | Legal |
| 1v1 Commander | Legal |
| Legacy | Legal |
| Tiny Leaders | Legal |
| Historic | Legal |
| Modern | Legal |
| Custom | Legal |
| Canadian Highlander | Legal |
| Duel Commander | Legal |
| Oathbreaker | Legal |
| 2019-10-04 | Legal |
| Highlander | Legal |
| Casual | Legal |
| Vintage | Legal |
| Block Constructed | Legal |
| Pioneer | Legal |
| Commander / EDH | Legal |
Fanatic of Mogis occurrence in decks from the last year
Latest Decks as Commander
Fanatic of Mogis Discussion
1 month ago
Ok first of all, +1. I like this deck. Relatively low to the ground for Norin, has a general sense of purpose (dealing damage). I have a several comments and suggestions...
Fanatic of Mogis - I've found him to be lackluster, what has your experience been with it, do you usually have enough devotion to make him meaningful?
Pia and Kiran Nalaar - Similar to above, but I see you have another theme of tokens and damage dealing ETB enchantments/cards. I just find the activated ability to expensive and slow. I would always rather play something from my hand.
Deflecting Swat - Such an amazing card, but if only Norin could stay. What has your experience been with it in Norin, I'm very tempted to slot one in.
Sculpting Steel - Same question as above?
What is your meta comprised of, power level?
Darksteel Citadel - What is the purpose of this, stealing an artifact with confusion?
Roiling Vortex - Meta call?
Cloudstone Curio - Experience with this card, ups and downs?
It feels you suffer from red's lack of card draw, to be addressed in suggestions below. You have virtual card advantage through looting, but little card advantage aside from wheels and a little others.
Tome of Legends - Best card for Norin ever printed. Don't sleep on this
Endless Atlas - Almost as good as above
Hedron Archive/Mind Stone - Ramp when you need it, card draw when you don't
Mind's Eye/Memory Jar - Top of the curve for draw but can help you out when you need then late game. Mind's eye is especially fun with wheels and Honor-Worn Shaku, as you use shaku + norin and mind's eye to draw during each opponents draw step.
Blast Zone - Speaking of red's weakness, this can work as enchantment removal.
I think you should cut some of the less impactful non basics and add more basics. This will fuel valakut and will help you with extraplanar lens - which itself is a very risky card.
A cool combo (not a serious suggestion but funny to note) is Ugin, the Ineffable + Top + Experimental Frenzy = Draw your whole deck. Each piece is good on it's own (maybe even frenzy in this deck given your lack of card draw?) and Ugin works as both card draw and enchantment removal.
Heat Shimmer + Dualcaster = Infinite Hasty Dualcasters, each piece is good on it's own. There are 1-2 other cards that work with dualcaster as well but escape me at the moment.
Light Up the Stage - With all your damage dealing, this is easy to cast, works well with top too, allowing you to knowingly be able to cast a card rather than risk it in exile.
Ignite the Future - Similar to above but flashback payoff has won me games.
Curse of Opulence - Ramp and politics. I recently had 2 games in a row in a 3 man pod where me and opponent #2 both cast this on opponent #3 on Turn 1. Very fun
Outpost Siege - Draw when you need it, damage when you don't, primarily used for draw in my experience
4 months ago
The Fanatic enters and both its triggered ability and that of Molten Echoes trigger. You control both, so you get to decide what order they go on the stack. Fanatic of Mogis's ability counts your devotion when it resolves, so if you order the triggers so that the copy is made first both will have a devotion of 4. If you stack them so that the damage is done first the original Fanatic's devotion will be 3.
With the War Cry you con put the Fanatic trigger at any point between the copy triggers. The copy Fanatic's ability will go on the stack as soon as it is created, so the most damage will be done by putting the original fanatic trigger on the bottom of the stack followed by the ability to copy the fanatic and then the other copy abilities. The legendary rule is a SBA so the copy Neheb will be put in the graveyard as soon as it is made, before any other trigger resolves or any player receives priority
4 months ago
1) Lets say I cast a Fanatic of Mogis whilst Molten Echoes is on the field (with Minotaurs named) and for simplicity there are no other non land cards on my side.
Fanatic of Mogis and the token both have the ETB of dealing damage equal to my devotion to red, but will the Echoes token and original Fanatic see each other as they ETB, therefore both seeing a devotion of 4? (2 from Echoes, 1 for each Fanatic)
OR
Does the original Fanatic enter first, its ETB + Molten Echoes trigger, then the token ETB and triggers? (Meaning the original Fanatic trigger sees 3 and the token sees 4)
2) Then to make things more complicated (just to clarify this whole thread), if I used Deathbellow War Cry to bring out 4 cards, lets say Fanatic of Mogis, Neheb, the Eternal, Kragma Warcaller, and Rageblood Shaman
Would the 4 originals plus 4 tokens enter at the same with 2 huge Fanatic of Mogis triggers
OR
The 4 originals enter, Fanatic of Mogis trigger resolves, then 4 tokens enter and 2nd Fanatic of Mogis resolves (followed by the legendary rule to sacrifice token Neheb)?
If I'm completely wrong in both circumstances then please explain further below if you can and I apologise for the lengthy question.
4 months ago
With the new Sethron legendary I've been looking at minotaurs and the possibility of adding in Panharmonicon for a giggle.
To my knowledge (correct me if I'm wrong and the rest can be ignored), Panharmonicon can double the triggers of something entering (such as if Fanatic of Mogis etb's with Pan on the field, you get two etb triggers) but I'm unsure on how the Tribute on Oracle of Bones would work.
Would I get:
One trigger for an opponent to put 2 counters on, then get to play 2 instants/soceries if tribute wasn't paid
One trigger for an opponent to put 2 counters on, then get to play 1 instant/sorcery for each instance of tribute wasn't paid
Neither of the above, which if so, can someone kindly explain the result
7 months ago
Cards up for consideration: Getting carried away looking at ETB creatures! Sneak Attack, Dragon Mage, Strionic Resonator, Scourge of the Throne, Balefire Dragon, Combustible Gearhulk, Dockside Extortionist, Fanatic of Mogis, Godo, Bandit Warlord Burning Sun's Avatar, Hoarding Dragon, Molten Primordial, Ox of Agonas, Terror of Mount Velus, Thunder Dragon, Dream Pillager, Grenzo, Havoc Raiser, Hellkite Tyrant, Kiki-Jiki, Mirror Breaker(This one goes infinite with Zealous Conscripts so that may be out...) Ricardo mentioned these ones Cavalier of Flame, Fires of Invention, Purphoros, God of the Forge
Doesn't seem like you need a ton more draw cause you get to reuse creatures, but these were mentioned too if you do. Wheel of Fortune, Reforge the Soul, Magus of the Wheel, Wheel of Fate
7 months ago
Are you also aware that you don't get attack triggers either?
I am being slightly more nice with my cuts but....
Bogardan Hellkite - U have a better card in the deck already
Breaker of Armies - Weak
Fanatic of Mogis - Weak
It That Betrays - Doesnt stay on the field for benefit
Kozilek, the Great Distortion - Hard to cast without artifacts or ancient tomb. I personally love the card, but I can see many instances of it just sitting in your hand. Yes, ilharg can bring him in, but still.
Seasoned Pyromancer - Weak
Ulamog, the Ceaseless Hunger - No cast or attack trigger
Ulamog, the Infinite Gyre - See above
Utvara Hellkite - See above
Void Winnower - Doesnt stay on the field to matter
I would cut these for more card draw, at least 2 more lands and the suggestions I recommended. Be sure to let me know what you think, but after playing mono red for a couple years, I learned you need ramp, which you have a pretty good job of and card draw badly Getting the lands will help ensure you arent mana screwed, card draw to get lands and to ensure you don't run out of gas
Caged Sun - Might be worth considering in addition to or inplace of extraplanar lens. Lens they can blow up leaving you with 1 less land, not including the fact that you arent even running snow lands to "ensure"you dont ramp them before the table comes back to your turn. Sun helps you cast your beaters if ilharg is unavailable. Same with new purphorous
7 months ago
Yeah against the top of the meta I think you will have quite a bit of trouble unfortunately. Though this doesn't mean there isn't any potential here. You could move more towards mono-green aggro and play cards like Hexdrinker, Strangleroot Geist, and Steel Leaf Champion and the like. While this isn't a very competitive deck it tends to be very fast and can steal games. Similarly with mono-red aggro with a devotion twist built around Fanatic of Mogis which is a cheap deck to start with but not very competitive. I could also see you moving towards G/R Ponza and being that Blood Moon deck which is just good enough to win games by itself.
Where I see the most potential however is pivoting towards G/R Eldrazi in modern. Here is an example list G/R Eldrazi Optimal. Now, yes this is over budget by quite a bit but we can cut the price and build up to something more optimal over time. On that list the only semi-pricy cards that I would call necessary are Karplusan Forest, Eldrazi Temple, and Thought-Knot Seer. Pretty much everything else that commands a high price can be neglected for now in favor of budget options while the deck evolves. Noble Hierarch can become Elvish Mystic for example, and while nowhere near as good, the deck still functions. Similarly, you don't need to go investing in Cavern of Souls, you can play Unclaimed Territory and while not getting the best part of the effect you still can make colorless mana this way. You can skip most of the dual lands, again while not optimal there are cheaper alternatives in the meantime. I think G/R Eldrazi is also fairly well-positioned right now so there is a plus there. Let me know if you need any help if you choose this route!
As for your current deck, Harmonize, Lightning Greaves, Beast Whisperer are all bad. You can make an argument for one Whisperer but even then that is not ideal. None of these cards particularly do much and if you are casting Harmonize in modern with this deck's gameplan you are probably already losing. You really need a 2-drop, if you stay in mono-green, 1 Scavenging Ooze and 4 Strangleroot Geist are decent options. I would personally consider getting into red to play Lightning Bolt and Bonecrusher Giant as you need some kind of removal; you can't expect your opponents to just do nothing, especially in modern. If you stay mono-green though, you basically have to play a couple Dismember in the main or side. You also need a sideboard, I know it is extra money but in modern a lot of the skill is being able to adapt to your opponent. For you, cards like Shapers' Sanctuary, Chameleon Colossus, Grafdigger's Cage, Reclamation Sage, Weather the Storm, and Relic of Progenitus are all good options that shouldn't break the bank when constructing your board. A card like Carnage Tyrant is also good but pricy, Gaea's Revenge is a bit more budget-oriented option.
I hope this helps, welcome back to the crazy world of modern!
Load more