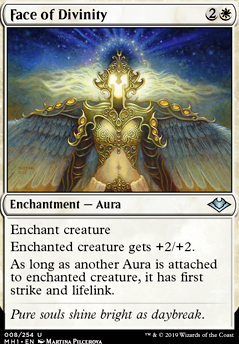 Legality
| | |
| --- | --- |
| Format | Legality |
| Tiny Leaders | Legal |
| 1v1 Commander | Legal |
| Magic Duels | Legal |
| Canadian Highlander | Legal |
| Vintage | Legal |
| Modern | Legal |
| Penny Dreadful | Legal |
| Custom | Legal |
| Leviathan | Legal |
| Legacy | Legal |
| Duel Commander | Legal |
| Oathbreaker | Legal |
| Unformat | Legal |
| Casual | Legal |
| Commander / EDH | Legal |
Face of Divinity
Enchantment — Aura
Enchant creature
Enchanted creature gets +2/+2.
As long as another Aura is attached to enchanted creature, it has first strike and lifelink.
Face of Divinity Discussion
2 months ago
Hell yeah! Another heroics deck! I have one too but Daxos the Returned commands mine, same idea tho.
Some creatures that I don't see here that could benefit the deck are Celestial Ancient , Danitha Capashen, Paragon Dawnbringer Charioteers , Graceblade Artisan , Lagonna-Band Trailblazer , Sram, Senior Edificer , Wingsteed Rider , Umbra Mystic and my personal favorite Thran Golem .
Some enchantments I really like in my deck are Celestial Mantle , Daybreak Coronet , Divine Favor , Face of Divinity , Griffin Guide , Hope Against Hope , On Serra's Wings Angelic Destiny and Bonds of Faith can go offensive or defensive. You should look into some umbras like Felidar Umbra and Hyena Umbra .
Windborne Charge is a great little pump spell for a good cost. I'm surprised you're not running any enchantment tutors. Crystal Chimes is great graveyard enchantment recursion.
I noticed you have some token generation. Intangible Virtue could be an option. With that said Sigil of the Empty Throne is an excellent card in decks like this.
I realize I've only suggested white cards but that's the only overlapping color our decks share.
Sorry to spam this comment with so much but I got excited. I love the heroic mechanic and I'm glad to see other people utilizing it. A big enchanted +1 from me!
No data for this card yet.