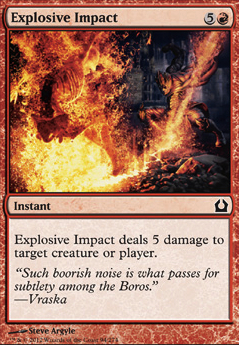 Legality
| | |
| --- | --- |
| Format | Legality |
| Tiny Leaders | Legal |
| 1v1 Commander | Legal |
| Custom | Legal |
| Magic Duels | Legal |
| Canadian Highlander | Legal |
| Vintage | Legal |
| Modern | Legal |
| Penny Dreadful | Legal |
| Casual | Legal |
| Pauper EDH | Legal |
| Leviathan | Legal |
| Legacy | Legal |
| Duel Commander | Legal |
| Oathbreaker | Legal |
| Unformat | Legal |
| Pauper | Legal |
| Commander / EDH | Legal |
Explosive Impact
Instant
Explosive Impact deals 5 damage to target creature or player.
Explosive Impact Discussion
1 year ago
There have been similar cards in the past, but none of them have approached that power level. As damage increases, to keep it balanced, the mana cost would need to increase by more than you'd expect.
The closest thing you could compare your 4-damage Big Bolt to, is Flame Javelin, which is an older, more flexible Unfriendly Fire. There is also Char which included a drawback because its cost was so cheap.
Also, a 6-mana burn spell would need a higher cost than Explosive Impact. If the "2 generic mana = 1 colored mana" conversion rate is to be believed, this card implies 5 damage would be fair at the cost .
It turns out that Lightning Bolt is above the curve on burn spells, and makes a poor baseline for new card proposals. If you want to make a balanced spell, you should look at Shock and Lightning Strike for the correct way to cost a new burn spell.
2 years ago
10 to 2.0
Out: Boros Elite, Boros Recruit, Warmind Infantry, Ordruun Commando, Nav Squad Commandos, Towering Thunderfist, Surge of Zeal, Wojek Siren, Shattering Blow, Searing Meditation.
In: Angelic Edict, Angelic Skirmisher, Explosive Impact, Five-Alarm Fire, Flame Fusillade, Gideon, Champion of Justice, Goblin Rally, Knight Watch, Luminate Primordial, Molten Primordial.
3 years ago
Add:
Borborygmos Enraged: Turn lategame lands into advantage
Chaos Imps: Huge Flier
Chromatic Lantern: Best Mana Fixing
Death's Presence: Capitalize on Big Creatures
Explosive Impact: Removal
Giant Growth: Combat Trick
Glaring Spotlight: Lethal Swing
Hellkite Tyrant: Big Flier
Madcap Skills: Powerful Evasion (note, does not make a creature unblockable with Alpha Authority)
Maze Behemoth: Gives Commander Trample
Mizzium Mortars: Board Clear
Molten Primordial: Removes big blockers, gives additional attackers, and can act as removal
Rogue's Passage: Gives creatures unblockable, like your commander that has to keep attacking
Skarrg Goliath: Combat trick that kills defenders and players
Sylvan Primordial: Ramp and Enchantment/artifact/planeswalker/land removal.
Thespian's Stage: With being limited to RTR lands, why not get out of set lands?
Utvara Hellkite: Wins games on its own
Viashino Shanktail: Firststrike Combat trick (also called SHANK tail)
Weapon Surge: Combat trick/mass combat trick, turn trades into chumps
Worldspine Wurm: 15/15 that spawns 5/5's
Wrecking Ogre: Combat Trick Doublestrike
Remove:
Bomber Corps: Doesn't do much, the battalion isn't reliable, and ping isn't useful
Experiment One: your deck doesn't spam creatures with ascending power/toughness.
Foundry Street Denizen: Doesn't do much of anything, wasted slot
Spire Tracer: 1/1 faux flier doesn't help
Skinbrand Goblin: small combat trick, weak creature
Gatecreeper Vine: defender in an aggressive deck that searches out a single card in deck
Skullcrack: a useless card, even for an aggressive deck, burn is used for creature removal
4x Mountain: Too many lands
5x Forest: Ditto
Mending Touch: Regen isn't worth a card
Pyroconvergence: too expensive, Shocking on multi-color doesn't help much
Skylasher: counters a single faerie a turn, doesn't do much else
Tablet of the Guilds: lifegain doesn't matter, wasted slot
Gruul Charm: doesn't do anything
Maybe:
Hellraiser Goblin: Gives all creatures haste
Illusionist's Bracers: 12 damage with Ruric Thar, the Unbowed, instead of 6
Racecourse Fury: gives any creature haste
Seek the Horizon: Ramp
Street Spasm: boardclear
Tower Defense: anti-fliers if you are concerned about that
Zhur-Taa Ancient: ramp for all, also really cheap big guy
No data for this card yet.