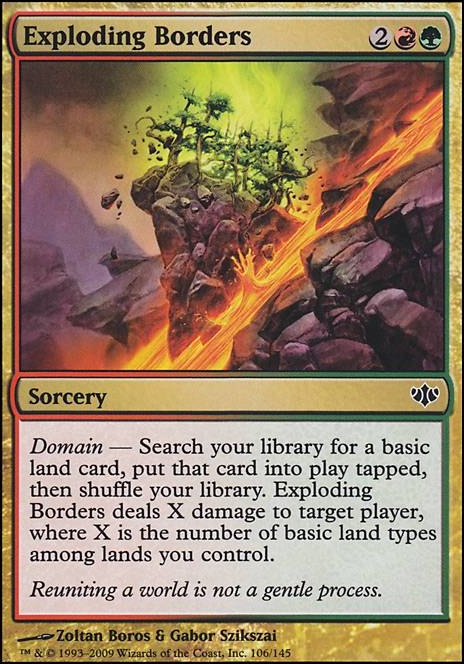 Legality
| | |
| --- | --- |
| Format | Legality |
| Noble | Legal |
| 1v1 Commander | Legal |
| Vintage | Legal |
| Modern | Legal |
| Casual | Legal |
| Vanguard | Legal |
| Legacy | Legal |
| Archenemy | Legal |
| Planechase | Legal |
| Duel Commander | Legal |
| Unformat | Legal |
| Pauper | Legal |
| Commander / EDH | Legal |
Exploding Borders
Sorcery
Domain Search your library for a basic land card, put that card onto the battlefield tapped, then shuffle your library. Exploding Borders deals X damage to target player, where X is the number of basic land types among lands you control.
Exploding Borders Discussion
6 months ago
I know what you mean. It feels just awesome when you build a deck and play it, and you see how your opponents wonders what the heck you're playing there. And it also is cool when you are the opponent of such a deck. I've been in this position once versus somes five-coloured Exploding Borders deck back in the times of shards of alara. I think I won the game if I remember correctly, but the deck was a lot of fun to play against because I really didn't know how to handle it.
If you want to look at a deck of mine that goes a little into this direction, I would really appreciate if you took a look at this: Frog Hunt (bury your opponent under your deck)
Regarding your deck: Keep on testing. If I happen to have helpful ideas, I'll stop by and leave them here.