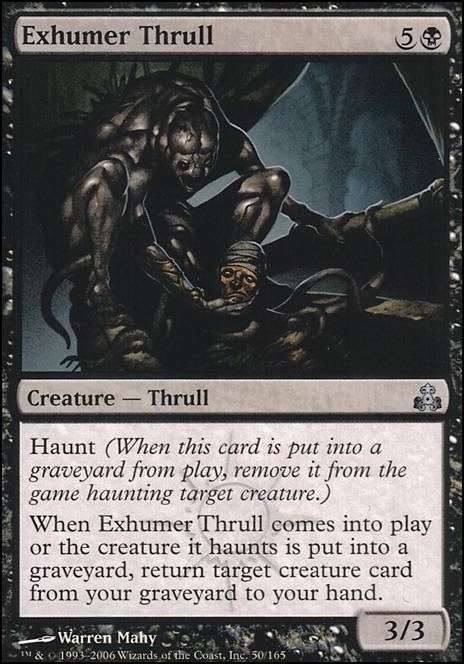 Legality
| | |
| --- | --- |
| Format | Legality |
| Pre-release | Legal |
| Noble | Legal |
| Leviathan | Legal |
| Magic Duels | Legal |
| Vintage | Legal |
| Modern | Legal |
| Vanguard | Legal |
| Legacy | Legal |
| Archenemy | Legal |
| Planechase | Legal |
| Duel Commander | Legal |
| Unformat | Legal |
| Casual | Legal |
| Commander / EDH | Legal |
Exhumer Thrull
Creature — Thrull
Haunt (When this card is put into a graveyard from play, remove it from the game haunting target creature.)
When Exhumer Thrull enters the battlefield or the creature it haunts is put into a graveyard, return target creature card from your graveyard to your hand.
Exhumer Thrull Discussion
1 year ago
In Commander, there are in fact more than two black thrulls. There's Armor Thrull (one of my favorites), Necrite & Mindstab Thrull, Blood Pet, Basal Thrull & Blood Vassal, Exhumer Thrull, Thrull Champion, Thrull Parasite, Thrull Surgeon & Thrull Wizard... and that's pretty much all the good ones in mono-black.
The best thrulls are WB, such as Mourning Thrull, Kingpin's Pet and Treasury Thrull (which kinda sucks, anyway), but then you wouldn't be able to keep Endrek as your Commander if you went .
Also, don't forget to check out cards like Breeding Pit, Ebon Praetor, Orzhov Keyrune, Sarpadian Empires, Vol. VII, Soul Exchange (awesome card), Thrull Retainer & Tourach's Gate.
I love thrulls, btw. =)
Also, check out this link for excellent tribal support: The Bones To Build Your Tribal Deck
1 year ago
Well, to start you have no lands. Lands are kinda important, as they let you, you know cast spells? :) Anyways, you are very, very creature heavy, and many of these creatures do not inherently help "Ayli" plan, or are "filler" creatures, that don't do much of anything. You have very little card draw, like none at all, so add thing like, Mind's Eye, or my favorite, Read the Bones, so you don't end up top-decking. Alright, so, now I'll give a list of creatures I think you should cut; Blind Hunter, Butcher Ghoul, Blistergrub, Carrier Thrall, Doomed Traveler, Dross Harvester, Exhumer Thrull, Gavony Unhallowed, Lingering Tormentor, Mausoleum Guard, Mistmoon Griffin, Necroskitter, Restless Apparition, Shambling Goblin, Soulcatcher, Summoner's Egg, Swarm of Bloodflies, Twilight Shepherd, Vish Kal, Blood Arbiter, Screams from Within, Seize the Soul, Benediction of Moons, and Cry of Contrition. Oh, and I want to reccommend EDHREC.com to help get the creativity flowing too. Hope this helps, and tag me or message me if you want more advice.