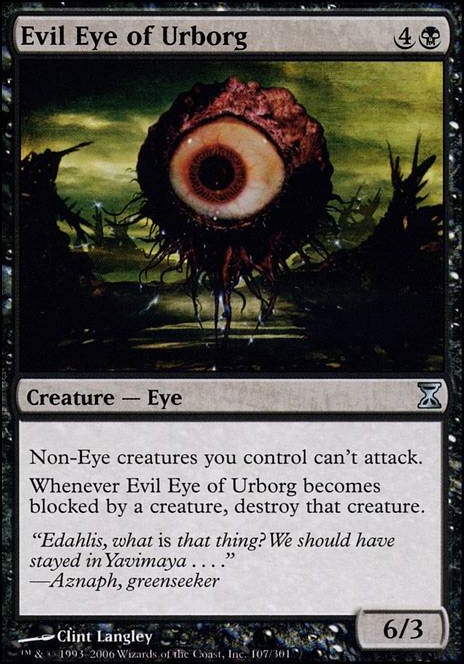 Legality
| | |
| --- | --- |
| Format | Legality |
| Noble | Legal |
| 1v1 Commander | Legal |
| Vintage | Legal |
| Modern | Legal |
| Casual | Legal |
| Vanguard | Legal |
| Legacy | Legal |
| Archenemy | Legal |
| Planechase | Legal |
| Duel Commander | Legal |
| Unformat | Legal |
| Pauper | Legal |
| Commander / EDH | Legal |
Evil Eye of Urborg
Creature — Eye
Non-Eye creatures you control can't attack.
Whenever Evil Eye of Urborg becomes blocked by a creature, destroy that creature.
Evil Eye of Urborg Discussion
6 months ago
Made by an EDH-player, perhaps :)
The deck has some cards that are interesting, and some that have no business being in a modern deck. But the basic question is: what is it you would like to do with this deck? What is the best card, you can imagine playing on turn 1, 2, 3 and 4? If you would like to play a Smallpox on turn 2, then you should bring more Smallpoxes. But then you should bring more cards, that go well with being sac'ed or discarded... like Gravecrawler or Bloodghast.
You have a couple of cards, that care about swamps: Lashwrithe and Mutilate. That's something to work with. How about swamping everything? First, you need more of this theme. so, up to 4 mutilate, and 4 lashwrithe. To make room for that, Nevinyrral's Disk, Will-o'-the-Wisp, and Evil Eye of Urborg has to go. If you want to play "swamps matter", Smallpox is also a bit of a no-go, since it eats one of your own lands. To make sure you get some swamps, you could bring in the worst liliana Liliana of the Dark Realms. Lashwrithe is a piece of equipment, so maybe you can find something to equip it to, that survives sweepers (manlands and manarocks that can be animated) or threats with haste (like Skithiryx, the Blight Dragon.