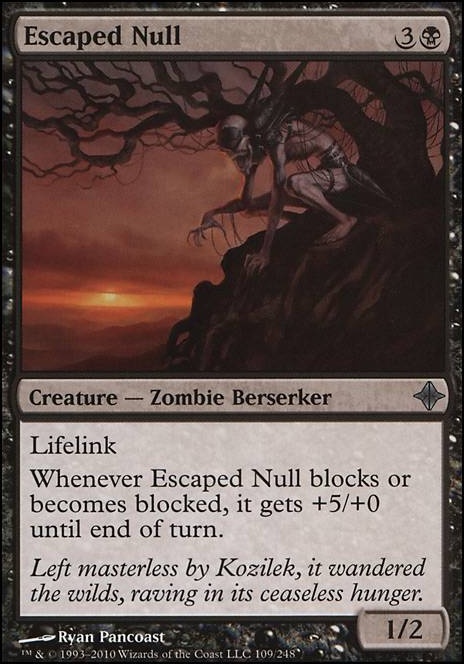 Legality
| | |
| --- | --- |
| Format | Legality |
| Pre-release | Legal |
| Noble | Legal |
| Leviathan | Legal |
| Tiny Leaders | Legal |
| Magic Duels | Legal |
| Vintage | Legal |
| Modern | Legal |
| Penny Dreadful | Legal |
| Casual | Legal |
| Vanguard | Legal |
| Legacy | Legal |
| Archenemy | Legal |
| Planechase | Legal |
| 1v1 Commander | Legal |
| Duel Commander | Legal |
| Unformat | Legal |
| Pauper | Legal |
| Commander / EDH | Legal |
Escaped Null
Creature — Zombie Berserker
Lifelink
Whenever Escaped Null blocks or becomes blocked, it gets +5/+0 until end of turn.
Escaped Null Discussion
2 weeks ago
so i have a few suggestions life gain is fun and i have one with same colors except i went without blue. Aetherborn Marauder, Archangel of Thune, Blood Baron of Vizkopa, Courser of Kruphix, Escaped Null, Felidar Sovereign, Gifted Aetherborn, Nyx-Fleece Ram, Rhox Faithmender, Spike Feeder, Vampire Nighthawk, Warden of the First Tree, Abzan Guide, Serra Ascendant, Grand Coliseum, Transguild Promenade, Rupture Spire, Painted Bluffs, Exotic Orchard, Aetherflux Reservoir, Chalice of Life Flip, Skull of Orm, Test of Endurance, Beacon of Immortality. having green i would suggest some more mana ramp too maybe something like Fog here is my deck also if you want to take a look. Damage Incorporated
3 months ago
LOL this thread made me laugh -- MagicalHacker is on point, as is Argy.
I have a couple I've been ruminating on for awhile now:
The Tammy's Timmy: Has no mythics in his/her binder because they're all crammed into their The Ur-Dragon deck along with every legendary Dragon. This includes Aetherworks Marvel, Sphinx of the Steel Wind, and Eldrazi...but don't worry, they run Arcane Adaptation too. When they lose, they complain that Naturalize shouldn't beat Mindslaver because it's a common. Tends to think that "card advantage" is a function of power and toughness, not hand size.
The Johnny's Jenny: Disparages any deck with a budget over $50. Announces upon losing that "if I didn't have my priorities straight, I'd buy Serum Visions too and then I'd crush you through superior deck-building". However, when they do pull off a Near-Death Experience, they'll remind you about it for the rest of the year. Tends to equate deck budget to moral superiority.
The Spike's Spike: Seems to have forgotten that Magic cards are sold in "game" stores. Will ask you to step away from the table if you try to advise your partner during his/her first draft, then proceed to bait/obfuscate your partner into attacking into an Escaped Null that they didn't know about. (True story.) Is willing to play against noobs and little kids in order to win.
I think we all tend to have a little too much of those psychographics at some times. And of course, in balance, none of those types are negative. I tend to be a Johnny's Johnny at my worst moments. At my best, though, I am:
The Casual's Casual: Only wants to play a tight, fun game. Is completely unwilling to win just because their opponent is manascrewed -- instead, will tell them to "go get a Plains" instead of draw a card. Is also known to correct one's opponent if they miss a trigger or target Karador, Ghost Chieftain with Doom Blade, with the firm belief that nobody should lose due to misplays. Plays Boros commanders and group-hug to help everyone have a good time. Plays draw-go control only to protect everyone else from the Spike's Spike. When they notice that you can sacrifice Serra Avatar to Ayli, Eternal Pilgrim during combat and activate Cradle of Vitality to put 40 +1/+1 counters on an attacking 0/1 Goat token for the win, they will alert you.