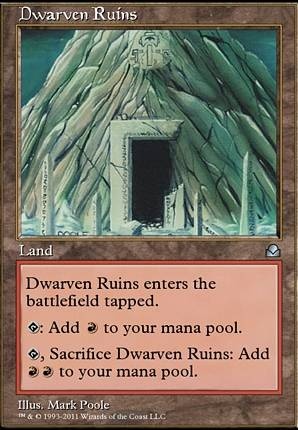 Legality
| | |
| --- | --- |
| Format | Legality |
| Tiny Leaders | Legal |
| Noble | Legal |
| Leviathan | Legal |
| Magic Duels | Legal |
| Canadian Highlander | Legal |
| Vintage | Legal |
| Penny Dreadful | Legal |
| Vanguard | Legal |
| Legacy | Legal |
| Archenemy | Legal |
| Planechase | Legal |
| 1v1 Commander | Legal |
| Duel Commander | Legal |
| Oathbreaker | Legal |
| Unformat | Legal |
| Casual | Legal |
| Commander / EDH | Legal |
Dwarven Ruins
Land
Dwarven Ruins enters the battlefield tapped.
: Add to your mana pool.
, Sacrifice Dwarven Ruins: Add to your mana pool.
Dwarven Ruins Discussion
4 months ago
Commenting here rather than on your page.
I don't mean to sound so overbearingly critical, but your deck is overall lacking in substantial board presence. Oathbreaker is a format in which you want to protect your Planeswalker at all viable costs. You have four creatures. That does not make for a very strong base. I'm going to rip into this deck, but I am also going to offer you suggestions on how to greatly improve upon it :) I hope that you don't take offense to anything I am saying, but I felt like I can do you some good here.
As for a win condition outside of Form of the Dragon , there is also Martial Coup . Since you are snuffing out all of your opponent's lands anyway, as well as their creatures, why not create a literal army of tokens that now stand unopposed?
There is also Curse of Bloodletting , which makes your Form of the Dragon deal 10 damage instead.
You may also want to consider replacing Mudhole with something more viable. Perhaps Lightning Helix ? It burns and gets you life. Acts as another win condition, makes it harder for your opponent to win in the process as your life totals grow farther and farther apart, and plays nicely with the aforementioned Dawn of Hope .
This took me like 40 minutes, so I hope it helps.
9 months ago
SamsWrath thanks for your deck advice! Mox Opal is going in as soon as I have enough spare cash. At the moment it doesn't benefit to remove Gauntlet of Power and Extraplanar Lens , but once I've included the artifact lands (for metalcraft) and some of the quick mana you have suggested, the benefits of those cards will be eroded sufficiently.
I will be keeping the ramp spells you suggest in mind. I am currently testing extra turn cards Last Chance and Final Fortune , and once I have decided if to keep them I will move on to those. What's your thoughts on Treasonous Ogre to pay life for ramp?
I couldn't warrant City of Traitors but Dwarven Ruins and Sandstone Needle are going in for sure. Crystal Vein I am going to pass on as I have never been left wanting more colourless as the deck has numerous ways of producing it.
Helm of Awakening would not work in my meta, the benefits given to the other players make it far too risky. Given this is a mono-coloured deck Ruby Medallion does the trick.
Torch Courier doesn't give this deck enough benefit to earn a slot. I would typically play the haste card when I am all set to win. As this is targeted haste, the goblin army can't swing out, requiring more pieces to win. Also, it doesn't synergise with sacking Krenko back to the command zone and recasting with infinite mana.
Some great suggestions dude, thank you!
10 months ago
You may be able to drop a few lands--especially if you add in the KCI combo. I tried to keep these suggestions as budget as possible but, a couple of them are in the $15-$20 range.
Some spells to consider:
Lands to Consaider:
10 months ago
Like SamsWrath said above, needs room for the Mox Diamond :P I wouldn't touch the Iso Scepter combo with 10ft pole though.
I think Siege Gang should be pulled, he's bringing up the curve too much and not doing a lot. Wasteland should be swapped for Dwarven Ruins as its pretty narrow and too responsive.
I'd pull Defense Grid in favor of Expedition Map which can tutor up your Cavern of Souls. Defense Grid has a higher chance of being dropped, and then the next combo player will just win.
Dragon Fodder should %100 be Goblin Instigator. Gets you the same number of gobs but its reduceable via Warchief and is tutorable and copyable by Matron/Recruiter and Kiki. Then replace Krenko's Command with Goblin Chirurgeon. That'll lower the deck cmc, adds another combo enabler, and has some value for protecting Krenko.
I'd run Grafdigger's Cage over Stranglehold as you can drop it turn 1 and forget it, where Strangle competes for turn drop with Krenko. It's a nonbo with Moggcatcher, but that's about it.
Thorn of Amethyst might be worth it. Add to maybeboard?
I'd also just pull Hanweir Battlements. Its just so rare that you have Krenko mana + an open red source + this land untapped.
10 months ago
Krenko is hard to tune for cEDH because at his best he's probably still a 2.5-tier commander. I play Krenko as my "fair" deck but, I have given some though into making him faster. One thing I'm 100% sure of is that outside of a turn 1 wheel that has tons of ramp and nets another wheel, I see no way to get a turn 1 win with Krenko. Below are some of the cards I've considered that you don't currently have in your list.
11 months ago
Don't forget Blasphemous Act too! And if you use Crucible of Worlds you can make use out of lands like Sandstone Needle and Dwarven Ruins, although if you run those Amulet of Vigor might be a nice slot for taplands. Not sure if that's ideal though since I don't see a consistent way to get all of those on the board in mono-red exactly but who knows. It's something perhaps worth considering.
Load more
Dwarven Ruins occurrence in decks from the last year
Commander / EDH:
All decks: 0.0%