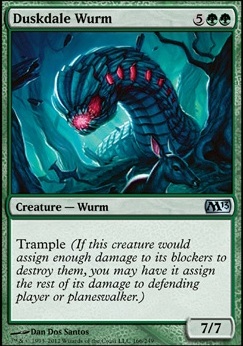 Legality
| | |
| --- | --- |
| Format | Legality |
| Modern | Legal |
| Legacy | Legal |
| Vintage | Legal |
| Commander / EDH | Legal |
| Duel Commander | Legal |
Related Questions
Duskdale Wurm
Creature — Wurm
Trample (If this creature would assign enough damage to its blockers to destroy them, you may have it assign the rest of its damage to defending player or planeswalker.)
Duskdale Wurm Discussion
2 months ago
@Panzerforge: You can make that example much simpler - one player attacks their opponent (who is at 2 life) with Duskdale Wurm, the opponent controls an Exquisite Archangel. If the Wurm attacks, no matter what the opponent does in terms of blocking, they will be back at their starting life. The only difference blocking makes is that if the Angel is blocking, their controller may put them in the graveyard or exile, instead of having to put it into exile.
Of course, if you were looking for justifications of the card, keep in mind that generally, no matter how many creatures that player attacks with (say, 3 million 7/7 Trample creatures), the opponent will not lose the game, and will be back at their starting life total.
Of course, that only works if none of those creatures have Double Strike, and either all or none of those creatures have First Strike.
I still think that outside of maybe EDH, it's not a particularily playable card, simply due to the high mana investment... for that kind of mana, you can get a reuseable Platinum Angel (of course, that won't survive the Provoke scenario, but most others), Platinum Emperion (if you're actually concerned about your life total), and for more or less the same one-shot effect as with Exquisite Archangel, Angel's Grace is much more affordable while being less weak to removal.
It's certainly better than a Duskdale Wurm, though ;)
1 year ago
Ok, it's your first deck and I respect that, and please do not take it as me being a douchebag, I really just want to help you out!
---
You said in your description that you wanted life gain, but your deck is heavily centered around heavy hitters and not much about lifelink. I would say that you're better off with aggro rather than lifegain, but I'll give you some suggestions:
LANDS
Drop the 2 Opulent Palace, get 3 more Blossoming Sands, and you're running way too many lands, I suggest you drop 9, so your deck has 60 cards exactly, more than that will just throw you off your game.
CREATURES
Nothing that has constellation will do much for you, because you simply don't run enough Enchantments, so I'd cut Eidolon of Blossoms, Humbler of Mortals and Harvestguard Alseids, they'll just be dead cards most of the time.
You should choose 2 heavy hitters for your deck, I'd say keep the Woodborn Behemoths and drop Wardscale Dragon, Ulvenwald Mystics Flip and Duskdale Wurm.
Also, there are cards that just don't do enough, or cards that can be replaced with much better and cheap (as in, less than 50 cents at your local game store) cards that will make your deck be more efficient, those cards are: Dragon Bell Monk, Highland Game, Kitesail Scout, Oreskos Sun Guide, Oreskos Swiftclaw, Satyr Grovedancer, Soulmender and Trained Caracal.
This will leave you with 14 cards that you can fill with:
4x Sunblade Elf
3 more Sedge Scorpion
INSTANTS
there are some instants that are just underwhelming, they seem good but they won't do much and they can be switched for much better cards that fit your playstyle. I would drop Hold at Bay, Pressure Point, Savage Surge and Strip Bare.
I prefer Giant Growth over Titanic Growth, you should run a playset of one of the cards, but that's really up to you!
this will open up 5 spots, my suggestion is:
1 more Shape the Sands
4x Giant Growth or Titanic Growth
SORCERIES
Lose Incremental Growth, it's just too expensive to be useful in a deck that's not centered around counters, Phytoburst is weaker than Titanic Growth and similar cards, so I wouldn't keep it. As for Commune with the Gods and Alive / Well, they feel useless in this strategy.
Seek the Horizon is worse than Explosive Vegetation, but, again, that's up to you.
This will open up 4 spots, here are the suggestions:
2 more Lay of the Land
3 more Explosive Vegetation
ENCHANTMENTS
I'm going to be blunt, they're all terrible. I'm sorry to be a dick like this, but not one of those enchantments will do much for you, except for Bound in Silence, but Pacifism is essentially better.
My suggestion is, drop all of those enchantments and get 4 Pacifisms.
---
I'm sorry this became a huge text, and I'm terribly sorry if I came off to strong, I only mean to help! Much love!