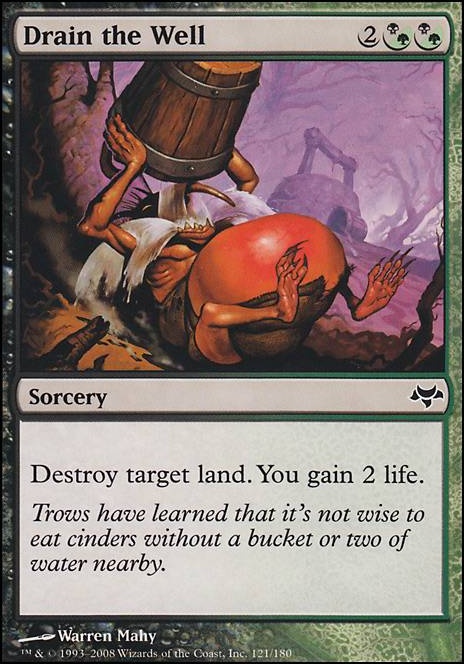 Legality
| | |
| --- | --- |
| Format | Legality |
| Noble | Legal |
| Leviathan | Legal |
| Magic Duels | Legal |
| Canadian Highlander | Legal |
| Vintage | Legal |
| Modern | Legal |
| Penny Dreadful | Legal |
| Casual | Legal |
| Pauper EDH | Legal |
| Vanguard | Legal |
| Legacy | Legal |
| Archenemy | Legal |
| Planechase | Legal |
| Duel Commander | Legal |
| Unformat | Legal |
| Pauper | Legal |
| Commander / EDH | Legal |
Drain the Well
Sorcery
Destroy target land. You gain 2 life.
Drain the Well Discussion
1 year ago
Yeah i know $100 is low but this is meant to be a more casual than competetive deck (For now). But yeah Im thinking black is my best option considering my budget in terms of what tools/cards are available. Over time I may consider working my way in to getting more dual lands and work my way into some red with down the road aquireing Blood Moon. I love your suggestion of Corrupted Roots and Drain the Well appears to be a strictly better Caustic Rain so I definity need to make a spot for those. Helldozer looks hillarious. Im going to stick with Abyssal Persecutor for the time being but i will keep him in mind. I currently am using Evil Presence others which is why i am trying to avoid Smallpox for now. but perhaps in the future when i break away from those enchant land effects i will work with it. especially because i already own a playset of them and it pains me seeing them unused.Thanks for those courtesy links for the ideas and thank you for taking the time to post!
1 year ago
Hmmm...$100 is pretty low. That means no Life from the Loam, Fulminator Mage, or even dual lands.
Are you set on keeping this mono-black? There's a lot to be gained from adding red or green, not just because of expensive cards. Green gives you ramp so you can turn 2 Rain of Tears and work your way up to a Death Cloud. Red gives you more land destruction (specifically Molten Rain and Avalanche Riders), plus the absolutely insane Goblin Dark-Dwellers.
If you're staying mono-black, I'd suggest building around Smallpox. You can get your opponent low with Abyssal Persecutor, then finish out the game when it gets sacrificed. It also creates a lot of value when your opponent has to sacrifice a creature.
Smallpox gets even more value when you couple it with Solemn Simulacrum and Filigree Familiar.
Some other cards to consider:
Also check out Budget Magic over at MtG Goldfish. Here is a deck built around Death Cloud that's actually pretty good from what I've seen at my local shop. And here is R/G Land Destruction to give you some more ideas.
1 year ago
Drain the Well another choice, maybe SB for burn? Haha. I can't find any other cards that are land destruction that are the same CMC