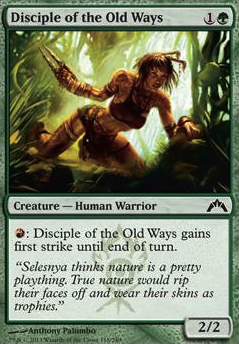 Disciple of the Old Ways
Creature — Human Warrior
R: Disciple of the Old Ways gains first strike until end of turn.
Disciple of the Old Ways Discussion
6 months ago
Dimir doesn't hate anyone. Every guild is a useful puppet for the controlling dimir.
Also gruul hate simic (Ghor-Clan Rampager), the selesnya (Disciple of the Old Ways), and everybody else (Gruul Charm).
Who does simic hate?
I'm sure there's other examples as well.
1 year ago
That is a good idea. I will for sure put Smelt in there. I think I might sideboard the Disciple of the Old Ways . Just for now.
Thanks for the feedback!
1 year ago
I love the idea! Its lots of fun play testing it and gaining control of all the opponent's permanents. I don't think you need Disciple of the Old Ways it just doesn't do much for the deck. U could definitely find some good artifact removal, maybe Smelt . But the deck is awesome so +1 from me!
1 year ago
Hey everyone. Ever since I started collecting Dragon's Maze and Gatecrash decks, and most recently the Gruul Wilding set, I've had a fascination with creating a perfect Gruul deck. Particularily the cards that allow more mana for easily summoning larger creatures, amping up atk and def, as well as spells that can greatly destroy life force, creatures, artifacts, etc.
There's just one problem. I suck at deck building. So I need some help for making a great R/G Gruul deck that can fulfill my desires for more mana and creature summons.
Here is a list below of all Gruul based cards, as well as other cards I have collected over time.
Hey guys. Recently I've been favouring the strong Red/Green combo decks based around the Dragon's Maze and Gatecrash series. But after collecting a large number of cards I'm trying to figure out how to make a better deck than the one I have right now.
I have a list of the cards in my posession here:
Creatures
2x Acidic Slime
2x Cobblebrute
1x Rubblehulk
4x Arbor Elf
1x Borborygmos
2x Rust Scarab
1x Wild Cantor
Artifact
Sorcery
1x Frenzied Tiling
2x Armed & Dangerous
2x Enlarge
1x Bramblecrush
4x Farseek
1x Wreak Havoc
Instant
2x Pit Fight
2x Naturalize
3x Gruul Charm
3x Shock
1x Wildsize
3x Skullcrack
Enchantment
Land
12x Forest (I have countless of these from collecting)
12x Mountain (Same as Forest)
1 year ago
The one thing I'd like to say here is to focus on one central theme. I realize you're trying to do Dragons, but I can't really tell that from all of the fluff around it. If this is truly meant to be a dragon deck, try to downsize on the unnecessary stuff such as Disciple of the Old Ways , Frenzied Tilling , Foundry Street Denizen , Thopter Assembly , you probably get the idea. Also, try to find a few dragons that you really like and run a playset of those, rather than having one or two of every dragon.
I hope this helps, and I hope you're having fun getting back into Magic!