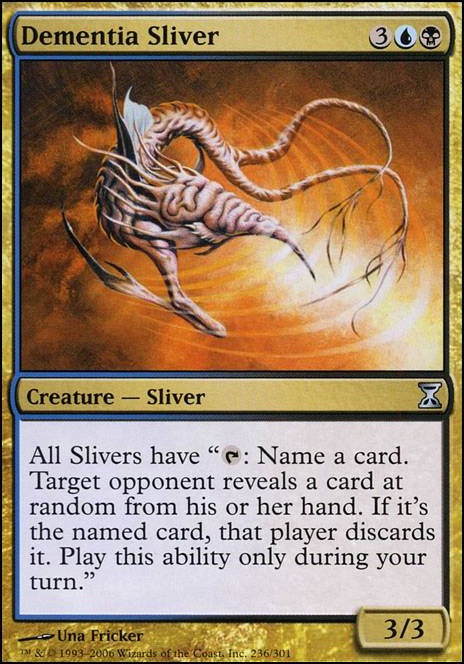 Dementia Sliver
Creature — Sliver
All Slivers have "Tap: Name a card. Target opponent reveals a card at random from his or her hand. If it's the named card, that player discards it. Play this ability only during your turn."
Browse Alters
View at Gatherer
Legality
| | |
| --- | --- |
| Format | Legality |
| Commander / EDH | Legal |
| Highlander | Legal |
| Noble | Legal |
| 2019-10-04 | Legal |
| Vintage | Legal |
| Casual | Legal |
| Block Constructed | Legal |
| Unformat | Legal |
| Modern | Legal |
| Duel Commander | Legal |
| Canadian Highlander | Legal |
| Leviathan | Legal |
| Legacy | Legal |
| 1v1 Commander | Legal |
| Tiny Leaders | Legal |
| Oathbreaker | Legal |
| Magic Duels | Legal |
| Penny Dreadful | Legal |
Dementia Sliver Discussion
2 years ago
Brood Sliver I would recommend removing because it is too slow for aggro. Dementia Sliver This card is a little more toward late game and if your aggro it wouldn't be the best include. Frenetic Sliver Can possibly removed if you feel like it, but can be kept in just for some fun. That was just a few things I saw I didn't have much time looking through all the cards.
2 years ago
I love slivers more than most players. It seems like your deck has a lot of slivers in it, which is good, but I feel like in some cases you need an reason to put it in besides the fact that it's a sliver. I run a bizarre kind of sliver token deck though, so in mine, I only run 17 or so slivers, so take everything I have to say with a grain of salt.
Slivers that aren't that great:
Other things to take out:
Staff of Nin (I like this card in mono-red, but that's about it. since you have access to all the colors, there's a huge amount of cards you have access to that are just better than this card. Find something that works well with your deck. I like Fecundity, but I'm in tokens. There's a lot in blue that are great. Mind Unbound will draw you a lot of cards (a lot more than the staff). and has the same CMC, but it does have double blue. I even like Phyrexian Arena in this deck.
Hive Stirrings. (I'm in sliver tokens and I don't really love this card. Just a lot of other effects i'd rather have for 3 mana. Maybe a Mirror Entity or an Phyrexian Arena)
Venser's Journal (I love this card, but not in this deck. I just feel like there's not enough card draw, hand size shenannagins to make use of this card. If you added like 10 more card draw spells then sure, good pick)
Stuffs to Add:
(Note: given the sliver legion and queen, it seemed like money wasn't much of an issue, so some of these picks aren't exactly budget)
Some nuts busted cards:
Cryptic Gateway. (this is nuts. I love it)
Cauldron of Souls (this is a super underrated card. When I go in and retune my deck, this is going in)
Wild Pair (since you like cryptic gateway, you might like this card. didn't make it into mine, because i'm pretty low on slivers, but slivers always have the same power and toughness, making it really easy to use this card.)
Great deck. I'd love to hear what you think of my sliver tokens deck. I haven't tweaked it in a while so there's some obvious slot in's from Ixalan at least that need to go in. http://tappedout.net/mtg-decks/make-tokens-great-again/
Thanks for sharing :)
3 years ago
I have a Sliver Overlord commander deck myself, I find aggro really fun to play, and Overlord really lets me get in the zone for that. Maybe I can help you out a little bit..
First off, holy slivers. Mine runs maybe 30 at the most. Not all of the slivers in magic are good, so I'd suggest taking out Ghostflame Sliver and Dementia Sliver. Neither of them do very much in your deck, and you can replace them with other cards. Other slivers (such as running Blur Sliver and Heart Sliver) don't need duplicates as much as engines like Gemhide Sliver and Manaweft Sliver.
You have a lot of Green mana in here so I'd suggest taking some blue or red out and replacing it with that. Also with the dual lands, you can take some out and rest easy,a lot of times you end up with duplicate colors (such as dual Boros when you need green or something) I myself am running only a few of each color combo.
In my deck I run Pentad Prism for early game mana fixing, as well as a Channel the Suns, then again both don't get hit by Primal Surge so..
Have you considered Training Grounds or Heartstone?
Wild Pair is broken in Slivers if you can get it out fast enough.
Another really good card in slivers is Intruder Alarm. Running it may accidentally enable combos for decks like Kiki-Jiki, Mirror Breaker and Krenko, Mob Boss If you're tapping your slivers with Gemhide Sliver or Manaweft Sliver, getting a sliver with Sliver Overlord and casting it, you can potentially get out every single sliver in your deck and smash face with them.
I playtested this deck one or two times and it works really well. Only problem is you're really open to removal but I can assume you're playing casually so I won't tell you anything bad about it.
+1; I hope I helped a little, sorry for writing an essay. Good luck with these, I found myself not playing slivers very often because they're super good, like the easy button of EDH hehe [: