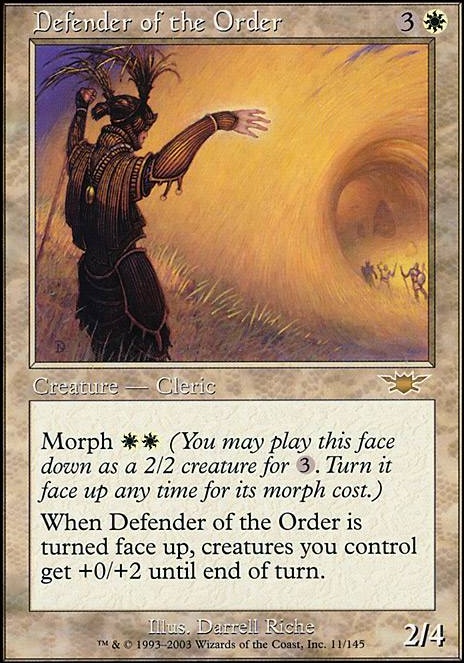 Legality
| | |
| --- | --- |
| Format | Legality |
| Tiny Leaders | Legal |
| Noble | Legal |
| Leviathan | Legal |
| Magic Duels | Legal |
| Canadian Highlander | Legal |
| Vintage | Legal |
| Penny Dreadful | Legal |
| Custom | Legal |
| Vanguard | Legal |
| Legacy | Legal |
| Archenemy | Legal |
| Planechase | Legal |
| 1v1 Commander | Legal |
| Duel Commander | Legal |
| Oathbreaker | Legal |
| Unformat | Legal |
| Casual | Legal |
| Commander / EDH | Legal |
Tokens
Defender of the Order
Creature — Human Cleric
Morph (White)(White) (You may play this face down as a 2/2 creature for (3). Turn it face up any time for its morph cost.)
When Defender of the Order is turned face up, creatures you control get +0/+2 until end of turn.
Defender of the Order Discussion
1 year ago
Balzeron: First of all I would like to say that I am honored that my deck has helped inspire your deck building. Secondly, I have some responses to you comments below:
Amaranthine Wall and Hornet Nest are ones that I am still considering. The indestructibility is definitely a nice ability and being able to make a bunch of 1/1 flying death touchers when someone blocks the nest is pretty awesome.
Fog Bank, Guard Gomazoa, and Mindbender Spores are all great cards if you are going a more defensive route. I chose to exclude them because I am a more aggressive list and I wanted big (4 toughness or greater), cheap walls.
Hover Barrier, Monastery Flock, Wall of Air, and Living Wall could all easily be swapped in here and are a preference choice if you are worried about fliers.
My deck personally doesn't want cards like Manor Gargoyle, Ezuri, Claw of Progress, Woolly Razorback, Plumeveil, Soulbound Guardians, or Fortified Area as all of these cards either have power greater than 2 or pump my creatures power. I rely heavily on staying at 2 power or less so I can abuse Tetsuko Umezawa, Fugitive or Sidar Kondo of Jamuraa.
The same goes for Doorkeeper. Mill is already hard enough to pull off with a dedicated mill deck in EDH because decks are large and there are 3 opponents. I'd rather play either larger walls or defenders with more relevant abilities.
The banding suggestions are interesting. I had to re-read the rules on banding and I did not realize it also affects attacking creatures. Those could be interesting, I'll have to think about that.
Champion's Helm is a great suggestion. Wave of Reckoning is a good board wipe for Arcades, however, I feel that the 4 I have all have a bit more upside.
Spidersilk Armor and Tower Defense are awesome with Arcades and may very well end up in my final list. Right now I want to try out Hold the Gates over Spidersilk Armor as it has a higher upside and I already have a number of answers for fliers (Wonder, Angelic Wall, Wall of Tanglecord, Wall of Denial and Arcades himself). Since this list is aggressive, I think vigilance is actually a more impactful keyword in my deck. I already have a pseudo Tower Defense in Defender of the Order. I don't think Defender is particularly better than the Defense, but I have an old foil of it from Legions which I just really want to play.
Thanks for the comments and if you ever want another pair of eyes on your deck, let me know.
1 year ago
Cool deck! The minute I saw the new Arcades I started working on a version myself (though it is not as well thought out as yours at the moment). Here are some cards that might interest you though:
Belligerent Brontodon and Wakestone Gargoyle provide additional ways to animate, and deal damage if Arcades isn't out.
Living Wall (very resilient) and Mobile Fort (animates itself) are two other high "power" walls for cheap that you could consider.
Sidar Kondo of Jamuraa, Wonder, or Brawn grant more evasion.
Defender of the Order is a great surprise buff to you wall team.
Temur Sabertooth bounces walls for more draw triggers and can protect Arcades in a pinch.
Good luck deck building! +1 from me
No data for this card yet.