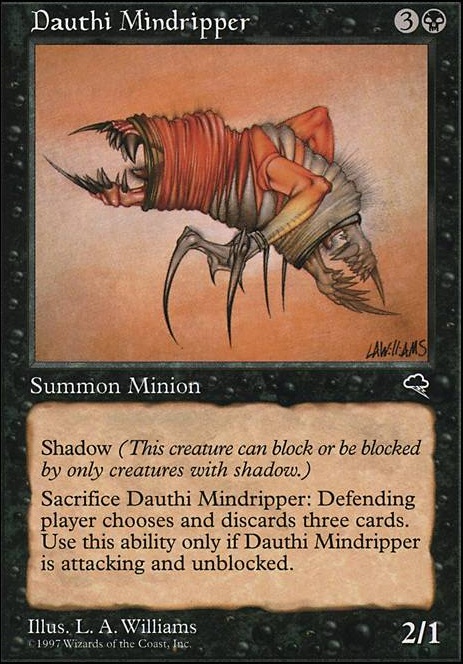 Legality
| | |
| --- | --- |
| Format | Legality |
| Legacy | Legal |
| Vintage | Legal |
| Commander / EDH | Legal |
| Duel Commander | Legal |
Dauthi Mindripper
Creature — Dauthi Minion
Shadow (This creature can block or be blocked by only creatures with shadow.)
Whenever Dauthi Mindripper attacks and isn't blocked, you may sacrifice it. If you do, defending player discards three cards.
Dauthi Mindripper Discussion
1 week ago
Why discard one card at a time when you can make them discard three with Dauthi Mindripper?
5 months ago
Intimidate/Skulk/Menace:
Accursed Spirit, Blind Zealot, Blood-Chin Rager, Brain Weevil, Cavern Lampad, Farbog Revenant.
Shadow:
Cutthroat il-Dal, Dauthi Cutthroat, Dauthi Ghoul, Dauthi Horror, Dauthi Jackal, Dauthi Marauder, Dauthi Mercenary, Dauthi Mindripper, Dauthi Slayer, Dauthi Trapper, Dauthi Warlord, Faceless Devourer.
Horsemanship:
Cao Ren, Wei Commander, Wei Elite Companions, Wei Night Raiders, Wei Scout, Wei Strike Force, Xiahou Dun, the One-Eyed, Zhang He, Wei General
6 months ago
Insurrection and Mob Rule are obviously the best type of this effect for commander, but personally for Marchesa I'm a fan Thalakos Deceiver. Just swing at the player with the most life, it gets a counter, grab a creature from anybody, and it comes back at your end step. (Dauthi Mindripper is super good for the same reason.)
Other than that, Zealous Conscripts (and to a lesser extent Conquering Manticore and Molten Primordial) are good because you can cycle them with +1/+1 counters and Marchesa. I'd definitely avoid including a targeted version of this effect on a sorcery though. Relying on cycling Archaeomancer for an effect that small is just poor planning.