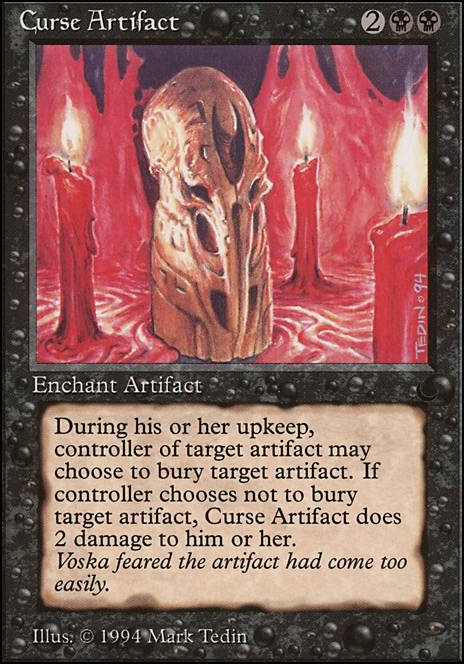 Curse Artifact
Enchantment — Aura
Enchant artifact
At the beginning of the upkeep of enchanted artifact's controller, Curse Artifact deals 2 damage to that player unless he or she sacrifices that artifact.
Browse Alters
View at Gatherer
Legality
| | |
| --- | --- |
| Format | Legality |
| Tiny Leaders | Legal |
| Noble | Legal |
| Magic Duels | Legal |
| Canadian Highlander | Legal |
| Vintage | Legal |
| Highlander | Legal |
| 2019-10-04 | Legal |
| Oldschool 93/94 | Legal |
| Leviathan | Legal |
| Legacy | Legal |
| 1v1 Commander | Legal |
| Duel Commander | Legal |
| Oathbreaker | Legal |
| Unformat | Legal |
| Casual | Legal |
| Commander / EDH | Legal |
Curse Artifact Discussion
8 months ago
berryjon that is an absurd request. you never mentioned anything about "mono black" (or mono any other color for that matter) until now. if you want to play a mono colored deck while full well knowing its weaknesses, thats your own fault. and the "no dipping into artifacts" restriction is also absurd. even a mono black deck can use Universal Solvent .
that being said, i'll acquiesce your request just to prove a point. here are mono black cards that can get rid of artifacts.
these are just the ones that mention artifacts specifically, but theres also the plethora of discard spells you can use to pluck out the Vedalken Orrery before your opponent even plays it. i could also get into the colorless nonartifacts that can remove artifacts, such as Scour from Existence , which technically meets your requirements of "no dipping into other colors or artifacts themselves".
and last but not least, i also found multiple "enchant artifact" enchantments that deal automatic free damage to the controller of the enchanted artifact during their upkeep. so lets not pretend mono black doesn't have answers.
by asking me to show you examples of monoblack artifact removal, you're basically saying that "if a mono colored deck can't answer a thing, we should ban the thing". thats ridiculous.
2 years ago
Yes--I think black having its own distinct feel and mechanic is important. I do not foresee Wizards abandoning life loss as a fundamental component of Black's identity.
Also, I take issue with your statement of "dealt damage in the past, but always when draining life": Artifact Possession, Choking Sands, Corpse Lunge, Curse Artifact, Curse of Thirst, Cursed Land, Dakmor Plague, Dead Reckoning, Desolation, Dry Spell, Evincar's Justice, Famine, Festering Evil (I think this is sufficient to prove my point, but I'm only at the letter F and there would be a lot more to copy and paste).