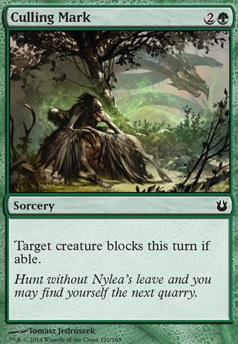 Legality
| | |
| --- | --- |
| Format | Legality |
| Tiny Leaders | Legal |
| Vintage | Legal |
| Penny Dreadful | Legal |
| Custom | Legal |
| Commander / EDH | Legal |
| Noble | Legal |
| Hero | Legal |
| Magic Duels | Legal |
| 1v1 Commander | Legal |
| Canadian Highlander | Legal |
| MTGO | Legal |
| Vanguard | Legal |
| Leviathan | Legal |
| Planechase | Legal |
| Duel Commander | Legal |
| Unformat | Legal |
| Heirloom | Legal |
| Modern | Legal |
| Pauper | Legal |
| Pauper EDH | Legal |
| Legacy | Legal |
| Archenemy | Legal |
| Casual | Legal |
| Oathbreaker | Legal |
Culling Mark
Sorcery
Target creature blocks this turn if able.
Culling Mark Discussion
3 years ago
About 24 copies of Culling Mark were given to a friend for his birthday, just because of a draft we did once where he picked every copy for no reason whatsoever.
3 years ago
I don't know if it's because you want to make it budget (if that's the case, well done! 60$ is pretty good budget for a commander) but there's a LOT of cards that could be switched.
Let's start with creatures (and to switch to better alternatives) :
Amphin Pathmage -> Thassa, God of the Sea : Indestructible enchantment for 3 mana, can become an indestructible creature with devotion, and has the same effect as the pathmage. And you can scry!
Battlefront Krushok -> Nylea, God of the Hunt : Yet again an indestructible enchantment that gives trample and buff creatures.
Caller of Gales -> Levitation : I know, that's an enchantment, but that's the effect you want. Coralhelm Guide -> Wingcrafter : Gives good evasion.
Dirgur Nemesis -> Khalni Hydra : Since you want more hydras for your commander.
Gladehart Cavalry -> Mistcutter Hydra : Uncounterable hydra.
Living Totem -> Oran-Rief Hydra : Another hydra.
Noble Quarry -> Gyre Sage : Evolving mana rock!
Siren of the Fanged Coast -> Control Magic : Because people will anyway pay the tribute : it's easier to remove a 4/4 flying that to comeback from having your commander stolen, in most cases.
Now, let's continue with non-creature spells :
I'd remove Culling Mark, Epic Confrontation, Hunt the Weak, Incremental Growth, Predatory Rampage, Wild Instincts, Mutant's Prey, Curse of the Bloody Tome, Sheltered Aerie, Verdant Haven and Slip Through Space.
That makes 11 cards to add some kind of removal effects that are better than ''target creature fights another target crature'' because a Pacifism effect can screw you over.
I'd suggest some of these cards : Beast Within, Krosan Grip, Disperse, Cyclonic Rift, Garruk, Primal Hunter, Kiora's Follower (Untap your commander to double the effect!), Kiora, Master of the Depths, Boomerang, Kiora, the Crashing Wave, Garruk, Caller of Beasts, Capsize, Vapor Snag, Into the Roil, Repeal...
If you want some more suggestions, i'd be glad to help.
No data for this card yet.