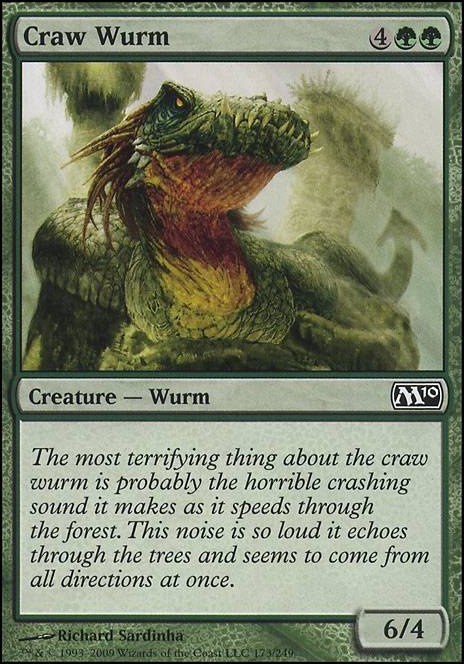 Legality
| | |
| --- | --- |
| Format | Legality |
| Vintage | Legal |
| Duel Commander | Legal |
| Commander / EDH | Legal |
| Legacy | Legal |
| Modern | Legal |
| Tiny Leaders | Legal |
| Pauper | Legal |
Craw Wurm
Creature — Wurm
Craw Wurm Discussion
1 year ago
Start simple, and slowly build up.
I don't like to use cards like Chaplain's Blessing or Vessel of Volatility that aren't good cards.
I go for mostly creatures, but I keep them to vanillas, french vanillas (evergreen keywords only, like Serra Angel), and virtual vanillas (they have some effect the turn you play them, but are vanillas after that, like Elvish Visionary).
I keep the number of different types of effects low, but have some repetition for each of them ("that Air Elemental has flying just like the Seacoast Drake that you played a few turns ago did").
But remember that by far the most important thing is that he/she has FUN. If your child isn't enjoying some aspect of the game ("I don't like it when you Doom Blade my Craw Wurm - Doom Blade my Runeclaw Bear instead"), try to remove that part of the game for awhile.
1 year ago
One of the first things to take note of is the Heroic ability of the Tormented Hero and Setessan Oathsworn. Whenever you cast a spell that targets them it triggers their ability. The cards that you run that can target them are Boon of Erebos, Giant Growth, and Feral Invocation.
This is why these cards are worth taking note of
If you attack with a Setessan Oathsworn that isnt blocked you would deal one point of damage, not exciting thats for sure. So before the damage step, you can cast Giant Growth on it, which gives it +3/+3 and triggers the heroic ability of the cards which gives it two +1/+1 counters, this means you hit for six! (1 from the power, 3 from the growth, 2 from the heroic), but the real bonus is that the counters gained from the heroic ability are permanent, so now the Setessan Oathsworn is a 3/3 creature.
Your opponent attacks with a Craw Wurm, you then block with your now 3/3 Setessan Oathsworn, but before the damage step (when the creatures deal damage to each other), you cast Feral Invocation on it, it gains +2/+2 from the enchantment and gains an additional two +1/+1 counters from the heroic ability, making it a 7/7! This is a creature that can surprise your opponent, as well as being an aggressive card.
Tormented Hero doesnt have the surprise and ramp at the Oathsworn does, but every time you target him you deal an extra point of damage to your opponent, and in an aggro deck every point is helpful! (and you gain a life as well, this isnt important but its a nice little bonus). Also, he is a 2 power creature for one mana, and that itself is fast.
--
You only run three removal cards, this is because they dont deal damage, and it is through combat tricks (boosting your creatures before damage) that you kill most of your opponents creatures. You run a single of each Geth's Verdict, Murderous Cut, and Victim of Night. The reason you run one of each instead of three of one is that you want a removal suite. A removal suite is simply running a number of one of removal cards, the reason for this is they all do something slightly different, but also it makes it harder for your opponents to know how many removal cards you have in your deck.
-
With boost and removal spells youll find that you fill your graveyard up fairly fast, and that is where Hooting Mandrills comes in. As you cast him every card you exile from your graveyard reduces the cost by one. That means if you have five cards in your graveyard and you exile them as part of the cost, you get to play this 4/4 trample creature for a single mana! The reason you only run two if because it requires you to have cards in your graveyard, so you dont want two in your hand, so only have two in the deck makes this less likely.
-
The playset of the terrifying Treacherous Pit-Dweller! This guy is huge! 4/3 for two mana is crazy, but when he dies your opponent gains control of him You need to youre your boost spells to keep him alive, but if your opponent gets control of him use your removal spells to get rid of him, and your boost spells to make your guys big enough to take him out while keeping your creature alive.
-
The other cards in the deck;Mardu Skullhunter, attack with a creature during your first main phase, then after the combat phase (during your main phase two), play this guy and your opponent has to discard a card. This helps you gain card advantage (which is hard for an aggro deck) and puts you a step ahead.Ruthless Ripper deals 2 damage when it flips, and along with Wasteland Viper, Thrill-Kill Assassin (which you almost always want to unleash) has deathtouch. This means it will kill any creature it deals damage to regardless of their toughness. The deathtouch ability means your opponent will be less keen to block them, so you can get through for damage with them easier, and boost them for extra damage if Its safe to.Soulcage Fiend, when he dies both you and your opponent lose 3 life. Youre an aggro deck so youll be dealing damage faster than your opponent does, so the life lose will affect your opponent more than you, your life doesnt mean much in this deck (as long as you have at least one!). Also, if your opponent is on three of less life, but you cant attack or get through with your creatures, use a removal spell on your own Soulcage Fiend!
So thats a quick run through of the deck, and how the cards interact with each other and how it works.
1 year ago
I'm with DrFunk27 lol. If folks will knowingly trade away high value cards for a casual gem, then that's totally on them. Caveat being knowingly.
In retrospect, I've totally done this, but traded for equal value. Many Blood Moons ago there was a kid who didn't want his Arid Mesa (when it was Standard legal at around $10-11 or so), and I made sure to trade equal value, if not a bit more, for it. There was also a time I traded a Phantasmal Image, worth a bit at the time, for a Sensei's Divining Top.
I'm always transparent about value, and will even add a bit if I'm really after a card. Then again, I may have been the Freshman duped out of a dual land with a Craw Wurm. Don't be that dick. Be like Dark Confidant.