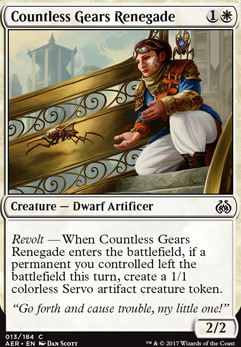 Legality
| | |
| --- | --- |
| Format | Legality |
| Modern | Legal |
| Legacy | Legal |
| Vintage | Legal |
| Commander / EDH | Legal |
| Duel Commander | Legal |
| Tiny Leaders | Legal |
| Standard | Legal |
| Pauper | Legal |
Tokens
Countless Gears Renegade
Creature — Dwarf Artificer
Revolt — When Countless Gears Renegade enters the battlefield, if a permanent you controlled left the battlefield this turn, create a 1/1 colourless Servo artifact creature token.
Countless Gears Renegade Discussion
3 weeks ago
I tried it a bit. Couldn't really find a good way to maneuver the early turns with so much congestion at the 2 and 3 drops while struggling to find land. I got the sense that Countless Gears Renegade is just too weak. I know you're trying to go hard on Revolt, but an early Renegade leaves the door open for the opponent to start getting too far ahead, but Renegade only gets value if you play it early and then can hold them off until the late game. I think it's dragging down the rest of the deck. I don't know what would be better, but my first thought was two Aethersphere Harvesters, a Thalia, Heretic Cathar, and a Plains.