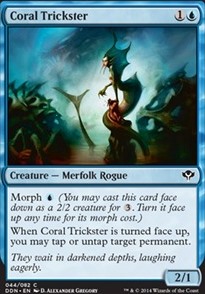 Legality
| | |
| --- | --- |
| Format | Legality |
| Tiny Leaders | Legal |
| Noble | Legal |
| Leviathan | Legal |
| Magic Duels | Legal |
| Canadian Highlander | Legal |
| Vintage | Legal |
| Modern | Legal |
| Penny Dreadful | Legal |
| Casual | Legal |
| Pauper EDH | Legal |
| Vanguard | Legal |
| Legacy | Legal |
| Archenemy | Legal |
| Planechase | Legal |
| 1v1 Commander | Legal |
| Duel Commander | Legal |
| Unformat | Legal |
| Pauper | Legal |
| Commander / EDH | Legal |
Tokens
Coral Trickster
Creature — Merfolk Rogue
Morph {U} *(You may play this face down as a 2/2 creature for {3}. Turn it face up any time for its morph cost.) *
When Coral Trickster is turned face up, you may tap or untap target permanent.
Coral Trickster Discussion
1 year ago
Hey legendofa. A few ideas for your Rogue deck. Personally I'd love to add another colour to it, but I'll make suggestions for mono-black as well. For me, I think what you want from a rogue themed deck is something that have that feeling of being mischievous, like you really are leading a pack of rogues. Give that feeling to your players, here are a few ideas on how I'd do it.
Adding Blue! I think adding blue is totally worth it, you get some awesome rogues, and more than that, you add a real roguish element for the players as well. Faerie Miscreant may not seem all that exciting as a 1/1 for one, but it has flying which is awesome when it's equipped with something (such as the Cloak and Dagger!). The Cloak and Dagger doesn't add toughness, so you want your rogues to have evation, and flying on a one mana creature is awesome. Plus, it can draw you a card as well. With nice little enters the battlefield creatures I'd also throw in Faerie Impostor, and Quicklings . Cheap flyers that let you reuse your ETB effects, and they're rogues of course. Another nice one mana guy is Triton Shorestalker, unblockable, one mana, give him a boost and he's ready to go! And remember that all these guys are even more awesome with Oona's Blackguard!
Then, the new rogue boss! Contraband Kingpin! Yeah you aren't running all that many artifacts, but even if you only play a few it's good, and he's a 1/4 with lifelink, for two mana... Give him a counter from Oona's Guard, give him a cloak and this guy is such awesome value. Or perhaps you want to help your non unblockable rogues get through, or let one block, then Coral Trickster is fun, adds a different element, and is super cheap of course. Then how about we take advantage of all this unblockable and increased damage? Well, say hi to Sygg, River Cutthroat. Unfortunately he is expensive, but look at him, he's awesome and for those who want to spend a bit more, he's an awesome addition.
Up to three mana, how about the awesome draw power of the Cold-Eyed Selkie. A dagger in the hand of this selkie and she'll be drawing you all the cards you could possibly want! Using the Trickster, or a Pestermite, or even Silkbind Faerie to help clear a path. Or simply draw a card and get a big flyer on the field with Latchkey Faerie. Plus, with blue, you get access to Thieves' Fortune which is awesome thematically and a super powerful one mana draw spell. For that mischievous element you also have Knowledge Exploitation, and Notorious Throng but they are a little more expensive unfortunately, but worth a shout for those who want to spend a little more as it's great fun.
Just a couple of black rogues that I like, Night Market Lookout. Not the most exciting, but a better version of Pulse Tracker, and you'll be surprised how effective that drain is. Also, with a couple pieces of equipment in the deck, Dhund Operative is amazing! A two mana 3/2 deathtoucher, what more could you want! I know, unblockable, well, you can't be too greedy!
2 years ago
No Akroma, Angel of Fury/Cloudshift shenanigains? Coral Trickster, Fathom Seer could be useful, as could Fortune Thief, Lumithread Field, Shaper Parasite, Soul Collector, Thelonite Hermit, very much Unblinking Bleb Vesuvan Shapeshifter, Voidmage Prodigy, Willbender and Zoetic Cavern.just some cards to glance over, might find something useful...