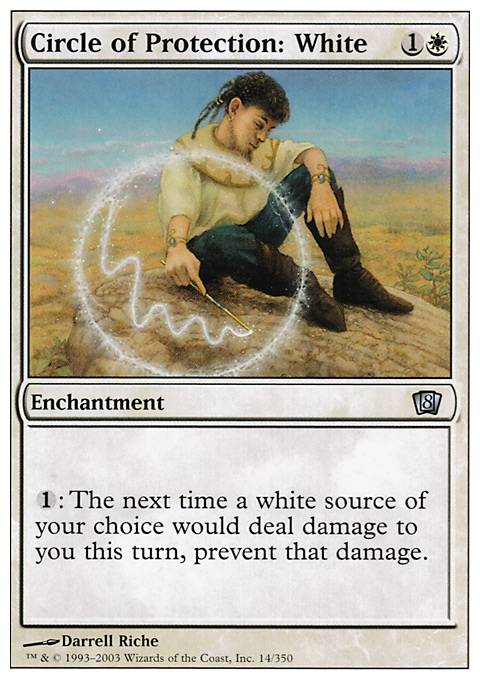 Circle of Protection: White
Enchantment
1: The next time a white source of your choice would deal damage to you this turn, prevent that damage.
Circle of Protection: White Discussion
2 months ago
Merry Christmas!
---
@SFCD
I seldom get all three Kaldra peices out. I mostly use them for their separate abilities, with the potential of having all three out as a bonus. If only there was another Equipment tutor engine like Stonehewer Giant to get all of them out at once easier.
I love Godsend! It completely turns combat into your favour. They can't block profitably and can't attack you without proper evasion or their creature's gone. The +3/+3 is also great for pumping 8.5's feeble 2/2 body or whatever back-up creature I'm using. It being White doesn't work with 8.5's first ability, but that's a minor con compared to its great pros. The two remaining Mirran Swords I don't use are pretty much poor in Commander. Sword of Body and Mind's mill doesn't accomplish much and gives free fuel to graveyard decks. Sword of War and Peace is very lackluster. The lifegain is poor with mono-White being the worst at card draw. The damage doesn't do anything except against super greedy Blue players.
Silverblade Paladin performs two major functions in this deck. His first function is a cheap source of double strike for 8.5. His second function is back-up. 3 mana is an incredible price for two double strikers. Add Equipment to them and they hit very hard. It's also very easy to recur and has synergy with a few of my recursion cards. Sun Titan brings it back and it gives them both double strike. Reveillark recurs it and another creature to pair with. There's no equal to this fantastic utility creature. Mirran Crusader is a good creature, but Silverblade Paladin fits the deck better.
---
I don't like Circle of Protection: White and its variants. They do almost nothing and take up space that could go to more useful utility effects.
11 months ago
Seems like a fun deck. Some cards that you could consider would be;
Reveillark can bring back those creatures you're sacrificing or basically any of your creatures that die besides your Rangers.
Emeria, The Sky Ruin - Maybe 1-2 of these that you can search up with the Expedition Map s to help recur your creatures since getting seven plains shouldn't be hard.
Rune of Protection: White /Circle of Protection: White could be another direction to go instead of Personal Sanctuary . It still won't prevent life lose from Stern Judge but it could come in handy vs white decks.
If I was going to take something out, I'd start with Gideon's Lawkeeper . I'm not a fan of that card in multiplayer since it can only lock down a single creature. If you have 3-5 opponents, that's not going to help you all that much.
| | |
| --- | --- |
| Color(s) | White |
| Cost | 1W |
| Converted cost | 2 |
| Avg. draft pick | 11.32 |
| Avg. cube pick | 12.96 |
Legality
| | |
| --- | --- |
| Format | Legality |
| Heirloom | Legal |
| Legacy | Legal |
| Vintage | Legal |
| Commander / EDH | Legal |
| Modern | Legal |
| Duel Commander | Legal |
| Pauper | Legal |
Related Questions