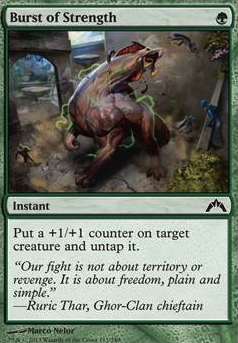 Burst of Strength
Instant
Put a +1/+1 counter on target creature and untap it.
Burst of Strength Discussion
1 day ago
For creatures, you should get away from the current standard cards, with the possible exception of Monastery Swiftspear, if you end up using enough instants/sorceries in the deck. Other creatures to keep in mind are Kird Ape, Scavenging Ooze and (If your budget happens to accommodate) Tarmogoyf. Flinthoof Boar also works as a Pseudo-goyf. Treetop Village and Raging Ravine are also amazing for man-lands. A really good late-game finisher is Thundermaw Hellkite, giving you some hate for Lingering Souls in the process.
As for noncreature, consider Atarka's Command or Primal Command, for the sheer flexibility of them and things like Giant Growth as a good way to close out a game. A fun thing I do with gruul decks is use Ghor-Clan Rampager for bloodrush and something like Assault Strobe to give it double strike and put in obscene amounts of damage in one attack phase turn 4 or even 3.
Unfortunately, in this deck I see a lot of things you should probably look into cutting out... If you'll bare with me, I'd recommend cutting the Fanatic of Xenagos, Valley Dasher, Hammerhand, and Burst of Strength.
As for Sideboard, Destructive Revelry Is definitely a good start. Consider Dismember for those bigger creatures that you simply just can't get rid of, Ancient Grudge for Affinity, and a few Scavenging Ooze, assuming you don't put 4 in mainboard. Some other personal favourites of mine, and things I would recommend at least considering are Kitchen Finks for burn decks, Torpor Orb for Twin, and most control deck using Snapcaster Mage, and Relic of Progenitus, for graveyard-based decks.
In a deck like this, however, the main focus should be on getting out lower-costed, efficient creatures, like Kird Ape or Flinthoof Boar to get in some damage early, and some larger things to get in the finishing blows.
2 weeks ago
The Avatar may not be a good card for a T2, but seems a solid card for a mid game.
For instance, a T4 with cards like Battlegrowth, or Burst of Strength, Bond Beetle, or even Phalanx Leader. Plus, if you have cards like Hardened Scales or Corpsejack Menace can make him a big threat. Of course, this out of standard.
This is at least my opinion for now and I didn't test the card yet, maybe latter I will change ideas and by the end of the day, it could be not worthy.
3 weeks ago
Last post, this is assuming you use every card you get in 6 turns. I did use 2 solidarity of heroes but tried to keep it singles of cards in hand besides.
T1: Forest, Elvish Mystic
T2: Forest, Gyre Sage, Burst of Strength(1 counter)
T3: Swamp, Corpsejack Menace(2 counters), Solidarity of Heroes(6 counters)
T4: Increasing Savagery(16 counters),flashback Increasing Savagery(36 counters), Dragonscale Boon(40 counters), Kalonian Hydra
T5: Chord of Calling for Corpsejack Menace, attack with Kalonian Hydra(Gyre Sage 200 counter, Kalonian Hydra 20 counters)
T6: Solidarity of Heroes (Gyre Sage 1000 counter, Kalonian Hydra 100 counters), Attack with Kalonian Hydra (Gyre Sage 5000 counter, Kalonian Hydra 500 counters)
3 weeks ago
Wow, lots of good stuff! While I was originally just going for a 1 card answer to the math problem e.g. "Play the Burst of Strength with the untap" vs. "Play the Increasing Savagery later", the play by play with all the different pieces was awesome! Also the new card ideas were sweet. While I won't be owning an Emrakul, the Aeons Torn anytime soon, I didn't even have Staff of Domination on my radar! But hey, that why I pay you the big bucks, right? ;)
FreddyFlash311, I don't think Kalonian Hydra would come in as a 16/16 since his counters aren't "placed" because he enters with them. Either way he's a monster relatively soon anyway. BTW "6 digit hydra" has a good ring to it :)
| | |
| --- | --- |
| Color(s) | Green |
| Cost | G |
| Converted cost | 1 |
| Avg. draft pick | 8.6 |
| Avg. cube pick | 7.01 |
Legality
| | |
| --- | --- |
| Format | Legality |
| Legacy | Legal |
| Vintage | Legal |
| Commander / EDH | Legal |
| Modern | Legal |
| Duel Commander | Legal |