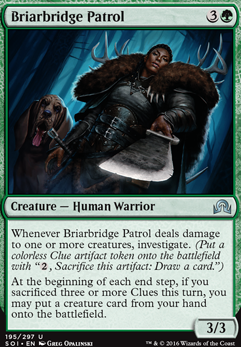 Briarbridge Patrol
Creature — Human Warrior
Whenever Briarbridge Patrol deals combat damage to one or more creatures, investigate. (Put a colourless Clue artifact token onto the battlefield with ", Sacrifice this artifact: Draw a card.")
At the beginning of each end step, if you sacrifice three or more Clues this turn, you may put a creature card from your hand onto the battlefield.
Browse Alters
View at Gatherer
Trade
Legality
| | |
| --- | --- |
| Format | Legality |
| Tiny Leaders | Legal |
| 1v1 Commander | Legal |
| Magic Duels | Legal |
| Heirloom | Legal |
| Canadian Highlander | Legal |
| Vintage | Legal |
| Modern | Legal |
| Block Constructed | Legal |
| Pioneer | Legal |
| Leviathan | Legal |
| Legacy | Legal |
| Frontier | Legal |
| Duel Commander | Legal |
| Oathbreaker | Legal |
| Unformat | Legal |
| Casual | Legal |
| Commander / EDH | Legal |
Briarbridge Patrol Discussion
2 months ago
So obviously this is not a legal card in any format, however it is a very real card nonetheless. It's created by Wizards and given to employees with exceptional performance.
Since it's not a real card, there are probably no rules in place for it. So, we can address this by inferring a few:
1.) Any creature can be your Commander. The Legendary Partner ability upgrades it to Legendary status.
2.) We can assume that because they have Partner, the creature in question may contain . If this is the case, your deck's identity would be .
3.) It doesn't say "Creature", but as of now there is no LEGAL precedent for anything other than Planeswalkers who can also be your Commander. So, we will only include Creatures and Planeswalkers. This means that any Planeswalker can also be partnered with Sol, Advocate Eternal.
There is however the issue of needing to ATTACK with the Planeswalker if that is your Partner if you'd like to get the "Teamwork" trigger. In order to do so, you'd need to either use Planeswalkers who can attack, such as Gideon and Sarkhan . However, you could also theoretically cobble together a Planeswalker who can attack by using Mycosynth Lattice and March of the Machines . You are in , so literally just tutor those cards out.
It would be very tempting to just go Atraxa, Praetors' Voice for that disgusting Support / Proliferate synergy. There's also Atarka, World Render if you want to swing for basically lethal Commander damage each turn. I mean, you'd be hitting with probably a 6/6 and an 8/4 (Assuming you Supported +2/+2 on Sol and +2/+2 on Atarka). That alone is 14 damage, but they are also going to gain doublestrike thanks to Atarka so it's actually 28 COMMANDER DAMAGE. And it puts you in WUBRG for The Ur-Dragon and Scion of the Ur-Dragon , so there's that.
I realize that each of the two Commanders have their own separate amount of damage they need to deal for it to be lethal. For example, if Sol deals 16 damage and Atarka deals 18 damage, this is not lethal "Commander Damage" as neither of them have individually dealt 21 combat damage in total. However, swinging for 28 damage on the first attack is nothing to scoff at, and they will only continue to grow. This puts all opponents on a 2-turn clock, or the game on a 6-turn clock. With cards that grant additional combat steps , you can knock a single opponent out of the game per turn. This reduces the entire game to a 3-turn clock. With access to and , I'd put in extra turn cards and basically win the game right there by virtue of brute, unrelenting force alone.
So Atarka, World Render is my go-to choice.
However, since we are Investigating and can upgrade any creature to Legendary, there is also Briarbridge Patrol who would be insanely powerful here.
There is also The Locust God . Since you are going to Investigate 4x, that's a TON of draw you are kicking out. Might as well throw down some creatures literally for free while stacking card advantage, right? For each card you draw, you create a 1/1 Insect token. Since you have 4x Clue tokens, you can use them all and create 4x 1/1s. Then when you attack with Sol and Locust, you can Support 4 and distribute them all onto the tokens, giving you 4x 2/2 flyers on top of your 4/4 Sol and your 4/4 Locust. That's a grand total of 16 flying in the air, you drew 4x cards, and now that they both attacked you get another 4x Clue tokens. An engine like that is very hard to pass up, so Locust would be a very close second for me. Probably the Commander with Atarka, World Render as a backup.
But those are just my ideas. What are your ideas? :)
11 months ago
Hi, Thrashzor45!
This is a really creative and fun deck, I like it alot =)
One suggestion I have is to add Briarbridge Patrol . The investigate on creature damage is not great, but the second ability coupled with Tamiyo's Journal makes up for it in my opinion. Sacking 3 clues to tutor, which 9/10 times will be a creature I imagine, and then getting to play it for free at the end step is stellar.
Yours is a very different Karador deck than my own, but it's the versatility that draws many people to him as a commander. I'd love some input, but beware that I've gone a bit over the top with my maybeboard.
1 year ago
The Challenge that I propose is this: pick a plane, then design a featured Commander of a Legend from the plane. The twist is that the Commander needs to be at least two colors and be designed as a Planeswalker that can be played as Commander. Describe the idea for the deck, how the Commander's Spark triggered, and a general idea of cards you might include as part of the deck if you were designing it for sale. For instance:
Deck name: Saving Grace Plane: Innistrad Commander: Sigarda, Heron of Light (3)(G)(W) Sigarda, Heron of Light can be your Commander. [+2] Put a 1/1 Human token with hexproof into play under your control. [-2] Discard a creature card from your hand. Put a 4/4 Angel token with flying and hexproof into play under your control. [-8] You gain an emblem with, "Creatures you control have lifelink and hexproof. Creatures you control may not be sacrificed. [4]
Spark: After the confrontation with the fused, corrupted Bruna and Gisela, after the 'victory' of the Gatewatch, Sigarda's heart longed for answers, for how to help heal her world. Her heart's cry pulled her out of her world to another, before pulling her back home, where she found Arlinn Kord waiting to speak with her. Realizing now the existence of other worlds, Sigarda has determined to find a way to keep the humans of her ravaged world safe from both internal threats and threats from other planes.
Deck concept: Angels, Humans and Spirits working together to protect and support each other.
Sample cards: Briarbridge Patrol, Cathedral Sanctifier, Champion of Lambholt, Champion of the Parish, Devout Chaplain, Bygone Bishop, Dearly Departed, Drogskol Shieldmate, Angel of Glory's Rise, Angel of Jubilation, Herald of War, Haunted Cloak, Avacyn's Collar, Inquisitor's Flail
2 years ago
More specifically:
Load more