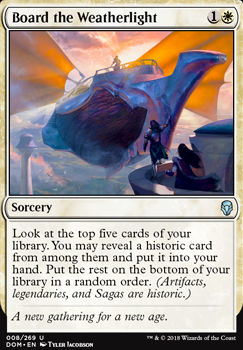 Board the Weatherlight
Sorcery
Look at the top five cards of your library. You may reveal a historic card from among them and put it into your hand. Put the rest on the bottom of your library in a random order. (Artifacts, legendaries, and Sagas are historic.)
Browse Alters
View at Gatherer
Trade
Legality
| | |
| --- | --- |
| Format | Legality |
| Tiny Leaders | Legal |
| 1v1 Commander | Legal |
| Magic Duels | Legal |
| Canadian Highlander | Legal |
| Vintage | Legal |
| Modern | Legal |
| Penny Dreadful | Legal |
| Block Constructed | Legal |
| Pioneer | Legal |
| Leviathan | Legal |
| Legacy | Legal |
| Frontier | Legal |
| Duel Commander | Legal |
| Oathbreaker | Legal |
| Unformat | Legal |
| Casual | Legal |
| Commander / EDH | Legal |
Board the Weatherlight Discussion
2 weeks ago
Hey Esbilon,
Thanks for another comment on this deck. I will try and remember to post on your Pioneer Angels deck, just as a token of my appreciation for how much you've helped me with this deck. I also see that you have a Rienne deck (although mine has more multicoloured synergies), great minds think alike ;).
For your card draw suggestions, I think that Keeper of Fables or Colossal Majesty are my best options because Keeper of Fables can draw me lots of cards when I'm in a good situation, and Colossal Majesty can help me when I'm in a worse position, perhaps leaving my guys back to block.
I didn't like Bishop of Wings in my old deck because I felt that he was either a win-more card or did nothing. I am going to try out Gisela, the Broken Blade, but my only concern is Wizard's Lightning, as most of the aggro decks at my LGS have a lot of Wizards, so I'll have to try and figure out how to deal with that. Bruna is definitely in the conversation, but my curve is probably a little bit too high already, so I'll have to figure that out.
I really like Heroic Intervention and Unbreakable Formation, so I'll have to test both. I'm not a big fan of Selfless Spirit because people can just kill it and I'd rather be playing big Angels anyway.
I like Shalai, Voice of Plenty due to her hexproof giving ability (as it stops burn spells and kills spells) and mana sink ability (in case I have nothing to do). You're probably right about Thalia, Heretic Cathar, so I'll take out a Thalia and some other things for some Gisela.
I think that the Heliod, Sun-Crowned investment is worth it, he'll probably add so much to the deck, so I'll cut Nylea for him.
Also, now that I think about it, what are your thoughts on Stasis Snare versus Banishing Light? I think I agree with you now about taking out Cast Out I've rarely flashed it in and only cycled it a few times.
Finally, what are your thoughts on the changes that I've listed below?
Thanks again, your suggestions have really helped both of my Pioneer decks,
Hexaflexagon
3 weeks ago
Hey Esbilon,
Thanks for your continued help and feedback on my two Pioneer decks, I really appreciate it. I also apologize for the late response, this is my first week in a new school. Yea I think I've found a better angle on my original deck, making it two colours definitely feels more consistent and better against my bad matchups.
You're right in saying that I should split Llanowar Elves and Elvish Mystic, so I'll do that. I chose Nylea, Keen-Eyed and Ripjaw Raptor over the Heliod-Balista combo because the latter is pretty expensive and I think that Ripjaw Raptor will really help my aggro matchup. Even though I know that Nylea won't be a creature most of the time, I still think she's worth it, due to her activated as well as her passive. In her place, however, I could add in something like Gisela, the Broken Blade, Rhonas the Indomitable, or Verdurous Gearhulk. I could even take out Board the Weatherlight and add in some of these, which is what I'll think I'll do. I like Cast Out because it allows me to cycle it, as well as having flash.
I like Sunpetal Grove because if I don't have a land in hand, I can play it without it coming in untapped. But you might be right in saying that I'll probably need Fortified Village so I'll test it out. I've talked about Sylvan Caryatid before and I think I agree with you now, so I'll add it to my next order.
Thanks again,
Hexaflexagon
3 weeks ago
Glad to see you trying out the GW build :)
I have a few suggestions. Running a mix of Llanowar Elves and Elvish Mystic makes you less vulnerable to Detention Sphere which is played quite a bit in UW control decks. Nylea, Keen-Eyed doesn't do much for you in terms of its discount as you only have five 5-drops, and with only 11 other green creatures, she will rarely be a creature. Ripjaw Raptor seems like a pretty mediocre source of card advantage when you don't have a way to give it damage yourself. If I were to add a divine secondary plan, I'd much rather go with Heliod, Sun-Crowned + Walking Ballista. I also don't think the higher mana cost makes Cast Out worth it over Banishing Light, you have so few instant speed effects that you basically never want to hold up mana. You have 13 hits for Board the Weatherlight which gives you a 27% risk of missing which doesn't seem acceptable.
I would also play Fortified Village over Sunpetal Grove since having green on turn 1 for the 1-dork is pretty important, and Sylvan Caryatid over Paradise Druid since an 0/3 to stop aggro is more relevant than a 2/1 beater, and having hexproof when tapped is also relevant.
1 month ago
running 40 lands and praying for a good mull is really risky. some cantrips or tutor/dig effects would likely help. one of my favorites includes Board the Weatherlight , which digs for both combo pieces, and also Adventurous Impulse
4 months ago
Anafenza may not be better than Vizier, but Board the Weatherlight can fish for it along with Altar, Station and Masticore due to it's legendary status.
6 months ago
Dreamweav3r, I didn't realize Steel Overseer went down that much in price. I will definitely need to pick up some copies. After playing the deck a lot I have found that the Springleaf Drum s with 0 mana creatures makes up for only having 18 lands. I have found the deck's biggest problem to be running out of cards in hand. Board the Weatherlight was meant to help fix that but it is awful so I need to replace it. Does Mystic Forge seem like it would help in this deck?
6 months ago
TLDR - Its not a combo deck so get rid of slow stuff and get more things on the ground.
Board the Weatherlight seems not very good, I think almost anything in your maybe section would serve better than this. Spending 2 mana and a card to draw (bad) card really doesn't win affinity games. You want to be fast and have things in play, not to mention with 18 lands and no Moxs' this is super hard to cast and then make use of. I'd consider Servo Exhibition because of the combos with Signal Pest and Tempered Steel .
Load more