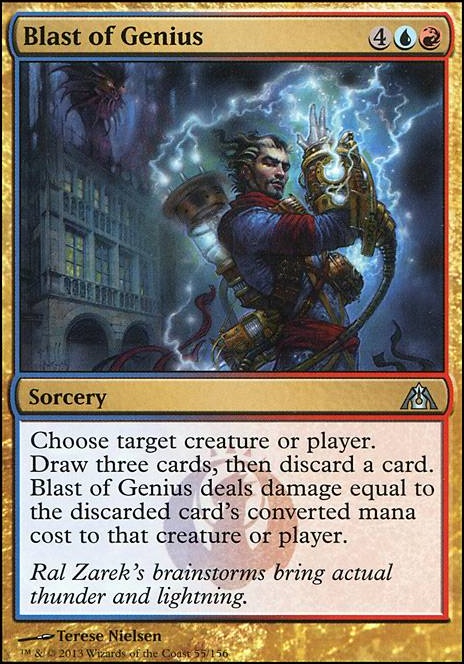 Blast of Genius
Sorcery
Choose target creature, player or planeswalker. Draw three cards, then discard a card. Blast of Genius deals damage equal to the discarded card's converted mana cost to that permanent or player.
Browse Alters
View at Gatherer
Legality
| | |
| --- | --- |
| Format | Legality |
| Leviathan | Legal |
| Legacy | Legal |
| Casual | Legal |
| Commander / EDH | Legal |
| Pioneer | Legal |
| Vintage | Legal |
| Limited | Legal |
| Block Constructed | Legal |
| Canadian Highlander | Legal |
| Oathbreaker | Legal |
| Modern | Legal |
| Duel Commander | Legal |
| 1v1 Commander | Legal |
| Unformat | Legal |
| 2019-10-04 | Legal |
| Tiny Leaders | Legal |
| Highlander | Legal |
Latest Decks as Commander
Blast of Genius Discussion
8 months ago
Hubris: excessive pride or self confidence. Or in ancient Greece,(hybris) is the intentional use of violence to humiliate or degrade.
Don't judge the judge to harshly, jussayin.
I was hoping for a non-divine spin on it, my own vision was something like Hubris - you gain X benefit but if ~ 'action' do Y. Makes for some leader types but if they get too cocky something bad happens.
Grixis was a good play, I was thinking Mardu myself because of whites religious sort of aspect, but blue makes sense.
Common - close to what I had imagined, still good though. It's a Volcanic Hammer with a body basically, which is pretty standard these days. Pun intended.
Uncommon - You forgot the stats. A majority of gorgons though are bigger in the butt though so I can use my imagination. Nicely flavored though for a gorgon.
Rare - if my rules knowledge is correct the 3rd ability is state based so you can't react to an increase of their board state by sacrificing, etc? Correct me if wrong here. So much advantage though: ahead of curve, draw on any deaths, threaten board states, can swing out of the gate. Gold.
Mythic - This is an interesting design. It says 'kill me now so I can have an extra turn, or wait awhile and I get an extra turn. Either way...'. I'd love to add prowess to this... jussayen.
Overall I think this is something that could actually be seen in packs if ever we were to return to Theros...again. Great concept.
1st card - All other 'one sided wipes' I could find are all 8-9 mana so the cost of this one is worrisome.
Wrath of God
for or full price for one player. Over powered maybe?
2nd - This feels more black than blue, but anything's possible I suppose.
3rd - it's interesting, but I think it could end up leading to some confusion. Also high probability of being broken lol. Imagine everyone taking an extra turn, every turn?
It's an interesting concept, I can see it in a place where 'cmc matters' with cards like Cerebral Eruption or Blast of Genius . Also probably spell reduction stuff. Also featured in this set... the Scornful Egotist .
I'm just going to lump everything in one here. I like it, it's almost like Monsterous but better because it's not limited to a one time use. And the flavor of the God check is nice, gives the opponent opportunity to 2 for 1 if they take down the God. The ascension is nice too, I think overall these are all creatures that would have to be dealt with quickly before they get out of hand.
1 year ago
Niv-Mizzet, Parun, Djinn Illuminatus, Melek, Izzet Paragon, Galvanoth, and Crackling Drake are some creatures. Curiosity, Ophidian Eye, and Tandem Lookout go well with Niv-Mizzet, Parun, and as does Enter the Infinite. I've always thought that Crackleburr is fun. Stitch in Time/Ral Zarek and Krark's Thumb go together, and some good instants and sorceries are Risk Factor, Epic Experiment, Blast of Genius, Prophetic Bolt and Opt. My favorite Izzet enchantments are Firemind's Research, Future Sight, Counterbalance, and Telepathy.
2 years ago
Ok, so I'm seeing a deck that wants arcane adaptation and descendants path to drop big spells. Fair enough.
I highly reccomend more 1 and 2 drop creatures. Making sure that your t3 Descendants' Path hits something turn 4 is valuable. But how to assess those creatures is important. You want to be sure you have big creatures on top of your deck, and you want to avoid needing arcane adaptation where possible.
To do this, is best to assess a small set of cards you'd be using together rather than a lot of individual cards. Getting a set of cards that work well together is better than a bunch of disparate parts- getting a set which acts as a backup plan to arcane adaptation is even better.
One method to find these sets of cards is to look at what creature type you want to name with Arcane Adaptation and go all in on it.
Naming druid means Treefolk Harbinger and Arbor Elf can cheat in Gilt-Leaf Archdruid, while Arbor elf, Elvish Mystic etc can combo with Utopia Sprawl to just flat cast bigger creatures.
Naming shaman lets you use Eternal Witness Burning-Tree Emissary and Elvish Visionary, or look for Purity with Flamekin Harbinger.
Pretty much every tribe has big game-changing spells and 1 drops that work well. I'd focus on tribes that like stalling/controlling the game (Spellstutter Sprite lists), Protecting their own creatures (spirits/illusions), or already cheat their big stuff in (Preeminent Captain and Incandescent Soulstoke). There are plenty of tribal lists on this site to raid for ideas.
Changeling tribal is a neiche option which I'll mention here- Mothdust Changeling, Shields of Velis Vel etc- there are Haakon, Stromgald Scourge/Basal Sliver/Skeletal Changeling combo lists you can raid for ideas.
The second way is to look for things that can get value out of your big spells.
Unexpected results is super unreliable- I don't like to play it outside of Inverter of Truth builds. Similarly, Elvish Piper is an expensive removal magnet.
Looking at discard/reanimation is one option, with Unburial Rites Lotleth Troll, Zombie Infestation and their more expensive counterparts pointing to a G/B value plan.
Looking at CMC matters is another- Nourishing Shoal, Blast of Genius, Kindle the Carnage, Nahiri's Wrath and so on all offer ways for your big spells to impact the game when you aren't casting them for free.
The final option is other Arcane Adaptation combos, to improve card quality by building in redundancy. Turntimber Ranger and any creature goes infinite if you name ally, Haakon, Stromgald Scourge and Ashes of the Fallen, Myr Turbine and tons of creatures, Quest for Ula's Temple and Inkwell Leviathan is a thing.
The big thing is to pick one plan, and stick to it. Its a lot more difficult to disrupt three spells doing the same thing than three different things. Fix your mana curve with a smooth 'I want this or this t1, this or this t2, and this or this t3' plan, and it'll run smooth.
Good luck, and happy brewing!
2 years ago
Now this is sweeeeeet. I play Blast of Genius in edh, never seen it in modern. Awesome deck.
2 years ago
Nice sugestions, but i think Blast of Genius and Mercurial Chemister aren't of much use here since my spells cost 1 or 2 mana and its better to cast them then to discard them for low damage. Nivix Cyclops on the other hand is very interesting, like a stronger Kiln Fiend. Maybe I can use it if I need to make the deck more aggro. Thank you
2 years ago
Also, I was thinking about other card suggestions for your deck. Have you considered Blast of Genius or Mercurial Chemister? Alternatively, depending on how many cards you play each turn, Nivix Cyclops might become a rather painful threat to your opponent.
3 years ago
Post first draft, just about to switch to second draft:Thoughts on various cards:
Cryptic Serpent and Enigma Drake :I woefully underrated these cards. I brought them down to 2 in order to make room for other cards. I'm putting these at 4.
Given the possibility of opening Cryptic Serpent (which is actually a blessing in some situations), by the time I draw this card, it's a 6/5 for an average of about 3 mana. Taking out the possibility of opening with it, I feel like it would be about 2.6. For a 6/ that's amazing!At its worst, Enigma Drake is a 0/4 defender with flying. In a deck like mine, its power goes up quickly. Late game, it can be a 3 mana drop for an 8/4. The unchanging nature of its toughness is somewhat problematic, but it becomes a scary heavy hitter that can kill almost any individual attacker.The only issue with these two is that they are highly vulnerable to generic creature removal, but this also helps draw attention away from my other creatures, which, given the effective mana costs of these two creatures makes this less of a blow than it should be.
Thermo-Alchemist and Gelectrode: The Ping Twins, the bread and butter creatures of my deck. Thermo-Alchemist is a pretty good defender, can ping a player during their end phase, and can do a lot of damage if lots of instants/sorceries are played.Gelectrode is probably the truest creature face of my deck. Relatively cheap, unassuming, incredibly powerful for its 0/1 stats, its ability to ping anything for 1, and untap like Thermo-Alchemist does is super helpful. It can't defend like [Thermo-Alchemist], but it can take down a large number of small creatures or 1 large creature in a single turn, especially when paired with burn spells.
As much as I want some sort of Chemist in my deck, Mercurial Chemister is too often a dead draw for my tastes. Its blue tap ability is fantastic, especially when paired with Niv-Mizzet, the Firemind, and its red tap ability can deal with huge creatures, but it tends to be a little too limited, and Mercurial Chemister is too vulnerable and expensive for what it is.
Niv-Mizzet, the Firemind, on the other hand, is amazing. He's expensive, and I still don't really like his vanity (which is weird, considering that some of my favorite people are very vain) and how he runs the Izzet Guild (which, I understand comes from a general misunderstanding of the nature of Science, as his methods of running the guild would actually strongly discourage the kind of wildly free exploration he desires), but this version of him is lovely in this deck. Yes, i've heard that Niv-Mizzet, Dracogenius is better, but for this deck, the Firemind version is lovely. One free point of damage for every card draw makes my deck extremely dangerous. I can draw a parge number of cards per turn using instants and/or sorceries, and alongside the Ping Twins, can completely wipe the board or do massive damage to finish off a player. He is a massive target for creature removal, especially counterspells, as a RRUU2 is gonna show up later than sooner, but that still protects my other cards (and flavor wise, is Nivvy stepping down to let his researchers do the job).
Avacyn's Judgment works well with the Ping Twins, but being a sorcery limits its usefulness. Maybe less than I think, because I rarely leave untapped lands at the end of my turn, but not being able to hit opponents and their creatures on their turn can be limiting sometimes.
Blast of Genius is nice, but kind of too expensive for what it's worth. Draw three, discard one to burn a player/creature is nice, but it's been a dead draw a lot of the time, and so it may be better to replace it with a larger number of smaller draw and burn spells.
Electrolyze is fantastic. I was right to put it at 4. It would be nice if I could choose to double up on draw or burn instead of going half and half, but an RU1 card that could do 1 draw 2 divided burn, 2 draw, or 4 divided burn would be insanely broken in a deck like this, so i'm more than happy to use it!
Invoke the Firemind, oh Invoke the Firemind, i'm so sorry! I wanted to like you, because flavor wise, you're everything I want! Massive draw or massive burn? What's not to like? Well, it's way too expensive. RUU2 for 2 points of burn that can't be divided, or RUU2 for 2 draw? It's versatile, but not as much as I thought. Having to decide between burn or draw, and not even being able to divide the burn up, makes this way too expensive to run as anything more than a one-off, and only for flavor.
Divination is nice, but not too many copies.Serum Visions is one of those cards that, if it wasn't as expensive (cash wise), i'd consider running 4, but only if I didn't mind feeing too cheap. Arguably, it's an expy of Ancestral Recall/Ancestral Vision, but if so, a far more balanced version. Still, even if it might not reach its full potential in this deck, one blue mana for a draw and Scry 2 is extremely good.
I kinda like the flavor of Take Inventory, but......most of the time, it's a draw one for 1U. Sometimes I get 2 draw for 1U, so that's nice. Rarely, I get a draw three for 1U, which gets close to Ancestral Recall levels of power, and the hypothetical 4 draw for 1U possibly exceeds Ancestral Recall levels of power, but the way Take Inventory works, it's not as likely as I thought to see this twice or three times a game, and since this is a card you don't want to run at any number besides 4 or 0, i'm going with 0.
Grip of the Roil is as nice as I remember it from Magic Duels, though depending on the type of deck, it may not be as useful as I recall, especially for my own deck. I usually deal with problematic creatures by burning them to death, but this can still give me momentum, or save me in a tight spot.
Izzet Charm is better than I make it look. The options for burn one creature for 2, draw 2 then discard 2, or counter unless player pays 2, all for RU? That's pretty good. Unfortunately, the way I use it, it becomes a Jack of all trades, too unfocused for use. I may just drop it all together for room.
Lightning Bolt is Lightning Bolt. I'm running no more than 1 for the sake of my wallet and my heart.
I underestimated Izzet Boilerworks. The power of these guild bounce lands (I think I recall each Ravnican guild having one) is that they basicallt give you a free land in the hand if used right. It isn't actually mana acceleration, and getting it too early can be problematic, but for turns where you don't need that one land you get for the turn, it can be a great way to ensure that you don't run out of lands by letting you replace one of your tapped lands. I'm gonna try replacing one Sulfur Falls with one Izzet Boilerworks, but if it becomes too much i'll undo that.
The sideboard trio:I love the flavor of Thing in the Ice Flip, but it doesn't really belong in this deck. Sure, it can easily wipe out the opponent's board, and then block most any creature they use in response, but it destroys all of my creatures, doesn't solve the issue my deck has with swarming, and against a horror based deck, this could potentially hurt me more than my opponent.
Keranos, God of Storms is fine in this deck, but not as great as I had hoped. For five mana, an enchantment (because let's be honest, my deck contains relatively few nonland permanents) that let's me either draw an extra card or get a free lightning bolt is great, but it's just a tad unreliable. I'll keep one on the sideboard for funsies, but just for funsies.
I haven't tested The Locust God yet, but looking at it, it very wel may be precisely what my deck needs to protect against its weaknesses. I have an issue with enemy players overwhelming me with numbers, because while the Ping Twins and burn spells combined can wipe a wide field of creatures, if my opponent just keeps throwing giant fields of creatures at me, they will eventually overwhelm me. Having my own mini army of 1/1 flying blockers that can attack when they are first created if so desired can be immensely useful, and a draw focused deck can do a lot with this. The only issue is that to run it effectively, I must run it at 3 like Niv-Mizzet, the Firemind. I get the feeling that in the end, i'll prefer to just run 4 Nivvies, and will delegate The Locust God to the sideboard for funsies, but we'll have to see how it goes.
Cards i'm considering:
Ponder is one of those cards i'm going to run at one, because while it's closer in power to Serum Visions than Ancestral Recall, it's still kind of an unfair card.
Curiosity is a card I didn't initially care for much, but then i remembered what I had realized about it about a year ago: it doesn't specify combat damage. Not only does this make it go well with cards like Thermo-Alchemist, but gives me access to a dangerously powerful loop with Niv-Mizzet, the Firemind. Whenever I draw a card (including during the draw phase of a turn), Niv-Mizzet, the Firemind deals one damage to a target creature or player. If I have Curiosity equipped to it, and I deal that one damage to a player, I have the option to draw a card.....which allows Nivvy-Mizzy to deal another 1 damage. Loop until desired (probably when the opponent's life total is a pile of ashes). Not useful enough to run too many copies of it, but i'll start with 2 and go from there.
Twin Bolt is Avacyn's Judgment, but an instant and without the madness effect. The madness effect is nice, but i'm not running a madness deck, so for now i'm gonna switch out for Twin Bolt and see if that makes any difference.
Cathartic Reunion has adorable and lovely flavor, and gives me at least a little red draw, which is cheaper and gets me more cards than blue, at the cost of more risk.
Dream Cache is a more adorable, more balanced Brainstorm. I'm in!
Fevered Visions is kinda nice, but has issues with not being an instant/sorcery and could help my opponent a fair bit as well.
Frantic Search has powerful uses, as it lets me draw and then continue my turn with the new cards, but does require a sacrifice of cards, so let's play it carefully for now.
Hieroglyphic Illumination has potential, as I can either save it or cycle it, giving it versatility.
Omen is just too good. Not gonna run it unless my deck turns out to be underpowered.Yes, Ponder is just a better version of Omen. I just like the flavor of Ponder better, and one can't hurt too much.
See Beyond may be a good way to get draw power without making my deck especially weak to milling.
Thought Scour is nice and cheap, and messes with the opponent, but might end up taking up too much space in my deck.
Thoughtflare might be a good choice for my deck. A little expensive, but not only does it allow me to pick n+1 out of n+3 (where n is my initial hand size before playing Thoughtflare, but drawing 4 while Niv-Mizzet, the Firemind is out on the field can be dish out 4 divisibile points of damage. Plus, it oozes the flavor i'm looking for: sudden bursts of inspiration!
Tormenting Voice may be another good source of red draw.
I stumbled upon Treasure Cruise in a deck I playtested my deck against, and it's easy to underestimate. I think it would cause problems with Cryptic Serpent and Enigma Drake, so for now i'll forego it.
Finally, Compulsive Research not only fits flavor wise (the compulsive instinct of curiosity), but has a leve of versatility due to your choice of discarding one land or two nonlands.
I'm going to use what I wrote here to make my second draft and test the waters, and then go from there!
Load more