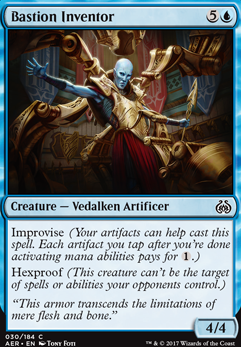 Legality
| | |
| --- | --- |
| Format | Legality |
| Modern | Legal |
| Legacy | Legal |
| Vintage | Legal |
| Commander / EDH | Legal |
| Duel Commander | Legal |
| Pauper | Legal |
Bastion Inventor
Creature — Vedalken Artificer
Improvise *(Your artifacts can help cast this spell. Each artifact you tap after you're done activating mana abilities pays for .)
Hexproof (This creature can't be the target of spells or abilities your opponents control.)
Bastion Inventor Discussion
2 days ago
Nice List! Way better than my UB version.
Have you considered Key to the City?Its actually Super Nice with improvise-Spells, giving you the ability to draw a crad for And it becomes an almost unstopable wincon with an early Bastion Inventor who has to fear very few removal in the coming meta.
I've started with UB aswell, however currently I'm running a List with Herald in the Site as i really like the potential of a turn 1 Enraged Giant or a turn1 Bastion Inventor followed by a Key to the City or Pacification Array.
---

Standard* Flalafell
SCORE: 5 | 4 COMMENTS | 603 VIEWS | IN 3 FOLDERS
---
2 days ago
I would highly recomend Key to the City wich is soso awesome with improvise and feels like an almost unbreakable wincon with Bastion InventorOh and you might also try Renegade Map to lower your landcount ;-)
---
---
2 days ago
Hej there, ive been brewing on the same concept for some time now, and i can tell you the best Creature is definetly Enraged Giant who can beat as early as Turn1!
Another card that many are missing but, felt almost mandatory is Key to the City wich becomes alot better with improvise allowing you to tap it without discarding a card, but it really shines with Bastion Inventor wich becomes a Finisher very few answers in the coming meta.
I'm a bit skeptical about Maverick Thopterist as i don't see him withstanding stuff like Yahenni's Expertise/Kozilek's Return or even Shock but he always leaves his thopters behind when facing spot removal, so i might be wrong.
I think i would replace Metallic Mimic and Wandering Fumarole wich seem to be a bit slow for this strategy.
But i really like the inclusion of Reckless Bushwhacker wich seems to offer good blowout potential in the mid to lategame.
And Finally here is my current list:
---
---