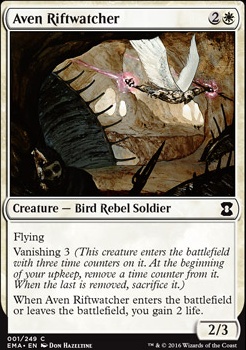 Legality
| | |
| --- | --- |
| Format | Legality |
| Pre-release | Legal |
| Noble | Legal |
| Leviathan | Legal |
| Tiny Leaders | Legal |
| Magic Duels | Legal |
| Vintage | Legal |
| Modern | Legal |
| Penny Dreadful | Legal |
| Casual | Legal |
| Vanguard | Legal |
| Legacy | Legal |
| Archenemy | Legal |
| Planechase | Legal |
| 1v1 Commander | Legal |
| Duel Commander | Legal |
| Unformat | Legal |
| Pauper | Legal |
| Commander / EDH | Legal |
Related Questions
Aven Riftwatcher
Creature — Bird Rebel Soldier
Flying
Vanishing 3 (This permanent enters the battlefield with three time counters on it. At the beginning of your upkeep, remove a time counter from it. When the last is removed, sacrifice it.)
When Aven Riftwatcher enters the battlefield or leaves the battlefield, you gain 2 life.
Aven Riftwatcher Discussion
5 months ago
Thanks for the reviewing my deck and the feedback Mandalorian!
I really appreciate the look and comments.
Interesting suggestions. Here are my thoughts:
The low instant/sorcery count is exactly why I play
Snapcaster Mage
. He enables a re-occurrence of counter/blink/wipe replay. Before he came to the deck I was running a full set of
Cloudshift
s. But with him, he is, in effect, another counter/blink/wipe that has been stored away in the graveyard for later use. I find that my opponents spend their time worrying about him... and post sideboard they often bring in graveyard hate to deal with him.
However, after reflecting on Reflector Mage for the past couple days I think I will try +1 Cloudshift +3 Reflector Mage and -4 Snapcaster Mage. I have suspicions that this change won't hold up to playtesting and Snappy will be dearly missed and find his way back. But, I will report back... :)
Flickerwisp - He did see play in early builds, but the lack of flash is a deal breaker for this deck. (Love Flickerwisp + Aether vial) :)
Felidar Guardian - Too expensive to be lacking flash.
Restoration Angel - On the fence about the Angel. I worry that it may be expensive. And... importantly, the angel only blinks on ETB. So once in play it's only a beater. Every other creature in the deck is a favorable blink target and graveyard recursion target. Not being targetable with Reveillark is a bummer.
Sun Titan - Expensive, and would end up taking a Reveillark slot. Vulnerable to path.. (so is Reveillark, but Reveillark getting pathed isn't a bad thing since my opponents are not going to like my ETB creatures back again). Also, Sun Titan's ETB effect can only grab land, instants, wall and Snapcaster. :(. The Ghost Quarter point is intriguing, however it doesn't outweigh the above downsides IMO.
Panharmonicon - Expensive and super vulnerable to counter. Once countered it doesn't come back (unlike most everything else in this deck that brings value even from graveyard). (Unless I slipped in Academy Ruins). Not sure what it would replace for the slot.
Spell Queller - I love Spell Queller in an aggro deck (like Spirits), but my games run long. Long enough for it to get killed at some point, and worse, I can't blink it for free as they get their spell back which may be terrible in some circumstances. Maybe I would replace Remands with it..... but the loss of cantrip would also be sorely missed. This deck wants to fill my hands with cards.
Lone Missionary - I don't worry about life gain in most games as eventually we lock the game, and when life gain is needed Aven Riftwatcher comes in from the side board, and is slightly better for beats and more resilient to direct pings.
Cloudblazer > Mulldrifter? - Didn't know cloudblazer was a thing. If it wasn't for Mulldrifter's evoke ability... it would be clearly better. But Mulldrifter, more often than not, is drawing me tons of cards for it's evoke cost. (Often with a one mana kicker Cloudshift to draw 2 extra cards after evoke) - This deck wants to fill my hands with cards.
Eldrazi Displacer - Great card in other decks. If it blinked with ETB and had blink on a stick it would be MVP. But at it is, I think it vulnerable, slow, and expensive for this deck.
10 months ago
Maybe you should consider adding more creatures with enter/leave the battlefield effects that you can blink with Restoration Angel and Flickerwisp? Maybe another Blade Splicer or some Kitchen Finks or Aven Riftwatcher to get some real life gain. If you want to splash a color you could always add Thragtusk or Reflector Mage.
11 months ago
Short answer: Yes you can.
Long answer:
Shriekmaw and Mulldrifter, when cast with evoke, create a second enters-the-battlefield trigger, in addition to there normal enters-the-battlefield triggers, so you can react to it, just like to every other trigger.
Aven Riftwatcher has Vanishing. This means, besides that it enters the battlefield with 3 counter, that it has the following two abilities:
"At the beginning of your upkeep, if this permanent has a time counter on it, remove a time counter from it,"
and
"When the last time counter is removed from this permanent, sacrifice it."
You can react to both of those triggers with a flicker effect.
11 months ago
So I have a Zur the Enchanter EDH that uses Astral Slide to abuse ETB effects. I have a question concerning Evoke.
If I evoke a Mulldrifter or a Shriekmaw can I flicker them before I have to sacrifice them?
Similarly, if I remove the last time counter from Aven Riftwatcher can I flicker it before I have to sacrifice it?
1 year ago
Aven Riftwatcher isn't bad too since you wanted flyers and more finks. I think it's worth running since the time counters get refreshed if you blink it
Load more