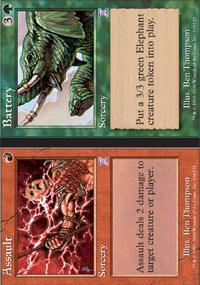 Legality
| | |
| --- | --- |
| Format | Legality |
| Tiny Leaders | Legal |
| Noble | Legal |
| Leviathan | Legal |
| Magic Duels | Legal |
| Canadian Highlander | Legal |
| Vintage | Legal |
| Modern | Legal |
| Custom | Legal |
| Vanguard | Legal |
| Legacy | Legal |
| Archenemy | Legal |
| Planechase | Legal |
| 1v1 Commander | Legal |
| Duel Commander | Legal |
| Oathbreaker | Legal |
| Unformat | Legal |
| Casual | Legal |
| Commander / EDH | Legal |
Tokens
Related Questions
Assault / Battery
Sorcery
Assault:
Assault deals 2 damage to target creature or player.
---
Battery:
Create a 3/3 green Elephant creature token.
Assault / Battery Discussion
3 months ago
Hi there, the deck looks good so far, bust just a quick remider: Split cards like Commit / Memory have a CMC equal to the combination of both halves and are therefore a nice chunk of damage with Yuriko while still being able to be cast early on.
708.4b
The mana cost of a split card is the combined mana costs of its two halves. A split card's colors and converted mana cost are determined from its combined mana cost. Example: Assault / Battery 's mana cost is . It's a red and green card with a converted mana cost of 5. If you cast Assault, the resulting spell is a red spell with a converted mana cost of 1.
9 months ago
Though this question has been answered, I wanted to make one correction to Gidgetimer's follow-up response on the off-chance anyone is reading this thread in the future. To clarify, it is not a substantive change to the answer to the question itself, but rather the dicta regarding cards with variable CMCs.
There are actually two times a converted mana cost on a card can change. The first is spells with in the cost, such as those Gidgetimer mentioned. The second is split cards. These could be cards with Aftermath , cards with fuse , or generic split cards .
While in any zone other than the stack (Library, hand, graveyard, exile, and ante--there are no split cards that can be on the battlefield or in the command zone), the CMC is equal to the total casting cost of the card. Using our three above-linked options: Appeal / Authority would have a CMC of 3 when in non-stack zones; Alive / Well would have a CMC of 5; and Assault / Battery would have a CMC of 5.
When on the stack, the CMC is equal to the total cost of the sides being cast. For Armed / Dangerous , this will be either 1 or 2, depending on which portion is being cast. For Assault / Battery , his will be either 1 or 4, depending on the side being cast.
It gets a bit funky with Fuse, as there are multiple options. Alive / Well will have a CMC of four if only Alive is cast, a CMC of 1 if only Well is cast, and a CMC of 5 if both halves are fused together.
Anyway, sorry to post on a closed thread--I just wanted to make sure all the information was available.
No data for this card yet.