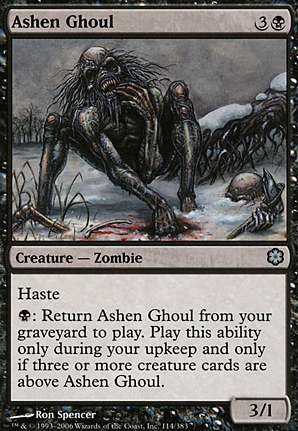 Legality
| | |
| --- | --- |
| Format | Legality |
| Pre-release | Legal |
| Noble | Legal |
| Leviathan | Legal |
| Magic Duels | Legal |
| Vintage | Legal |
| Penny Dreadful | Legal |
| Vanguard | Legal |
| Legacy | Legal |
| Archenemy | Legal |
| Planechase | Legal |
| Duel Commander | Legal |
| Unformat | Legal |
| Casual | Legal |
| Commander / EDH | Legal |
Ashen Ghoul
Creature — Zombie
Haste
: Return Ashen Ghoul from your graveyard to the battlefield. Activate this ability only during your upkeep and only if three or more creature cards are above Ashen Ghoul.
Ashen Ghoul Discussion
2 months ago
Have you considered any of these? Nether Shadow, Narcomoeba, Golgari Thug, Phantasmagorian, Stinkweed Imp, Dread Return, Ashen Ghoul, Bloodghast, Hell's Caretaker, Liliana, Defiant Necromancer Flip, Sheoldred, Whispering One, Dakmor Salvage, Stitch Together
9 months ago
My friend had a deck like this and never liked it as it never won. It looks like you took the planechase anthology deck and rolled with it. 1 damage to each upon a bounce is not enough. You should look to utilize that more. Think cards like Evacuation. You get all the benefit of time/wipe at the opportune moment and they get burned by Vela. Secondly you want Haste. If you need unblocked creatures to swing for Ninjutsu then you want them swinging without hoping to survive a round at the twble. Swiftfoot Boots and Lightning Greaves will let you do that. Now you'll want to be unblockable; Filth is a great start. Wonder and Archetype of Imagination are more. Try to look at Haste creatures as well; Yahenni, Undying Partisan and Ashen Ghoul are examples. Black has limited doses of Haste so maybe look for options. One that may be within your budget is Nether Traitor. It self resummons, has Haste, and I bet no one in your meta can block Shadow. A couple of Blue's unblockable weaklings might serve you well too so you can trigger Ninjutsu. Those are just some assorted ideas that I hope help you along in your covert attacks under the night's shadow.
1 year ago
Ashen Ghoul, Ashcoat Bear, Ashes to Ashes (good card), Ashes of the Fallen, Bog-Strider Ash, Crumbling Ashes, Unstoppable Ash
All Is Dust, Dust Bowl, Consign to Dust, Flesh to Dust, Turn to Dust, Giant Dustwasp