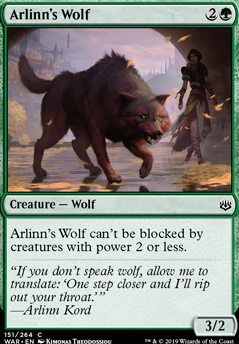 Legality
| | |
| --- | --- |
| Format | Legality |
| Pre-release | Legal |
| Tiny Leaders | Legal |
| Custom | Legal |
| Magic Duels | Legal |
| Canadian Highlander | Legal |
| Vintage | Legal |
| Oathbreaker | Legal |
| Modern | Legal |
| Arena | Legal |
| Penny Dreadful | Legal |
| Standard | Legal |
| Pauper EDH | Legal |
| Leviathan | Legal |
| Legacy | Legal |
| Brawl | Legal |
| 1v1 Commander | Legal |
| Duel Commander | Legal |
| Casual | Legal |
| Unformat | Legal |
| Pauper | Legal |
| Commander / EDH | Legal |
Arlinn's Wolf
Creature — Wolf
Arlinn's Wolf can't be blocked by creatures with power 2 or less.
Arlinn's Wolf Discussion
2 months ago
I don't know if you are bound and determined to keep Conclave Tribunal , but maybe try Ixalan's Binding if you aren't so worried about the convoke. Cause the cost of the cards are the same and Ixalan's Binding would help prevent other cards of the same name from being cast. I would get rid of 1 Gift of Paradise and add 1 Arlinn's Wolf . Also go down 1 Icon of Ancestry and add 1 more Nightpack Ambusher so you have a complete set for better odds of getting the card and possibly more on the board. I would get rid of the 2 Plummet and save it for your sideboard and that should bring your deck down to 60 cards which is ideal. Everything else looks fine. I'm going to test it alittle on MTG: Arena in Diamond league to see how it fairs against some of those people.
2 months ago
Well of Lost Dreams would be a pretty powerful inclusion in combination with your commander for the recurring card draw. Fecundity could also help with getting more draws, and getting your creatures to die isn't so complicated with a competent opponent and sending out a wolf to fight with Tolsimir. Plus, it could combo into another card suggestion, Feed the Pack , which lets you convert some of the more disposable non-token creatures into a bunch of wolf tokens. Vigor helps a ton for Tolsimir's theme of fighting stuff.
Also, I think you could do with a couple more wolves, given how well the commander synergizes with them. Master of the Wild Hunt not only summons them, but also gives you the opportunity to get another fight trigger just in case you might need it. I would additionally replace Arlinn's Wolf or something similar with Ferocious Pup due to it having token synergies.
Since you're worried about flying creatures, consider swapping something out for Gravity Well , as it more or less gets rid of the mechanic entirely. I would personally swap out Spidersilk Net for it, seeing as you won't really need it. You might also want to get rid of all those destroy flying creature spells, seeing as all you really need is for your commander to be out for you to suddenly transform a hand of wolves into a hand of removal.
Not really sure why you included the two Werewolves in this deck. They don't synergize with anything aside for Nightpack Ambusher and they're very lackluster, especially since you have to rely on your opponents not casting anything for them to be worthwhile. I much prefer the idea of having an elf subtheme instead, especially since it gives you access to an elf to champion for Wren's Run Packmaster , one of the more powerful cards you can have in a Tolsimir deck. Sure you could champion Tolsimir himself, but if you can have both of them out at the same time, you get to essentially remove any creature you want (provided it's not indestructible) whenever a wolf comes out, which will be all the time due to Packmaster's ability. Some other good elves would be Primal Forcemage to help out your wolves with fighting when they enter the battlefield, Wood Elves to replace one of your ramp spells like Rampant Growth , Reclamation Sage to replace Naturalize , and Rhys the Redeemed for even more token generation.
And, like ZendikariWol suggested, some changelings like Metallic Mimic could easily fit in the deck and provide support for the wolf tribal. But, they also double as elves, and as such can provide the best of both worlds if you decide to incorporate an elf subtheme. An example I quite like of a Tolsimir wolf/elf deck that incorporates changelings would be Wolfgain Amadeus, for reference.
6 months ago
I love wolves, but I'm seeing WotC move in the direction of wolf/elf hybrid tribal, and I am not convinced that it could be as strong as a pure-wolf or pure-elf tribal deck. But it's worth a shot. On the wolf tribal side, Feed the Pack would be a great inclusion, as many of your non-wolf non-elf creatures already have high toughness, allowing you to trade out your Wolfbriar Elemental for four 2/2 wolves, or your Juniper Order Ranger for five wolves. Young Wolf is also a good thought, because although it is only a 1/1, it does come back to life after a board wipe, and flies under the radar of your opponents' kill spells (no one will want to waste a kill spell or ability on this guy, and if they do, that's good for you), allowing you to keep him until you lay out your +1/+1 (or +3/+3) effects. Silverfur Partisan is almost a must... Briarpack Alpha is a good thought, since you can get that +2/+2 at instant speed and gain yourself another blocker, potentially surprise-killing two attackers. Somberwald Alpha is also another thought, because although its triggered ability is meh, its activated ability is clutch to getting lots of damage through your opponents' chump-blockers. There are a good deal of wolves with flash for that purpose too... Wolfir Avenger and Spirit of the Hunt also, at a decent mana cost considering they have flash. Darkthicket Wolf doesn't have flash but it does give you an ability in case you're running out of cards in your hand, and is a good option for budget decks. That's for if you want more nontoken wolves for to go in the direction of wolf-tribal. Otherwise, the Feed the Pack is the only essential inclusion, since you're already buffing tokens with Intangible Virtue . To that end, I should also mention Predator's Howl , although it's kind of high in mana-cost, this is commander after all, so you should be able to pull it off with some mana rocks or land enchantments. Don't forget to leave a space in this deck for some of War of the Spark's new wolves and elves. I'm sure you've seen Arlinn's Wolf (meh) and Arlinn, Voice of the Pack (alright!) and Tolsimir, Friend to Wolves . I would think that latter card would be an auto-include for this deck, if not as commander, than as a one-of. Cheers!
No data for this card yet.