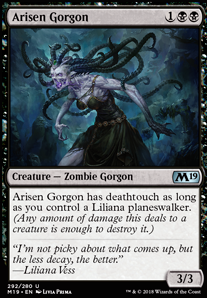 Legality
| | |
| --- | --- |
| Format | Legality |
| Pre-release | Legal |
| Tiny Leaders | Legal |
| Custom | Legal |
| Magic Duels | Legal |
| Canadian Highlander | Legal |
| Vintage | Legal |
| Modern | Legal |
| Arena | Legal |
| Standard | Legal |
| Leviathan | Legal |
| Legacy | Legal |
| Brawl | Legal |
| 1v1 Commander | Legal |
| Duel Commander | Legal |
| Oathbreaker | Legal |
| Unformat | Legal |
| Casual | Legal |
| Commander / EDH | Legal |
Arisen Gorgon
Creature — Zombie Gorgon
Arisen Gorgon has deathtouch as long as you control a Liliana planeswalker. (Any amount of damage this deals to a creature is enough to destroy it.)
Arisen Gorgon Discussion
1 year ago
Silvertusk Boar
Creature - Boar
Protection from blue.
Whenever Silvertusk Boar attacks, you may discard a card at random from your hand into your graveyard. If you do, Silvertusk Boar can not be blocked this turn.
Spells and spears seem to bounce right off it's hide.
4/2
---
Hope I did the challenge justice. I personally think this is a pretty cool Boar. I'd run it, especially in Madness decks. Probably just 2x because of the cost, but still. Free discard outlet and 4 damage? Nice.
I'm super happy because I got a Bundle of Guilds and pulled a Sacred Foundry, Vraska, Golgari Queen, Chamber Sentry, 2x Venerated Loxodon, 2x Ritual of Soot (Got a Golgari toolkit thingy, too), Runaway Steam-Kin, Izoni, Thousand-Eyed, Light of the Legion, Dimir Guildgate

, * Emmara, Soul of the Accord. (Card's are "meh" cost-wise but I love to play with under-impressive cards and get them to work, so I'm happy.)
So I kinda want to tinker around a bit and see if I can work up some Abzan jank. Haven't tried that for a while. I'm also super stoked that we got 2x new Gorgon creatures: Arisen Gorgon in 2019 and Pitiless Gorgon in Guilds. Between those, Assassin's Trophy and Fatal Push I think I can finally build my long-awaited Modern Gorgon Tribal!! :D That's been a deck on my radar for years now but it's always had way too high of a CMC to pull off. I think I can finally nail it down. And with Vraska, Golgari Queen having a super low casting cost, I can run it with her. Tons and tons of mass removal with a decent slew of cheaper Gorgons buffed by Metallic Mimic & Adaptive Automaton & maybe 1 or 2 Creakwood Liege with probably 1x Pharika, God of Affliction for duds in my Graveyard. Idk just yet.
GORGON TRIBAL BABY!!
"That's great and all TypicalTimmy, but what's your F-ing challenge?!?"
Let's go back to Tarkir (My most beloved Plane!) and go Abzan (Since those colors are on my mind). I'd like to see a functional Abzan Gorgon Hydra! Yup! What a design! Hehehe have fun!
1 year ago
Hey
First off, the mana base is all junked up. 16 Swamp mana-base is kind of shaky, even with Memorial to Folly.
Second off, the curve is a bit wonky. Liliana, the Necromancer needs to go, as it is not only not particularly synergetic with the tribal theme, but also takes up an already crowded 5-mana cost spell slot, as well as conflicting with the 2 other Liliana cards.
Arisen Gorgon is essentially a vanilla 3/3 for 3 mana, and I can't help but feel is just not worth running. Plague Belcher, Dread Shade, Isareth the Awakener, or even Ammit Eternal are more worth running over the Gorgon in my opinion.
Dread Wanderer obviously the best choice as a 1-drop creature, and you can pick them up for roughly a dollar each right now, so I don't see why Diregraf Ghoul and Festering Mummy and taking that spot.
Anyways, just taking about mainboard here, I would recommend:
-1 Liliana, the Necromancer -4 Cradle of the Accursed -1 Memorial to Folly -1 Rise from the Grave (maybe sideboard; Liliana does the same thing and more) -3 Arisen Gorgon
+6 Swamp +2 Isareth the Awakener +2 Plague Belcher +2 Dread Wanderer
There, replaced some cards to add more consistency and cohesion, and the cards I suggest to go in are valued less all together than the cards I suggested to drop from the Mainboard.
No data for this card yet.